Daily Current Affairs Analysis 2019 – 2020
(for UPSC IAS Civil Services Examination)
Topic-wise Keywords for Prelims 2020
---
May
30
Sat
2020
News (Text)
May 30 @ 8:35 am
NEWS
30 MAY 2020
Daily Current Affairs based on 'The Hindu' newspaper as per the syllabus of UPSC Civil Services Examination (Prelims and Mains) compiled by Mrs. Bilquees Khatri.
| | | |
| --- | --- | --- |
| Sr. No. | Topic | News |
| 1. | GS III: ECONOMY – INDICATORS | GDP growth slows to a 11-year low of 4.2%, Q4 slumps to 3.1% |
| 2. | GS II: SOCIAL – HEALTH | Lockdown 5.0 to be strictly implemented in 13 cities |
| 3. | GS II: SOCIAL – HEALTH | 'States show variations in testing contacts' |
| 4. | GS II: SOCIAL – UNREST | 'JNU student and activist Natasha Narwal charged under UAPA' |
| 5. | GS :AWARDS | Major Suman Gawani chosen for UN award |
| 6. | GS II: SOCIAL – SCHEMES | 'Rozgar Setu' for skilled workers in M.P. |
| 7. | GS II: INTERNATIONAL – USA | Trump order targets social networks |
| 8. | GS II: INTERNATIONAL – USA | Twitter conceals President's tweet for 'glorifying violence' |
| 9. | GS II: INTERNATIONAL – EUROPE | U.K. moots '5G club' to keep out Huawei |
| 10. | GS III: ECONOMY- INDICATORS | Fiscal deficit at 4.6% for FY20 as revenue sags |
| 11. | GS III: ECONOMY- INDICATORS | Core sector output contracts 38% in April |
| 12. | GS III: ECONOMY- TELECOM | Telecom regulator moots national numbering plan |
| 13. | GS II: SOCIAL – HEALTH | Sun Pharma gets nod for drug trial in COVID-19 patients |
GS III: ECONOMY – INDICATORS
GDP growth slows to a 11-year low of 4.2%, Q4 slumps to 3.1%
Economic growth slowed to a 11-year low of 4.2% in 2019-20, according to provisional estimates released by the National Statistical Office.
The final quarter of the fiscal year, the January-March period, saw the expansion in the Gross Domestic Product (GDP) slump to 3.1%, reflecting the impact of the first week of the nationwide COVID-19 lockdown, which began on March 25.
Fourth-quarter growth, while the slowest in 44 quarters, however, was still faster than the 2.2% pace predicted by most economists and ratings analysts.
Agricultural output and the mining sector picked up steam in the fourth quarter, growing at rates of 5.9% and 5.2% respectively, even while manufacturing contracted further, with output shrinking by 1.4%.
Public administration, defence and other services grew at 10.1%.
Although the budget estimate for GDP growth in 2019-2020 had been pegged at 8.5%, the NSO's previous estimates had pushed the projection down to 5%.
GDP expanded by 6.1% in 2018-19.
The most disturbing news is that the three components of demand have fallen — consumption demand has slowed, while investments and exports are both in negative territory.
"Please note that this has all happened in the year prior to COVID," remarked an expert.
GS II: SOCIAL – HEALTH
Lockdown 5.0 to be strictly implemented in 13 cities
The government is all set to announce Lockdown 5.0 for two weeks, with strict implementation in 13 cities that have recorded 70% of the total COVID-19 cases.
The lockdown, imposed first in the wake of the COVID-19 pandemic on March 24, has been extended four times. The ongoing phase is in force till May 31.
GS II: SOCIAL – HEALTH
'States show variations in testing contacts'
States that are grappling with the highest burden of COVID-19 are those that least tested the contacts of persons who were confirmed positive, suggests data from an analysis of nearly 1,00,000 individuals tested for the SARS-CoV-2 coronavirus and published by a core group of Indian Council of Medical Research (ICMR) scientists and independent epidemiologists leading India's COVID-19 testing.
A large proportion of both — those tested and those found positive — were asymptomatic family contacts.
Kerala, which is among the States that have contained the initial surge of the pandemic, tested an average of 40 contacts per confirmed positive case.
On the other hand, Maharashtra had tested only eight contacts per positive case.
Gujarat only tested 12 contacts per confirmed positive case.
Testing contacts and isolating suspects is a critical aspect of restricting fatalities and ensuring that infections don't spread rapidly.
The attack rate (based on the number of positive cases in a category) per million by age was highest among those aged 50-69 years (63.3%) and was lowest among those under 10 years (6.1%).
As on 29 May, 2020, 1.65 million people in India had tested positive, the highest in Asia.
GS II: SOCIAL – UNREST
'JNU student and activist Natasha Narwal charged under UAPA'
Natasha Narwal, a JNU student and activist associated with women's student collective Pinjra Tod, was arrested on 29 May, 2020, under the stringent Unlawful Activities (Prevention) Act (UAPA) for her alleged role in the communal riots in northeast Delhi in February 2020, a senior police official claimed.
Also, on 28 May, 2020, a Delhi court said that the investigation into a case related to the communal violence in north-east Delhi seemed to be "targeted only towards one end", while asking the Delhi police to ensure fair investigation.
Ms Narwal is reported to be the seventh person to have been booked under the UAPA in the case. Ms Kalita has reportedly been arrested by Crime Branch for her alleged role in violence happened during anti-CAA protest in Daryaganj.
GS :AWARDS
Major Suman Gawani chosen for UN award
Major Suman Gawani of the Indian Army, who served as a women peacekeeper with the United Nations Mission in South Sudan (UNMISS) in 2019, has been selected for the prestigious United Nations Military Gender Advocate of the year Award, the Army said.
Major Gawani received the award from the UN Secretary General Antonio Guterres during an online ceremony at the UN Headquarters, New York, on 29 May,2020, on the occasion of International Day of United Nations Peacekeepers, the Army said in a statement.
As a military observer in UNMISS from November 2018 to December 2019, Major Gawani was the principal focal point of contact for gender issues for military observers in the mission.
"The officer encouraged participation in joint military patrols to maintain gender balance, irrespective of the hardships under extreme field conditions," the Army said, adding she also strived to integrate gender perspective into the planning and military activity in the mission.
She was selected to attend a specialised training on Conflict Related Sexual Violence (CRSV) at Nairobi, and participated in various UN forums to demonstrate how a gender perspective can help in protecting civilians, especially from conflict-related sexual violence, the Army stated.
GS II: SOCIAL – SCHEMES
'Rozgar Setu' for skilled workers in M.P.
Madhya Pradesh Chief Minister Shivraj Singh Chouhan has announced the launch of the 'Rozgar Setu' scheme, saying it would help secure employment for skilled workers who have returned.
The State is the first to devise such a work plan.
"After such workers requiring employment are identified, the government will contact factory, workshop owners and contractors overseeing infrastructure projects such as road and bridge construction."
Moreover, Mr. Chouhan hailed the Centre's 'Swamitva yojana' under which rural areas would be surveyed to help prepare land records.
GS II: INTERNATIONAL – USA
Trump order targets social networks
A day after U.S. President Donald Trump lashed out at Twitter for fact-checking two of his tweets on mail-in ballots, he signed an executive order (EO) asking his administration to look into ways of holding platforms liable for more of the content they carry.
Specifically, the EO asks the Federal Communications Commission (FCC) to re-examine how protections granted under a particular statute — Section 230 of the Communications Decency Act (1996) — ought to apply.
Section 230, on the back of which several American tech companies like Facebook and Twitter have grown, allows social media sites to carry third party content without being liable for all of it.
There are some exceptions around federal criminal law, sex trafficking and intellectual property.
It, therefore, draws a distinction between platforms on the one hand and publishers or speakers on the other.
Significantly, the statute says a platform shall not be liable for actions taken in "good faith" to restrict material that is, "obscene, lewd, lascivious, filthy, excessively violent, harassing, or otherwise objectionable, whether or not such material is constitutionally protected".
The executive order also directs federal government agencies to review the amount of advertising dollars spent on online platforms.
GS II: INTERNATIONAL – USA
Twitter conceals President's tweet for 'glorifying violence'
Hours after U.S. President Donald Trump signed an executive order seeking to bring greater regulation to social media companies, Twitter continued its moderation of Mr. Trump's tweets.
The social media platform covered one of the President's tweets with a notice for violating its rules about "glorifying violence."
The tweet could, however, be viewed on clicking the notice; Twitter felt it was in the public's interest that the tweet be accessible, as per the notice. "These THUGS are dishonoring the memory of George Floyd, and I won't let that happen. Just spoke to Governor Tim Walz and told him that the Military is with him all the way. Any difficulty and we will assume control but, when the looting starts, the shooting starts. Thank you!" Trump's tweet said about riots that had broken out in Minneapolis over the killing of George Floyd, an unarmed African American, by a white police officer.
Twitter separately tweeted a link to its policy on glorification of violence. "This Tweet violates our policies regarding the glorification of violence based on the historical context of the last line, its connection to violence, and the risk it could inspire similar actions today," the company said.
The White House defended Mr. Trump, saying he did not glorify violence and it retweeted the President's tweet, which Twitter covered with the same notice.
GS II: INTERNATIONAL – EUROPE
U.K. moots '5G club' to keep out Huawei
Britain said that it was pushing the U.S. to form a "D10" club of 10 democratic partners that could develop its own 5G technology and reduce dependence on Huawei.
"D10" club of democratic partners groups the G7 nations with Australia and the Asian technology leaders South Korea and India.
Britain has allowed the Chinese global leader in 5G technology to build up to 35% of the infrastructure necessary to roll out its new speedy data network.
But Prime Minister Boris Johnson was reported to have instructed officials to draw up plans to cut Huawei out of the network by 2023 as relations with China sour.
It said one of the options involves channelling investments into existing telecommunication companies within the 10 member states.
GS III: ECONOMY- INDICATORS
Fiscal deficit at 4.6% for FY20 as revenue sags
The country's fiscal deficit widened to 4.6% of the gross domestic product (GDP) in 2019-20 mainly on account of poor revenue realisation, according to official data.
The deficit, which signifies the gap between government revenue and expenditure, is higher than the revised estimate of 3.8% for the fiscal.
According to the Controller General of Accounts (CGA) data, the fiscal deficit for 2019-20 worked out to be 4.59% of the GDP, while the revenue deficit was 3.27%.
Revenue receipts during the year worked out to be only 90% of the revised estimate.
In absolute terms, total receipts of the government were ₹17.5 lakh crore against the estimate of ₹19.31 lakh crore.
The data showed the government's total expenditure was ₹26.86 lakh crore, lower than the ₹26.98 lakh crore projected earlier.
GS III: ECONOMY- INDICATORS
Core sector output contracts 38% in April
The lockdown imposed due to the COVID-19 pandemic resulted in core sector output contracting 38% in April 2020, compared with the same month in the previous year, according to Commerce Ministry data.
This is the second straight month in negative territory for the index of eight core sector industries, after a 9% fall in March 2020.
Last month, the Ministry had estimated a 6.5% contraction in the core sector in March, a figure that has now been revised downward to 9%.
The April collapse comes on the back of an 86% crash in cement production and an 84% contraction in steel sector output.
All eight sectors saw shrinkage, although the least affected were fertilisers and crude oil, which showed a decline in production of 4.5% and 6.4% respectively.
Petroleum refinery production, the largest component of the index, shrank 24%, while electricity generation dropped almost 23%. Natural gas production fell almost 20%, while coal production declined 15.5%, from a year earlier.
These eight crucial sectors form 40% of the weight of sectors included in the Index of Industrial Production and may signal a crash in that wider index.
GS III: ECONOMY- TELECOM
Telecom regulator moots national numbering plan
The Telecom Regulatory Authority of India recommended that a new National Numbering Plan be issued at the earliest so that a uniquely identifiable number can be provided to every subscriber in India.
Some of the options that TRAI has recommended include switching to a 11-digit mobile number, reallocation of mobile numbering resources surrendered by operators who have shut shop and prefixing zero for all mobile calls made from fixed line.
The regulator said adequate availability of numbering resources is threatened because of an increase in the range of services and massive growth in the number of connections, especially in the mobile segment.
The ongoing plan implemented in 2003, was developed keeping in mind the projections till the year 2033.
The total number of telephone subscribers in India stands at 1,177.02 million with a tele-density of 87.45% at the end of January 2020.
GS II: SOCIAL – HEALTH
Sun Pharma gets nod for drug trial in COVID-19 patients
Sun Pharmaceutical Industries Ltd. has announced that it has received the approval from the Drugs Controller General of India (DCGI) to initiate a clinical trial with Nafamostat Mesilate in COVID-19 patients.
Nafamostat is approved in Japan for improvement of acute symptoms of pancreatitis and treatment of Disseminated Intravascular Coagulation (DIC).
"A group of scientists from the University of Tokyo, Japan and Leibniz Institute for Primate Research, Germany, have recently demonstrated that Nafamostat, at very low concentrations, suppresses a protein (TMPRSS2) that the COVID-19 virus uses to enter human lung cells," the company said in statement.
"Another group from Institut Pasteur, South Korea, also published data comparing the anti-viral efficacy of 24 drugs and Nafamostat, against SARS-CoV-2 in in-vitro studies in human lung epithelial derived cells," the statement added.
In this research, Nafamostat was found to be the most potent drug and was able to inhibit virus entry at very low concentrations, consistent with findings from Japan and German labs, it said.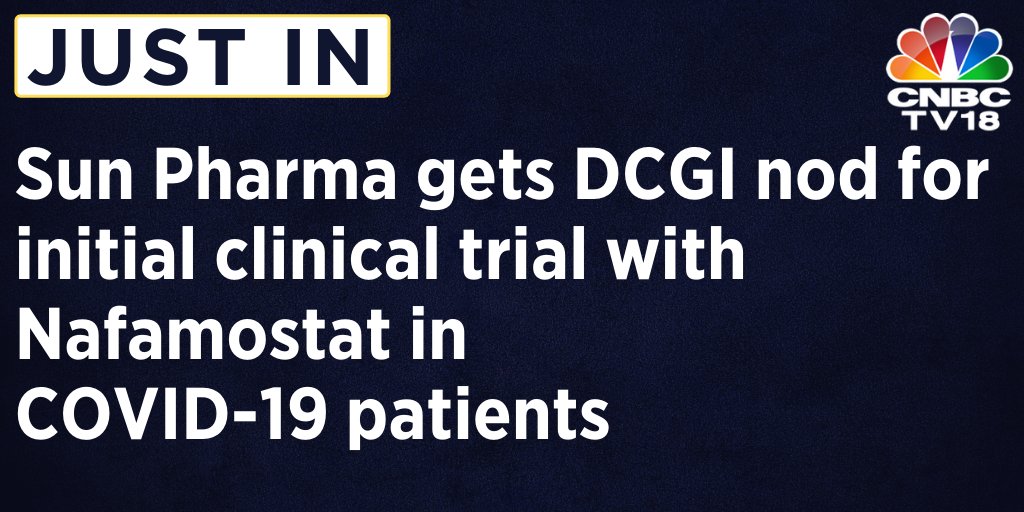 Editorial
May 30 @ 12:31 pm
30 MAY 2020
Awful silence
India must publicly clarify the seriousness of the situation with China along the LAC
Nearly a month after the first skirmishes on the LAC between Indian and Chinese soldiers were reported, the situation on the ground still appears to be tense. While there has been no official explanation of what has happened there since May 5, the day the first clash at Pangong Tso (lake) was reported, there is enough information to conclude that this is the most serious such stand-off India and China have seen in years. As reported by The Hindu, sources say that the number of Chinese soldiers, the aggression with which they have dealt with Indian soldiers, as well as the number of points of conflict, indicate strategised action by Chinese commanders. While both governments have been careful to keep the tone of their comments sober, the fact that both sides have repeatedly mentioned that talks are on is also proof of an ongoing situation. A full de-escalation will entail soldiers being able to return to their normal LAC patrols, something military officers say will probably need a high-level political intervention and for the Indian side, an insistence that Chinese soldiers, who appear to have been the aggressors, returning to positions they previously held.
In the midst of these sensitive negotiations, the interventions by the U.S. come as inopportune distractions. The first comment, last week, by a then senior State Department official, accusing China of being an aggressor on several fronts and posing a "threat" to its neighbours, was followed by President Donald Trump's offer, this week, to mediate between Delhi and Beijing. Neither comment appears to have been made in consultation with India. India has made it clear that it will not accept Mr. Trump's offer and has denied his claim that he spoke to Prime Minister Modi on the issue. The government's first priority now must be to end the current stand-off, and then for its senior officials to enter serious talks on LAC demarcation. Given all the new infrastructure being built by India, it may also be necessary to negotiate new border management protocols that were last updated in 2013. The government must also investigate how a big build-up of Chinese soldiers was not acted upon earlier. Beyond this, it must make a full assessment of just what China's final aims are: is the summer conflagration meant to deflect attention from Beijing's current problems over the coronavirus pandemic, to deter India from its infrastructural push for roads and bridges to connect its northern frontiers all the way to the Karakoram pass, or to "remind" New Delhi of its geographical vulnerabilities as it contemplates a closer maritime relationship in the Indo-Pacific with the U.S.? In all three scenarios, the first steps for the government would be to publicly clarify the seriousness of the situation at the LAC, and to build consensus around its plans for a firm pushback and an assertion of its position along the disputed line.
Belated, but welcome
After taking note of pandemic-induced crisis, SC must now enforce rights of the vulnerable
It is a matter of relief that the Supreme Court has at last taken cognisance of the plight of millions of inter-State workers looking for transport home and relief from the unrelenting misery unleashed on them by the lockdown. A three-judge Bench has initiated suo motu proceedings based on media reports and representations from senior advocates, observing that there have been inadequacies and lapses on the part of the Centre and States in dealing with the crisis faced by workers. It need not have come to this. This could have taken place seven or eight weeks earlier, when petitions were filed before the top court on behalf of those left in the lurch across India after the Centre announced a lockdown, with just four hours' notice. With a kind of self-effacement and self-abnegation not in keeping with its institutional history, the Court had then accepted the government's sweeping claim that there were no migrants on the roads any more, and that the initial exodus of workers from cities to their home States had been set off by "fake news" to the effect that the lockdown would last for months. In an unfortunately limited intervention, the Court merely advised the police to treat the workers on the roads with kindness and directed the media to highlight the Centre's version of the developments.
The Court's reluctance to intervene may have stemmed from a belief in letting the executive handle the fallout of an unprecedented global crisis, but, in the process, it abandoned its primary responsibility of protecting fundamental rights, especially of those most vulnerable. Such was the resultant dismay that retired judges called it out for apparent abdication of its duty. A former High Court judge even said the ghost of ADM Jabalpur was lingering, in an unflattering reference to an Emergency-era judgment, now mercifully overruled, that held that personal liberty was not absolute during a state of emergency. Whether it was shamed into taking cognisance of the issue or it felt that the situation is ripe for intervention, one should now expect the Court to take a more critical look at the government's lapses, and emulate the stellar role that High Courts are playing in holding administrations accountable. The top court must now find out if the Centre, which imposed a stringent lockdown to buy time for preparing the health infrastructure, had discharged its responsibilities. It may even lay down guidelines for planning, coordination and establishment of a mechanism to address the economic and humanitarian consequences of such actions in future. The government should also do more than asking its law officers to fulminate against activists, denounce the media and question the patriotism of those critical of its actions. A national tragedy requires a more statesmanlike response.
The Daily Current Affairs News Analysis section for UPSC Current Affairs Preparation is an initiative by A A Shah's IAS Institute to prepare IAS aspirants in making easy and effective current affairs notes available online FREE for all.
Current Affairs is an integral part of study for IAS UPSC- Civil Services Examinations, not only for Prelims but for Mains as well. UPSC syllabus for General Studies Paper I of Preliminary (Prelims) Examination starts with Current Events of national and international importance.
The important keyword here is "National and international importance". Thus candidates are required to understand which news is important and relevant for UPSC CSE point of view.
It may further be noted that UPSC doesn't ask any factual questions, as such candidates are not required to learn or remember factual data.
The issues or news covered is categorized into four general studies papers (GS Paper I, GS Paper II, GS Paper III and GS Paper IV) as per the UPSC Mains syllabus.
Our Daily Current Affairs Analysis is prepared by Mrs. Bilquees Khatri based on The Hindu newspaper and articles and covers every day significant events or issues in the news that is important from UPSC Exam perspective.
IMPORTANCE OF CURRENT AFFAIRS IN UPSC IAS EXAM
For UPSC current affairs, the most important thing is to segregate the topics in news as per the IAS Syllabus for Prelims and Mains. For UPSC current affairs related to IAS Prelims, it is still somewhat easier as there is just one GS paper. However, arranging UPSC current affairs notes for IAS Mains is rather challenging because of the comprehensive syllabus and descriptive-essay type questions.
For this reason we have segregated the daily news topic-wise according to GS mains subject papers.
In this section find links to
Daily News Headlines from The Hindu newspaper (Videos)
Daily News Analysis with proper heading and topics in downloadable PDF format
Daily 'The Hindu' editorials in downloadable PDF format
Daily Question Bank – Subjective questions with suggested links and answers.
Monthly compilation of Topic-wise News in downloadable PDF format. This is monthly Current Affairs Notes available free online, which can be downloaded and saved. It is UPSC study material free for all.
IMPORTANT CURRENT AFFAIRS TOPICS FOR UPSC IAS
Among others, news related to following topics are important and relevant:
Economic issues
Social issues
International / Bilateral / Multilateral Relations
Legislature / Bill / Act
Judiciary
Elections
Centre – State Relations
Inter–state Relations
Governance
Government schemes
Agriculture
Environment
Science & Technology
Internal security
Art & culture
UPSC Prelims 2019 Keywords. Culture & History
IAS Current Affairs Important Headlines by Mrs Bilquees Khatri
Watch all Current Affairs videos, toppers guidance seminars and much more on our YouTube channel