When:
June 26, 2018 @ 1:00 am
2018-06-26T01:00:00+05:30
2018-06-26T01:15:00+05:30
NEWS
26 JUNE 2018 
| | | |
| --- | --- | --- |
| Sr. No. | Topic | News |
| 1. | GS II: BILATERAL – SEYCHELLES | India, Seychelles talk of 'mutual welfare' |
| 2. | GS III: SECURITY | 3 get 10 year jail in Naroda Patiya case |
| 3. | GS I: CULTURE | Season of boat races to begin on June 28 |
| 4. | GS III: ECONOMY – POLICY | Who is the FM, asks Congress |
| 5. | GS III: ENERGY | Centre cannot guarantee power supply to all villages, says official |
| 6. | GS II: INTERNATIONAL – ASIA | Erdogen wins elections in Turkey |
| 7. | GS II: BILATERAL – INDIA-SRI LANKA | India voices concern over housing project |
| 8. | GS III: ENERGY | Oil blocks: India to bid with UAE firms |
| 9. | GS III: ENERGY | Oil India again discovers hydrocarbons in KG Basin |
| 10. | GS III: INFRASTRUCTURE | $4.5 tn investment needed for infra: FM |
| 11. | GS III: ECONOMY – BANKING | 'Anchor bank for PSB consolidation put on hold' |
| 12. | GS II: INTERNATIONAL – USA | Harley to move production out of U.S. |
| 13. | GS III: ENVIRONMENT – POLLUTION | Toxic air is causing malnutrition in trees |
| 14. | GS III: S&T – SPACE | Space tourists prone to sickness: NASA astronaut |
GS II: BILATERAL – SEYCHELLES
India, Seychelles talk of 'mutual welfare'
India and Seychelles will ensure mutually beneficial steps regarding stalled plans for a military base at the island of Assumption, Prime Minister Narendra Modi said after a bilateral meeting with the visiting Seychelles PresidentDanny Faure.
Mr. Modi announced several initiatives for the strategically located country, including the grant of $100 million Line of Credit for the purchase of defence hardware.
The National Assembly of Seychelles has refused to ratify the naval base that India has been planning to build on Assumption to provide a foothold in the western Indian Ocean.
He also declared that both sides would intensify cooperation to carry out hydrographical studies of the maritime region and have declared exchange of necessary oceanic maps between two sides.
India also gifted a Dornier aircraft to Seychelles.
Mr Faure said his country will soon be celebrating the 250th anniversary of the arrival of the Indian origin people to the archipelago.
GS III: SECURITY
3 get 10 year jail in Naroda Patiya case
The Gujarat High Court awarded 10 year imprisonment to three persons convicted in the case of the Naroda Patiya massacre that occurred during the 2002 riots.
They were part of the 16 people convicted by the Division Bench.
The court said any lenient sentence would amount to travesty of justice, and the sentence must be proportionate to the brutality of their crime.
These convicts were earlier acquitted by the SIT court that conducted the trial.
In its April 20 judgment on the appeals, the court convicted 16 persons, including the then Bajrang Dal leader, Babu Bajrangi, and acquitted 18 others, among them being former BJP Minister Maya Kodnani, who was called the main accused by the trial court.
The case pertains to the killing of 97 people, most of them from the minority community, in the Naroda Patiya area of Ahmedabad on February 28, 2002, a day after the Sabarmati Express was torched at Godhra, an incident that triggered riots across the State, in which more than 1,000 people were killed.
GS I: CULTURE
Season of boat races to begin on June 28
The harmonious strains of 'vanchipattu', cheering crowds and display of physical prowess are all set to return to the fore as the traditional boat race ('Vallam Kali') season is round the corner.
The season of boat races in Kerala will begin on June 28.
Snakeboats (chundan vallam) as well as smaller boats, would participate in this year's race.
The Tourism Department has already announced that it will launch an Indian Premier League model boat race league in the State in 2018.
The Kerala Boat Race League will commence with the Nehru Trophy Boat Race at Punnamada Lake in Alappuzha and conclude with the President's Trophy in Kollam.
GS III: ECONOMY – POLICY
Who is the FM, asks Congress
Who is the country's Finance Minister, asked the Congress on Monday, as it criticised the Centre's decision to make Life Insurance Corporation of India (LIC) the major shareholder of IDBI Bank.
"The Finance Ministry's website says Arun Jaitley is the Finance Minister, while the Prime Minister Office's website says Piyush Goyal is the Finance Minister and Mr. Jaitley is Minister without portfolio. We want to know who should we believe? Who is the Finance Minister," asked Congress media in-charge Randeep Surjewala.
The LIC had sought the government's approval to buy a controlling stake in IDBI Bank Ltd.
The corporation, which currently has a 10.8% stake in IDBI Bank, wants to buy an additional 43% for about Rs. 10,500 crore.
"IDBI Bank is the worst performing public sector bank whose quarter-four losses have swollen to Rs. 5,663 crore and gross NPA is now worth Rs. 55,588.26 crore …. The Modi government is now jeopardising the hard-earned money of 38 crore LIC policy holders by forcing it to purchase the rapidly sinking bank. This is a classic case of selling the family silver of policy holders to hide the economic mayhem of failed Modinomics and Jaitleynomics," he said.
GS III: ENERGY
Centre cannot guarantee power supply to all villages, says official
While it is the Centre's responsibility to connect households and villages to the power grid or provide them alternative sources of electricity, it cannot guarantee the supply of electricity to them, Arun Kumar Verma, Joint Secretary in the Power Ministry, said.
The actual supply is the responsibility of the power distribution companies (discoms) in each State, the official said.
The Centre has claimed 100% electrification of all villages and 83% of all households across the country.
It has said that all households will be electrified by the year-end.
However, an analysis by The Hindu has found several discrepancies between the actual and the on-paper status of electrification.
In some cases, the electrification infrastructure such as cables and transformers were stolen days after they were installed, leaving the target village unelectrified in reality but connected on paper.
In other cases, electricity was supplied for just a few hours a day.
Despite the government pegging India as a power surplus nation, almost every State in the country reels under power cuts, especially during peak summer. This, according to power sector analysts, is because discoms are still very inefficient, with the costs they incur in the transmission far outweighing revenue.
Government data show discoms across the country, on an average, lose Rs. 0.22 a unit of electricity supplied.
However, the Power Ministry has claimed that this situation is improving rapidly under the Ujwal Discom Assurance Yojana (UDAY), with Power Minister R.K. Singh recently saying that discom losses have drastically reduced to Rs. 17,352 crore in 2017-18 from Rs. 51,096 crore in the previous year.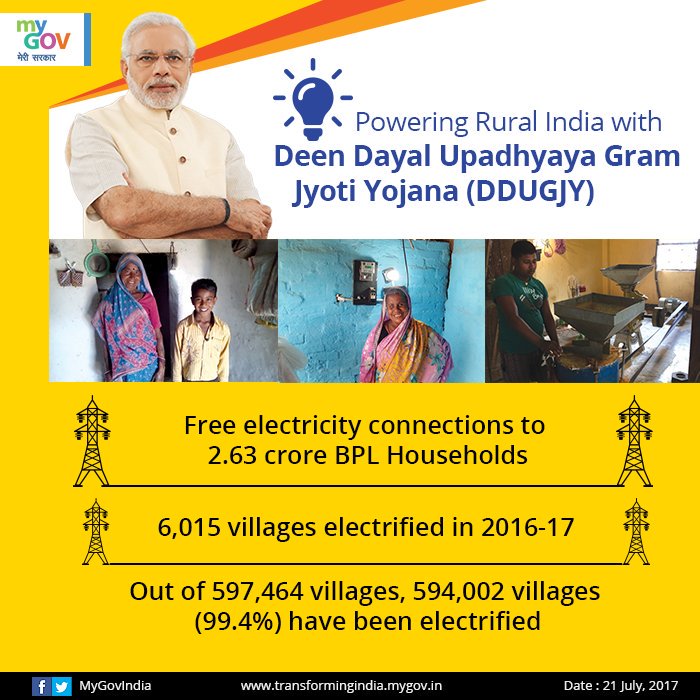 GS II: INTERNATIONAL – ASIA
Erdogen wins elections in Turkey
GS II: BILATERAL – INDIA-SRI LANKA
India voices concern over housing project
India has voiced concern to Sri Lankan authorities over a housing project in the island's Tamil-majority north and east, to be executed by a Chinese company, citing the Resettlement Ministry's "lack of transparency" in choosing the builder.
Indian officials have questioned the government's decision to award a huge contract – to build 40,000 homes – to a Chinese company, reportedly without a fair tendering process.
They particularly raised the "opaque" manner in which the Ministry finalised the project, apparently "excluding" experienced companies from India that would have been interested.
India's owner-driven scheme of 46,000 homes across the north and east is nearly complete. Additionally, it is building 14,000 houses in the central highlands.
The present Cabinet-cleared project came with a 100% financing option from the company, and was likely to be completed fast, in two years.
According to official data, as many as 1,65,000 houses are required in the north and east. Locals have sought brick-and-mortar housing that are suitable for their warm climatic conditions.
GS III: ENERGY
Oil blocks: India to bid with UAE firms
India is considering jointly bidding for oil blocks in the UAE with companies based there, Petroleum Minister Dharmendra Pradhan said on the sidelines of the MoU signing ceremony with Saudi Aramco and ADNOC for their investment in the Ratnagiri refinery.
The Minister also said that India would consider leasing a part of its third strategic reserve in Padur if Abu Dhabi National Oil Company (ADNOC) was interested.
It had already leased a part of the strategic reserve in Mangalore to ADNOC.
GS III: ENERGY
Oil India again discovers hydrocarbons in KG Basin
Oil India Limited (OIL), one of India's largest public sector oil exploration and production companies, has made its second hydrocarbon discovery in the onland KG Basin NELP VI Block .
"The size of the discovery can only be ascertained after further testing of the wells" said an OIL official.
OIL is the operator of the the block with 90% participating interest while the balance 10% is held by Geo Global Resources.
Earlier, the company made a gas discovery at Dangeru-l well in the block.
Besides having a pan-India presence, OIL has participating interest in blocks in more than nine countries overseas – Libya, Gabon, Nigeria, Yemen, Venezuela, USA, Mozambique, Russia and Bangladesh.
GS III: INFRASTRUCTURE
$4.5 tn investment needed for infra: FM
The country will need more than $4.5 trillion in investments over a decade to create infrastructure but the cost of such investments will be a challenge, Finance Minister Piyush Goyal said at the Asian Infrastructure Investment Bank's(AIIB) annual meeting.
India is the second-highest equity investor in AIIB and also the largest recipient of funds from the multilateral agency that started operations in January 2016.
India has picked up 28%, or $ 1.4 billion of the AIIB's total funding for seven projects.
Those funds are deployed in both the public and the private sectors.
Later at a press conference, the Finance Minister said the country is looking forward to investments in nine more projects with a funding of $2.4 billion from the Beijing-headquartered agency.
AIIB has approved an equity investment of $100 million in India's National Investment and Infrastructure Fund's (NIIF) and is considering a further investment of $100 million in the future.
When asked about India's concern over AIIB's funding in the China Pakistan Economic Corridor (CPEC) that passes through Pakistan-Occupied-Kashmir (PoK), Mr. Goyal said 'one cannot dictate' as to what projects a multilateral agency should invest in.
GS III: ECONOMY – BANKING
'Anchor bank for PSB consolidation put on hold'
The concept of having 5-6 anchor banks and merging weaker banks with them to drive consolidation among public sector banks (PSBs) has been put on the back-burner.
Instead, an alternative proposal is before the Finance Ministry of classifying banks into three categories.
One is a universal bank which does all kinds of banking, including corporate lending. The second type includesnational retail banks that would focus only on retail lending. Regional retail banks constitute the third type.
GS II: INTERNATIONAL – USA
Harley to move production out of U.S.
Harley-Davidson Inc. said it would move production of motorcycles shipped to the European Union from the United States to its international facilities and forecast the trading bloc's retaliatory tariffs would cost the company $90 million to $100 million a year.
The shift in production is an unintended consequence of U.S. President Donald Trump's administration imposing tariffs on European steel and aluminum early in June 2018, a move designed to protect U.S. jobs.
In response to the U.S. tariffs, the European Union began charging import duties of 25% on a range of U.S. products including big motorcycles like Harley's on June 22.
Struggling to overcome a slump in U.S. demand, Harley has been aiming to boost sales of its iconic motorcycles overseas to 50% of total annual volume from about 43% currently.
GS III: ENVIRONMENT – POLLUTION
Toxic air is causing malnutrition in trees
Besides affecting human health, air pollution is also causing malnutrition in trees by harming a fungi that is important for providing mineral nutrients to tree roots, finds a new study.
Mycorrhizal fungi is hosted by the trees in their roots to receive nutrients from the soil.
These fungi provide essential nutrients like nitrogen, phosphorus and potassium from soil in exchange for carbon from the tree.
This plant-fungal symbiotic relationship is crucial for the health of the tree.
However, high levels of the nutrition elements like nitrogen and phosphorus in the mycorrhizae changes them to act as pollutants rather than nutrients, the findings showed.
The signs of malnutrition can be seen in the form of discoloured leaves and excessive falling of leaves.
"There is an alarming trend of tree malnutrition across Europe, which leaves forests vulnerable to pests, disease and climate change," said lead researcher
GS III: S&T – SPACE
Space tourists prone to sickness: NASA astronaut
People who sign up with space tourism companies for a trip beyond the earth may be unprepared for the rigours of spaceflight, according to a NASA astronaut.
To date, only the Russian Space Agency, Roscosmos, has taken tourists into space, between 2001 and 2009, at a cost between $20 and 40 million.
However, aerospace companies like Blue Origin, Virgin Galactic and SpaceX are hoping to launch commercial flights within the next decade.
Hundreds of people, including Hollywood actors like Angelina Jolie, Kate Winslet and LeonardoDiCaprio, have already bought tickets.
Nasa astronaut Anna Fisher, who became the first mother in space, has warned many are unprepared for the rigours of spaceflight and the toll it will take on their bodies.
The Apollo 8 crew were the first astronauts to report space sickness in 1968, and by Apollo 9 the crews were feeling so bad that their spacewalk had to be rescheduled.
NASA's training aircraft where astronauts can experience weightlessness is colloquially known as the 'vomit comet' because it makes people feel so ill.
It is widely known that microgravity seriously impacts metabolism, heat regulation, heart rhythm, muscle tone, bone density, eyesight, and the respiration system.
In 2016, research from the U.S. also found that astronauts who travelled into deep space on lunar missions were five times more likely to have died from cardiovascular disease than those who went into low orbit, or never left Earth.
In 2017, Russian scientists found microgravity causes such alarming changes to the immune system, that astronauts would struggle to shake off even a minor virus, like the common cold if they became infected.