When:
June 29, 2018 @ 1:00 am
2018-06-29T01:00:00+05:30
2018-06-29T01:15:00+05:30
NEWS
29 JUNE 2018
| | | |
| --- | --- | --- |
| Sr. No. | Topic | News |
| 1. | GS III: SECURITY | LeT killed Bukhari: J&K police |
| 2. | GS III: DISASTER MANAGEMENT | Private aircraft crash in Mumbai |
| 3. | GS II: BILATERAL – INDIA-USA | Revise relations with Iran, Haley tells India |
| 4. | GS I: CULTURE | Battle over Bankim Chandra in Bengal |
| 5. | GS III: ENVIRONMENT – BIODIVERSITY | Tiger 'couple' from M.P. to start a family in Odisha |
| 6. | GS II: SOCIAL – EDUCATION | HECI proposed to replace UGC |
| 7. | GS III: AGRICULTURE | Kharif sowing on, but no word on MSPs |
| 8. | GS II: INTERNATIONAL – USA | Trump-Putin summit to unfold in Helsinki on July 16 |
| 9. | GS III: ECONOMY – POLICY | RBI steps in as rupee hits record low |
| 10. | GS III: ECONOMY – POLICY | Indians' Swiss bank stash tops Rs. 7,000 cr. |
| 11. | GS III: S&T – IT | Hyderabad may house first government blockchain centre |
| 12. | GS III: ENVIRONMENT – BIODIVERSITY | Is biodiversity treaty a hurdle to conservation research? |
| 13. | GS III: S&T – SPACE | Saturn's moon could support life, says study |
| 14. | GS III: S&T – SPACE | Mars may have hosted life form before earth |
| 15. | GS III: S&T – SPACE | James Webb Space Telescope launch delayed to 2021 |
GS III: SECURITY
LeT killed Bukhari: J&K police
The Lashkar-e-Taiba (LeT) hatched the conspiracy to kill the Valley-based senior journalist Shujaat Bukhari, and it was executed by four militants, including a foreigner, the Jammu and Kashmir police said.
"Tangible evidence suggests that the LeT hatched the conspiracy in Pakistan," Inspector-General of Police, Kashmir said.
The police released the pictures of four militants "directly involved" in the killing.
The police said Bukhari's killing was preceded by an online smear and hate campaign with intimidating content.
GS III: DISASTER MANAGEMENT
Private aircraft crash in Mumbai
GS II: BILATERAL – INDIA-USA
Revise relations with Iran, Haley tells India
Calling Iran a "threat" to the world, U.S. envoy to the UN Nikki Haley said she had raised concerns over trade with Tehran at her meeting with Prime Minister Narendra Modi.
Haley called on India to "rethink its relationship with Iran." "I think as a friend [of the U.S.] India should decide whether [Iran] is a country they want to continue doing business with," she said.
GS I: CULTURE
Battle over Bankim Chandra in Bengal
Bharatiya Janata Party president Amit Shah's Bengal visit has triggered a race for ownership of one of Bengal's foremost 19th century scholars, Bankim Chandra Chattopadhyay.
Trinamool Congress organised a three-day programme to mark the 180th birth anniversary of the scholar who pennedVande Mataram.
The BJP chief triggered a controversy when he said that the Congress "truncated" Vande Mataram to address its political ambitions, a claim challenged by historian and TMC MP Sugata Bose.
Political scientist Ashis Nandy said though Bankim Chandra "may not have relevance" in today's Bengal, in the writer's time "a definitive strand of Hindu nationalism was evident".
"This strand [of Hindu nationalism] was relevant during and even before Banga Bhanga [1905, first Partition of Bengal] and there was an element of love for Hindu nation-state in Bengal. But perhaps in those days, many used to nurture such sentiments, inspired by Europe," Prof. Nandy said, adding that the BJP was perhaps trying to work on this strand.
However, he said the idea of Bengal's Hindu nationalism, as articulated by Bankim Chandra, was "mildly violent".
He does not deny that "some literary critics of Bankim's times pointed to his habit of 'heroising' Hindu characters and denigrating Muslims".
Above all, the song Vande Mataram, which he put at the ideational core of his novel Anandamath, "in iconising the country as a mother figure, alienated Muslim sentiments."
Historian and TMC MP Sugato Bose challenged Mr. Shah's opinion that the "truncated" version of Vande Mataram divided the country.
Prof. Bose said that at the 1937 AICC conference in Kolkata, the first two stanzas were sung so that "everyone from all religions and communities could sing it".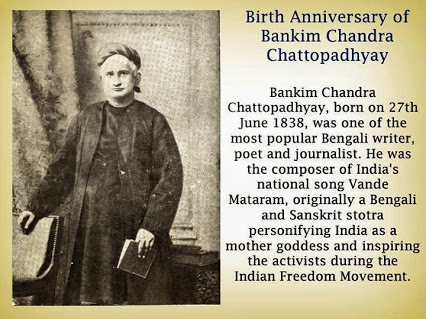 GS III: ENVIRONMENT – BIODIVERSITY
Tiger 'couple' from M.P. to start a family in Odisha
Odisha's Satkosia Tiger Reserve (STR), which had eight tigers in 2008 and is now down to two ageing females, is all set to repopulate itself with a pair of young tigers borrowed from Madhya Pradesh.
Sundri, a 27-month-old tigress from Bandhavgarh Tiger Reserve in Madhya Pradesh, arrived in Satkosia.
Sundri will soon get acquainted with her potential mate, a three-year-old male from Kanha National Park, which has been in Satkosia since June 21.
The STR, comprising the Satkosia Gorge Sanctuary on its north and Baisipalli Sanctuary on its south, was notified over an area of 963.87 sq km in 2007.
The State government is in the process of redrawing its boundaries and increasing its area to 1,136.7 sq km.
The STR, endowed with dense forest cover, has a sizeable population of herbivores, which constitute the tiger's prey.
The National Tiger Conservation Authority (NTCA) is also hopeful that the forest can sustain a good tiger population.
GS II: SOCIAL – EDUCATION
HECI proposed to replace UGC
GS III: AGRICULTURE
Kharif sowing on, but no word on MSPs
The monsoon has arrived in northern India and is expected to cover the whole country in the next few days, but farmers are still waiting for the announcement of the minimum support prices (MSP) for major crops.
The Modi government had promised that this year the MSPs would be set at least 50% higher than production costs, but without a clear announcement on actual prices ahead of the monsoon, agrarian experts say farmers have been left in the lurch.
The government is also considering three NITI Aayog proposals which could shift some of the burden of enforcing MSPs to the States and even private agencies.
A Group of Ministers constituted under Home Minister Rajnath Singh in April, has been considering the proposals, and is likely to make an announcement the next few days, according to a senior government official.
Several States have expressed reservations about the viability of the proposals, government officials said.
NITI Aayog was still holding consultations with a group of farmers on the possibility of procurement by traders, said sources aware of the meeting.
MSPs for 23 major crops are announced at the beginning of sowing season, which for the kharif (summer) season is signalled by the onset of the monsoon. Accordingly, the announcement is usually made in the first two weeks of June.
"Farmers tend to shift to crops that come with higher MSPs to ensure their sustenance."
While farmers have been producing bumper crops, they have been unable to get MSP rates.
GS II: INTERNATIONAL – USA
Trump-Putin summit to unfold in Helsinki on July 16
U.S. President Donald Trump and Russian President Vladimir Putin will hold their first summit on July 16 inHelsinki, a renowned venue for Cold War diplomacy, with nervous U.S. allies in Europe and Russia sceptics looking on.
"The two leaders will discuss relations between the United States and Russia and a range of national security issues," the White House said in a statement similar to one released by the Kremlin.
Mr. Trump will meet Mr. Putin after attending a July 11-12 summit of NATO leaders and making a visit to Britain.
Their summit could irritate U.S. allies, however, who want to isolate Mr. Putin, such as Britain, or countries like Ukraine.
It is also likely to go down badly among critics who question Mr. Trump's commitment to the NATO alliance and who have been concerned about his frictions with allies such as Canada and Germany over trade.
The ties between Washington and Moscow have deteriorated over the conflict in Syria and the poisoning of a former Russian spy in Britain which sparked big diplomatic expulsions in both countries.
The U.S. intelligence community's conclusion that Moscow sought to interfere in that campaign to tilt the election in Mr. Trump's favour has also been hanging over relations with Russia.
Mr. Trump has also endorsed the idea of Russia rejoining the Group of Seven industrialised countries to make it the G8 again.
GS III: ECONOMY – POLICY
RBI steps in as rupee hits record low
The rupee extended its losing streak for a fourth straight session, breaching the 69-a-dollar mark for the first time ever in early trade before the central bank intervened by selling dollars through state-run banks, curbing volatility in the foreign exchange market and helping the local currency trim its losses.
Climbing crude oil prices, which would fan inflation and widen the current account deficit, fears of a looming global trade war and the rising U.S. interest rates have combined to exacerbate outflows from emerging markets and impacted the rupee.
The Indian currency has depreciated more than 7% this year, making it the worst performing Asian currency in the period.
While the country's $413 billion foreign exchange reserves acts as a cushion, the pile has shrunk in eight of the nine weeks to June 15 as the central bank intervenes in the currency market to smooth volatility.
The RBI has said that it does not target any specific level for the currency and only intervenes to curb volatility.
GS III: ECONOMY – POLICY
Indians' Swiss bank stash tops Rs. 7,000 cr.
Money parked by Indians in Swiss banks rose more than 50% to 1.01 billion Swiss francs (Rs. 7,000 crore) in 2017,reversing a three-year downward trend amid India's clampdown on suspected black money stashed there.
In comparison, the total funds held by all foreign clients of Swiss banks rose about 3% to 1.46 trillion francs or about Rs. 100 lakh crore in 2017, according to the official annual data released by the Swiss National Bank (SNB), the central banking authority of the Alpine nation.
The surge in Indian money held with Swiss banks comes as a surprise given India's continuing clampdown on suspected black money stashed abroad, including in the banks of Switzerland that used to be known for their secrecy for years.
The Indian money in Swiss banks had fallen by 45% in 2016, marking their biggest-ever yearly plunge, to 676 million francs (about Rs. 4,500 crore) — the lowest ever since the European nation began making the data public in 1987.
GS III: S&T – IT
Hyderabad may house first government blockchain centre
The Centre is considering a proposal to set up a Centre of Excellence for blockchain technology in Hyderabad to drive innovation.
The proposal has been submitted by C-DAC Hyderabad, along with the Institute for Development and Research in Banking Technology (IDRBT) and Veermata Jijabai Technological Institute (VJTI), Mumbai.
The Centre of Excellence, proposed to come up at C-DAC's Hyderabad unit, will be the first one by the government for blockchain technology.
"We plan to use blockchain to digitise and secure land records for Telangana. Once we successfully deploy it, we can then think of scaling it," said the official on condition of anonymity.
"We are looking for more applications where blockchain can be used. IDRBT will work on and develop use cases and applications for finance sector. VJTI will work on IoT capabilities," the official said. IT firms such as Infosys, TCS, Wipro and Cognizant had made significant investments in blockchain technology, while banks had already started using the technology, he added.
GS III: ENVIRONMENT – BIODIVERSITY
Is biodiversity treaty a hurdle to conservation research?
It's a case of a "cure that kills": an international conservation treaty is hampering conservation research, claim scientists.
In a communication published on June 28 in the journal Science, an international team of scientists — including professors at India's Kerala Agricultural University and Ashoka Trust for Research in Ecology and the Environment (ATREE) – say that the Convention on Biological Diversity (CBD), of which India is signatory too, is hindering biodiversity research and preventing international collaborations due to regulations that have risen due to its implementation.
The CBD is aimed at conserving biological diversity, sustainably using biological components and fair and equitable sharing of benefits (with local or indigenous communities) that may arise out of the utilisation of genetic resources.
The latter was delineated in the Nagoya Protocol, which came into effect in 2014.
But this has generated "unintended consequences" for research; due to national-level legislations instituted by countries under the CBD, obtaining field permits for access to specimens for non-commercial research has become increasingly difficult, write the authors.
They suggest that the International Treaty on Plant Genetic Resources for Food and Agriculture or the "Seed Treaty", which ensures worldwide public accessibility of genetic resources of essential food and fodder, could be used as a model for exchange of biological materials for non-commercial research.
Another solution may be to add an explicit treaty or annex in the CBD to promote and facilitate biodiversity research, conservation, and international collaboratios.
However, we should not see regulation as restriction, said a source in India's National Biodiversity Authority (which primarily implements provisions of access and benefit sharing of India's biological resources).
Under government-approved international collaborative projects, material can be exchanged freely; there are also "facilitative processes" to send specimens for taxonomic identification to other countries, the source added.
India is one of the 196 countries that has committed to the CBD and ratified it in February 1994.
GS III: S&T – SPACE
Saturn's moon could support life, says study
Complex organic molecules have been discovered originating from one of Saturn's moons, Enceladus, adding to its potential to support life, researchers said.
The Cassini spacecraft first flew close to the ice-covered moon in 2005 as part of a mission to gather data on Saturn that will be analysed for years to come.
Scientists have identified fragments of large organic molecules in ice grains that were ejected from geysers through cracks in the moon's icy exterior.
It is the first ever detection of complex organics coming from an extraterrestrial waterworld.
The Enceladus findings come days after data in June 2018 showed organic compounds on the surface of Mars and seasonal fluctuations of atmospheric methane, marking some of the strongest evidence ever that the earth's neighbour may have harboured life.
Cassini has previously detected lightweight organic molecules at Enceladus but the newly found fragments are much larger.
Such large molecules can only be created by complex chemical processes including those related to life, ESA said.
"This is the most recent in a long series of discoveries made by Cassini that have been painting Enceladus as a potentially habitable world," it added.
GS III: S&T – SPACE
Mars may have hosted life form before earth
After analysing grains of the mineral zircon extracted from a Martian meteorite known as Black Beauty, scientists have found that Mars' crust formation — which is the end product of planet formation — took place at least 100 million years earlier than on the earth.
Scientists have found that the Red Planet's outer layer hardened 4.547 billion years ago, only 20 million years after the birth of the Sun.
"Our results indicate that Mars could have had an environment with oceans, and potentially life, much earlier than Earth," said a scientist.
Water is considered to be an essential precursor for life, at least as we know it.
Mars was once much more Earth-like, with a thick atmosphere, abundant water and global oceans.
The new study tackles the question by examining a chunk of Mars that streaked into the Saharan Desert and was discovered in 2011.
The Black Beauty meteorite weighed 320 grams when found.
GS III: S&T – SPACE
James Webb Space Telescope launch delayed to 2021
NASA said that human and technical errors had caused a fresh delay in the launch of James Webb Space Telescope, which will now not be deployed before March 2021.
The move will likely cost the agency an additional $8.8 billion.
The telescope was earlier scheduled for launch in 2020