When:
October 31, 2017 @ 10:00 am
2017-10-31T10:00:00+05:30
2017-10-31T10:15:00+05:30
NEWS 
31 OCTOBER 2017
| | | |
| --- | --- | --- |
| Sr. No. | Topic | News |
| 1.        | GS II: GOVERNANCE – AADHAAR | Five-judge statute Bench to decide on Aadhaar validity |
| 2.        | GS III: SECURITY – J&K | Centre gets SC to freeze hearing on Article 35A |
| 3.        | GS II: POLITY – JUDICIARY | Produce Hadiya on Nov. 27: SC tells father |
| 4.        | GS II: SOCIAL – HEALTH | Fewer TB deaths in India: WHO |
| 5.        | GS II: BILATERAL – INDIA- ITALY | India, Italy vow to fight terror |
| 6.        | GS III: ECONOMY -BANKING | Jaitley-led panel to oversee PSB mergers |
| 7.        | GS III: ECONOMY – GST | Centre extends last date for filing GST returns |
| 8.        | GS III: ECONOMY – DIGITAL | New avatar BHIM app misses October date |
| 9.        | GS III: ENVIRONMENT – CLIMATE – CHANGE | Concentration of CO2 in atmosphere hits record high: UN |
GS II: GOVERNANCE – AADHAAR
Five-judge statute Bench to decide on Aadhaar validity
TheSupreme Court decided to constitute a five-judge Constitution Bench to hear petitions from November against the validity of the Aadhaar scheme.
A Bench led by Chief Justice of India Dipak Misra took the step after Attorney General K.K. Venugopal said falsehoods had been spread about Aadhaar linking.
Mr. Venugopal said a Constitution Bench may be set up to decide, once and for all, the various Aadhaar challenges pending before the court since 2014 instead of passing any interim orders.
A separate Bench of Justices A.K. Sikri and Ashok Bhushan, meanwhile, issued notice to the government on a petition filed by advocate Raghav Tankha, challenging the mandatory linking of Aadhaar with mobile numbers.
Mr. Tankha said the linkage was "orchestrated by the Union of India in tandem with private telecom service providers" in violation of the fundamental right to privacy.
The decision to set up a five-judge Bench comes despite Justice Rohinton Nariman's separate judgment in the nine-judge Bench declaring privacy as a fundamental right.
Justice Nariman's judgment had directed the Aadhaar petitions to be posted for hearing before the 'original' three-judge Bench.
This 'original' Bench led by Justice J. Chelameswar had referred the petitions for hearing before a five-judge Bench, which found it necessary to first decide whether privacy was a fundamental right or not before hearing the Aadhaar petitions.
The nine-judge Bench verdict has a crucial bearing in the Aadhaar petitions, which have argued that Aadhaar's use of biometric details like fingerprints and iris scans violate bodily and informational privacy.
The petitioners argue that mandatory requirement of Aadhaar for these schemes "constrict rights and freedoms which a citizen has long been enjoying unless and until they part with their personal biometric information to the government".
The petitions have termed the Aadhaar Act of 2016 as unconstitutional and contrary to concept of limited and accountable governance.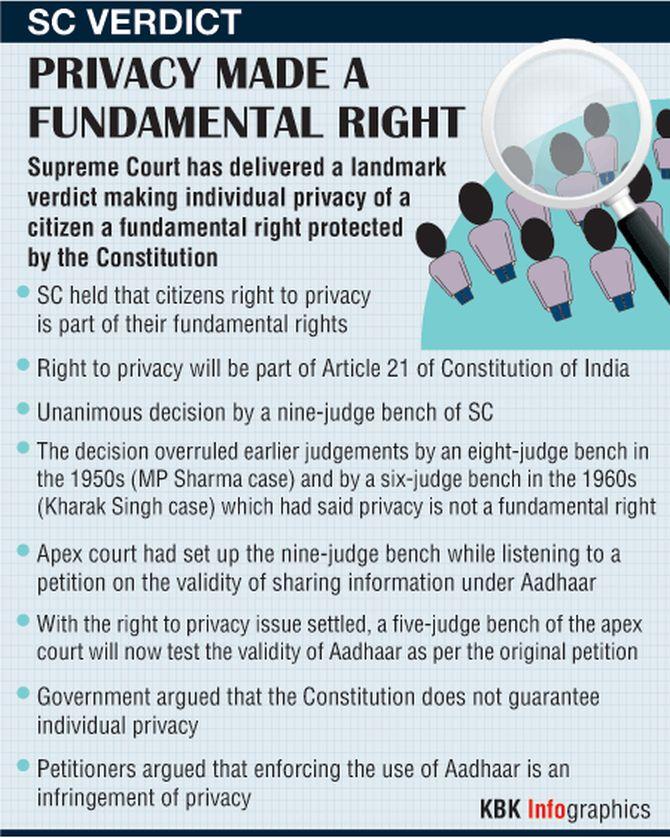 GS III: SECURITY – J&K
Centre gets SC to freeze hearing on Article 35A
Choosing dialogue over court battle, the Centre convinced the Supreme Court to defer hearing on petitions challenging the special status granted to Jammu and Kashmir, saying it has appointed an interlocutor to commence talks with stakeholders in the State.
"We have appointed an interlocutor. He has started talks with stakeholders. If the court hears this case, it will affect dialogue process," Mr. Venugopal submitted.
The government has appointed Dineshwar Sharma, a former IB director, as interlocutor.
Appearing before a Bench led by Chief Justice Dipak Misra, Attorney General K.K. Venugopal said the court should adjourn the hearing on the petitions against Article 35A of the Constitution for six months.
The court, however, settled for 12 weeks in its order.
Article 35A is a provision incorporated in the Indian Constitution giving the Jammu and Kashmir State Legislature a carte blanche to decide who are the 'permanent residents' of the State and grant them special right and privileges in State public sector jobs, acquisition of property within the State, scholarships and other public aid and welfare programmes.
The provision mandates that no act of the State legislature coming under the ambit of Article 35A can be challenged for violating the Indian Constitution or any other law of the land.
Article 35A was incorporated into the Indian Constitution in 1954 by an order of President Rajendra Prasad on the advice of the Jawaharlal Nehru Cabinet.
The Presidential Order was issued under Article 370 (1) (d) of the Indian Constitution.
This provision allows the President to make certain "exceptions and modifications" to the Constitution for the benefit of 'State subjects' of Jammu and Kashmir.
Article 368 (i) of the Constitution mandates that only the Parliament can amend the Constitution by introducing a new Article.
The court is hearing a writ petition filed by NGO, We the Citizens, which challenges the validity of both Article 35A and Article 370.
GS II: POLITY – JUDICIARY
Produce Hadiya on Nov. 27: SC tells father
Asking whether there is any bar in law against an adult woman marrying a criminal, theSupreme Court ordered the production of Akhila alias Hadiya, a Hindu girl in Kerala who converted to Islam and subsequently married a Muslim, before it at 3 p.m. on November 27.
A Bench, led by Chief Justice of India Dipak Misra, said the court first wanted to know whether her conversion to Islam and marriage to Shafin Jahan was of her own volition.
The court overrode the submissions made by the girl's father, in whose custody she is, that she had been indoctrinated and her consent should not be treated as absolute.
The father, represented by senior advocate Shyam Divan, submitted that Mr. Jahan was a pawn in a "huge organisational apparatus" to radicalise young persons in Kerala.
The National Investigation Agency (NIA), represented by Additional Solicitor- General Maninder Singh, said a report was filed showing how a well-oiled machine was at work indoctrinating women.
The Supreme Court has repeatedly questioned how the Kerala High Court could annul the marriage and transfer the custody of an adult to her father, on the basis of a habeas corpus petition filed by the father.
"We will hear logical and legal arguments on two issues – can the HC nullify a marriage exercising jurisdiction under Article 226 and was an NIA probe necessary," Chief Justice Misra had observed.
GS II: SOCIAL – HEALTH
Fewer TB deaths in India: WHO
Death from tuberculosis in India saw a 12% decline from last yearandthe number of new cases, or incidence, saw a 1.7% decrease, according to a report from the World Health Organisation (WHO).
With 1.7 million new cases in 2016, India continued to be the largest contributor to the global burden with up to a quarter of the 6.3 million new cases of TB (up from 6.1 million in 2015).
In spite of this year's dip, India accounts for about 32% of the number of people worldwide who succumbed to the disease.
Globally, the TB mortality rate is falling at about 3% per year. TB incidence is falling at about 2% per year and 16% of TB cases die from the disease, according to the WHO.
The government has committed to achieve a '90-90-90 target' by 2035 (90% reductions in incidence, mortality and catastrophic health expenditures due to TB).
This is premised on improved diagnostics, shorter treatment courses, a better vaccine and comprehensive preventive strategies.
GS II: BILATERAL – INDIA- ITALY
India, Italy vow to fight terror
Reviving bilateral ties, India and Italy agreed to coordinate efforts at the multilateral level to counter global terrorism.
Describing India as an "Asian superpower", visiting Prime Minister Paolo Gentiloni said Italy was in favour of a EU-India free trade agreement.
He inked six agreements with India, covering energy cooperation, diplomatic training and railways.
At a joint press conference with Prime Minister Narendra Modi, Mr. Gentiloni said Italy was keen on deepening cooperation in the strategic sectors and focussed on cybersecurity and anti-terrorism as common areas of cooperation.
Sources indicated that during the bilateral talks at Hyderabad House, both sides expressed a desire to leave difficult issues such as the Italian marines case behind and initiate steps in the interest of the larger relationship.
There is also a lot of potential for our bilateral trade of about $8.8 billion to grow much further.
GS III: ECONOMY -BANKING
Jaitley-led panel to oversee PSB mergers
Moving ahead with reforms in the public sector banking space, the government has constituted a Ministerial panel headed by Finance Minister Arun Jaitley that will oversee merger proposals of state-owned banks.
The other members of the panel include Railways and Coal Minister Piyush Goyal and Defence Minister Nirmala Sitharaman.
This has been referred to as the Alternative Mechanism for PSBs consolidation.
While announcing the unprecedented Rs. 2.11 lakh crore capital infusion roadmap for the public sector banks last week, Mr. Jaitley had said this will be accompanied by series of banking reforms over next few months.
GS III: ECONOMY – GST
Centre extends last date for filing GST returns
The Centre extended the last date for filing GSTR-2 returns, required to claim input tax credit under the Goods and Services Tax (GST) regime, for July, till November 30.
The earlier deadline was October 31.
At the same time, the last date for filing GSTR-3 returns for July, 2017 was extended to December 11 as opposed to the November 10 deadline, the Finance Ministry said.
This is the latest in a series of steps by the government to facilitate the transition of businesses into the new indirect tax system.
The Ministry earlier decided to waive the late fee on filing returns for the months of August and September in view of the difficulties faced by taxpayers during the process of filing returns.
GS III: ECONOMY – DIGITAL
New avatar BHIM app misses October date
The Centre's plan to unveil a new version of its flagship digital payment application BHIM (Bharat Interface for Money) as a single interface point for all mobile payments seems to have hit a roadblock, with its proposed roll-out being pushed back by at least a month.
To achieve its target of 2,500 crore digital transactions for 2017-18, the government wants the new BHIM app to be a "fully functional" one that enables utility payments, recharge ofmobile phonesor wallets and other periodical payments, said a senior official at the Ministry of Electronics and IT (MeitY).
The government wants the BHIM ecosystem to represent India's digital transaction system "and the application has to provide all the features" to attract users. "This will require a major software feature enhancement on which the NPCI is working," the official said.
The National Payments Corporation of India (NPCI) was tasked with rolling out the application by October 15.
However, it is now likely to be around November 15.
NPCI is also working on integrating the Bharat QR code with BHIM app.
Products of NPCI:
1.     National Financial Switch (NFS)
2.     Cheque Truncation System (CTS)
3.     Unified Payments Interface (UPI)
4.     Bharat Bill Payment System (BBPS)
5.     RuPay Credit Card,
6.     National Common Mobility Card (NCMC) 
7.     National Electronic Toll Collection (NETC)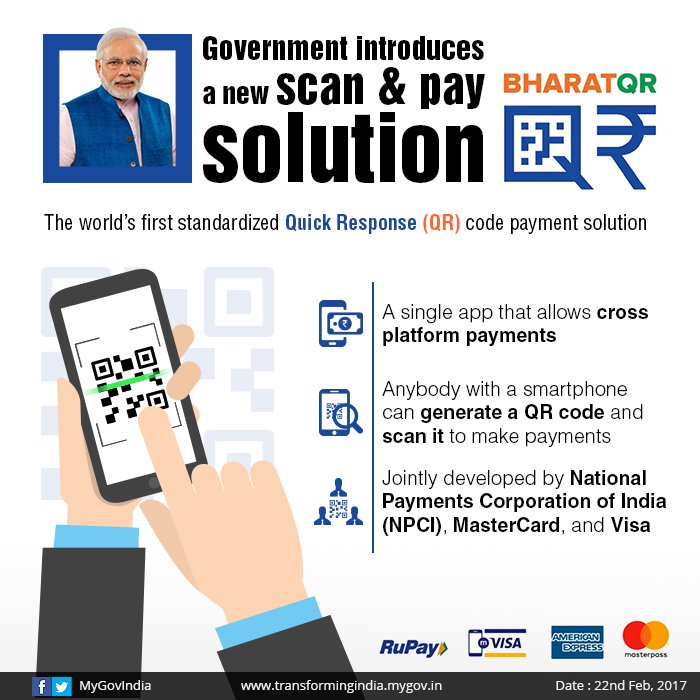 GS III: ENVIRONMENT – CLIMATE – CHANGE
Concentration of CO2 in atmosphere hits record high: UN
The concentration of carbon dioxide (CO2) in the atmosphere has hit a new high, the UN said, warning that drastic action is needed to achieve targets set by the Paris climate agreement.
"Concentrations of carbon dioxide in the atmosphere surged at a record-breaking speed in 2016," the World Meteorological Organization said.
"Globally averaged concentrations of CO2 reached 403.3 parts per million in 2016, up from 400.00 ppm in 2015 because of a combination of human activities and a strong El Nino event," it said.
The Greenhouse Gas Bulletin, the UN weather agency's annual flagship report, tracks the continent of dangerous gasses in atmosphere in the post-industrial era (since 1750).
The Greenhouse Gas Bulletin tracks concentrations of gasses in the atmosphere, rather than emissions with data compiled from a monitoring station in Mauna Loa, Hawaii.
The report also said that the last time Earth experienced similar CO2 concentration rates was three to five million years ago, when the sea level was up to 20 metres (66 feet) higher than now.
"Without rapid cuts in CO2 and other greenhouse gas emissions, we will be heading for dangerous temperature increases by the end of this century, well above the target set by the Parisclimate changeagreement," WMO chief Petteri Taalas said.
The historic agreement approved by 196 countries two years ago is facing renewed pressure following U.S. President Donald Trump's decision to quit the accord.
But nations are set to press on with the task of implementing it at climate talks in Bonn next week.