When:
May 18, 2017 @ 10:00 am
2017-05-18T10:00:00+05:30
2017-05-18T10:15:00+05:30
NEWS
18 May 2017
Sr. No.

Topic

News

1.

GS III: ECONOMY  ENERGY

Cabinet gives nod for 10 indigenous nuclear reactors

2.

GS III: ECONOMY  ENERGY

Cabinet gives nod for SHAKTI coal allocation scheme

3.

GS III :  SECURITY

NTRO now under Intelligence Act

4.

GS III : ECONOMY-AVIATION

'All options for Air India revival open'

5.

GS III: DEFENCE

BSF begins operation 'Garam Hawa'

6.

GS III:  ECONOMY-RAILWAYS

Visakhapatnam billed the cleanest rail station

7.

GS II :  BILATERAL -INDIA –ISRAEL

After Palestine, it's Israel's turn

8.

GS III :  SECURITY

Navy saves ship from pirates

9.

GS III:  ECONOMY-ROADS

India's road to seamless commutes waits for rules

10

.

GS III : ECONOMY

Anti-profit shifting pact gets nod

11.

GS III: S&T-SPACE

Rain may have shaped Mars surface

12.

GS III: S&T-ROBOTICS

3D-printed, four-legged robot can walk on sand

13.

GS III: S&T-IT

Tech could run foldable speakers

14.

GS III: S&T GENETICS

Babies from skin cells? Advance unsettles experts
GS III: ECONOMY  ENERGY
Cabinet gives nod for 10 indigenous nuclear reactors
The Union Cabinet on 17 May 2017 cleared the proposal to construct 10 indigenous pressurised heavy water nuclear reactorswith a total capacity of 7,000 MWe.
Briefing the media on the Cabinet decisions, Power Minister Piyush Goyal said each of the reactors would have a capacity of 700 MWe.
"We already have 6,780 MWe of operational nuclear power plants and about 6,700 MWe of plants under implementation, which will be set up by 2021-22."
While the Minister said these 10 plants would create Rs. 70,000 crore worth of business for domestic manufacturers and generate about 33,400 jobs, he did not provide a timeline for their completion, saying the government would update the details when they are clear.
The decision comes against the backdrop of recent troubles for India's international collaborations in nuclear projects.
While the U.S. deal, involving Toshiba Westinghouse for six reactors in Andhra Pradesh, is floundering after Westinghouse filed for Chapter 11 bankruptcy, the deal with French company Areva for reactors in Jaitapur remain mired in negotiations over costing.
"The approval also shows our strong belief in the capability of India's scientific community to build our technological capacities," an official statement said.
India generated 37,674 million units of nuclear energy in 2016-17, according to the Nuclear Power Corporation of India, at a capacity factor of 80%.
"The 10 reactors will be part of India's latest design of 700 MWe PHWR fleet with state-of-the-art technology meeting the highest standards of safety," it added.
GS III: ECONOMY  ENERGY
Cabinet gives nod for SHAKTI coal allocation scheme
The Cabinet approved a coal linkage policy, called the Scheme for Harnessing and Allocating Koyala Transparently in India (SHAKTI), that will award Fuel Supply Agreements (FSAs) to coal plants already holding Letters of Assurance (LoAs).
LoAs will be eligible to sign fuel supply pacts under the new policy after ensuring that all the conditions are met.
Future coal linkages under the new policy will be granted to central and state generation companies on the recommendations of the Ministry of Power.
"Those plants that have a Power Purchase Agreement (PPA) but not a Fuel Supply Agreement (FSA), will have to bid on how much discount they would give in electricity supply," Power Minister Piyush Goyal said "This discount will go to the distribution companies."
"The future coal linkages for supply of coal to independent power producers without PPA shall be on the basis of auction where bidding for linkage shall be done over the notified price of Coal India," the government said in a statement.
"The LoA shall be issued to the successful bidders and FSA signed after meeting the terms of LoA."
"India has the third largest reserves of coal," Mr. Goyal pointed out.
"Yet there are still 83,100 MW capacity of power plants that are dependent on foreign coal. Governments of the past, instead of bolstering domestic capacity, set up such plants. This is why we still need to import coal because the technology of these plants needs only foreign coal."
"Under the new policy, plants under implementation, plants already set up and plants to be set up in the future will all get coal," he added.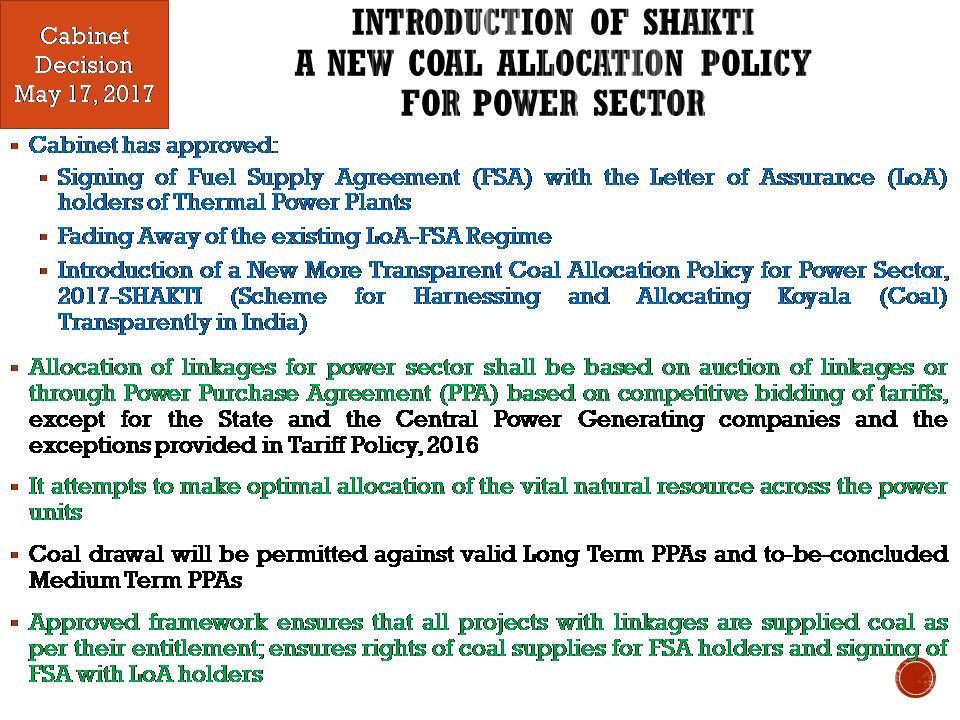 GS III :  SECURITY
NTRO now under Intelligence Act
The National Technical Research Organisation (NTRO), which reports to the Prime Minister's Office (PMO) and the National Security Advisor (NSA), will now have the same "norms of conduct" as the Intelligence Bureau (IB) and the Research and Analysis Wing (R&AW).
The Home Ministry issued a notification on May 15 listing NTRO under The Intelligence Organisations (Restriction of Rights) Act, 1985, a demand being made by the organisation for over a decade now.
The Act prevents employees of a notified agency from forming unions/associations, puts restrictions on the employee's freedom of speech, bars any communication with the press, or publishing a book or other document without the permission of the head of the intelligence organisation.
Both IB and R&AW have on earlier occasions opposed the inclusion of any other organisation in the list of monitoring agencies under the Act.
In 2012, the Home Ministry under the UPA government had declined to grant phone surveillance powers to NTRO based on the argument that it was not notified under the Act.
The NTRO was created after the 1999 Kargil conflict as a dedicated technical intelligence agency.
It has been fighting tooth and nail to get included in the list as it has the right to lawfully intercept and monitor communications externally.
Many security agencies like the National Investigation Agency (NIA), the Directorate of Revenue Intelligence (DRI), the Narcotics Control Bureau (NCB) among others have been asking the Home Ministry to include them under the Intelligence Organisations Act.
NTRO hires many people from the private sector and the Act means they will have the same safety net and restrictions available to other spy agencies.
National Technical Research Organisation (NTRO)
The National Technical Research Organisation (NTRO) is a technical intelligence agency under the National Security Advisor in the Prime Minister's Office.
The NTRO was created in 2004, after the 1999 Kargil conflict, as a dedicated technical intelligence agency.
It also includes National Institute of Cryptology Research and Development (NICRD), which is first of its kind in Asia.
GS III : ECONOMY-AVIATION
'All options for Air India revival open'
The Centre is reviewing a range of options, including possible disinvestment, to revive the ailing flag carrier Air India, Civil Aviation Minister said.
Decision would be taken based on recommendations from the NITI Aayog, a top Air India official said.
As part of the turnaround plan, the Centre had already pumped equity of Rs. 24,745 crore till the end of 2016-17 into the carrier.
The government has to infuse Rs. 30,231 crore up to 2021 as part of the plan approved by the previous UPA government.
Air India has been suffering continued losses over the years, and it posted a net loss of Rs. 3,837 crore in 2015-16.
Air India's debt was Rs. 50,357 crore at the end of 2015-16.
Chief Economic Adviser Arvind Subramanian had cited Air India's example to highlight the government's difficulty in privatising public sector enterprises in the Economic Survey 2017.
Back in 2000, the previous NDA government had decided to sell 51% of equity of erstwhile domestic airline Indian Airlines with 26% stake to a strategic partner.
It also decided to allow disinvestment of 60% of Air India, which was running international operations, with 26% foreign entity stake.
However, the move was dropped following opposition from the then Civil Aviation Minister Sharad Yadav.
GS III: DEFENCE
BSF begins operation 'Garam Hawa'
The BSF has started operation 'Garam Hawa' in Rajasthan, under which vigil along the international border with Pakistan has been stepped up. The operation will continue till May 23.
The operation is being conducted as chances of infiltration increase during intense heatwave conditions.
GS III:  ECONOMY-RAILWAYS
Visakhapatnam billed the cleanest rail station
The Visakhapatnam railway station is the cleanest, followed by Secunderabad and Jammu Tawi, among the 75 major (A1) stations in the country.
The findings are a part of a third party survey on station cleanliness carried out by the Quality Control of India (QCI) and released by Railway Minister Suresh Prabhu here on 17 May 2017.
In the A category (those earning between Rs. 6 crore and Rs. 50 crore in annual passenger revenue), Beas in Punjab secured the top spot, followed by Khammam (Telangana) and Ahmednagar (Maharashtra).
The QCI evaluated cleanliness at 407 railway stations' parking, main entry area, main platform and waiting room.
Passenger feedback was also factored in.
A round-the-clock control room was set up and images were geo-tagged to monitor the progress, according to the Indian Railways.
GS II :  BILATERAL -INDIA – ISRAEL
Palestine, it's Israel's turn
A day after the visit of Palestinian President Mahmoud Abbas, the government has now turned its focus to Prime Minister Narendra Modi's visit to Israel in July, with Foreign Secretary S. Jaishankar and a key BJP official leaving for Tel Aviv on 17 May 2017 to plan his diaspora event.
Israel is home to 80,000 people of Indian origin, mainly those who have taken "Aliyah," as the migration of the Jewish diaspora to Israel is called.
Among the groups which migrated in large numbers are the Bene-Israelis from Maharashtra, Cochin Jews, Baghdadi Jews from Kolkata, as well as some from the so-called "lost tribe" of B'nai-Menache from Manipur.
Indian and Israeli officials involved in the arrangements told that PM Modi is expected to travel to Jerusalem, Tel Aviv and Haifa during his visit from July 4 to 6.
He is not, however, expected to visit the Palestinian territories as other leaders including President Pranab Mukherjee and External Affairs Minister Sushma Swaraj did last year.
In Haifa, he is expected to meet innovators and founders of technology companies and start-ups, and pay respects at the memorial to Indian soldiers who fought for the liberation of Haifa from the Ottoman Army during the First World War.
GS III :  SECURITY
Navy saves ship from pirates
Deploying the warship INS Sharda, the Navy rescued a merchant vessel, m.v. Lord Mountbatten, from a piracy attempt in theGulf of Aden on 16 May 2017.
The ship received a distress call from m.v. Lord Mountbatten.
INS Sharda, which was 30 nm from the merchant vessel at that time, responded immediately.
The ship had been deployed for anti-piracy operations in the region since April 6.
In April 2017, the Navies of India and China jointly foiled a hijack attempt on a bulk cargo carrier in the Gulf of Aden.
GS III:  INFRASTRUCTURE-ROADS
India's road to seamless commutes waits for rules
Technology-driven efforts to modernise public transport are being pursued in Delhi, where the Metro, Delhi Transport Corporation, urban rail and the cluster bus collectives are in consultations on how to offer a seamless travel experience.
The proposal for a common mobility card, now several years in the making, is in the works.
In the South, Bengaluru is set to open up its real time data on the movement of city buses to app developers in about a month.
Open access to such data, pioneered by cities such as London, will enable apps to be created to help commuters know the location and arrival time of the next bus, as Uber and Ola cabs do.
Providing smooth travel in Indian cities through redesign of existing networks and services will, however, depend on the creation of rules by which operators can use the technology.
Operators could be paid their share of revenues based on passenger trips made but commuters would have a single ticket.
Yet, the framework would have to be created for all the participants in the transport system to play together, he said.
GS III : ECONOMY
Anti-profit shifting pact gets nod
The Cabinet on 17 May 2017 approved the signing of a multilateral international agreement to prevent the shifting of profits to jurisdictions with no tax or very low tax rates.
"The Cabinet has given its approval for the Multilateral Convention to Implement Tax Treaty Related Measures to Prevent Base Erosion and Profit Shifting," the government said in a statement.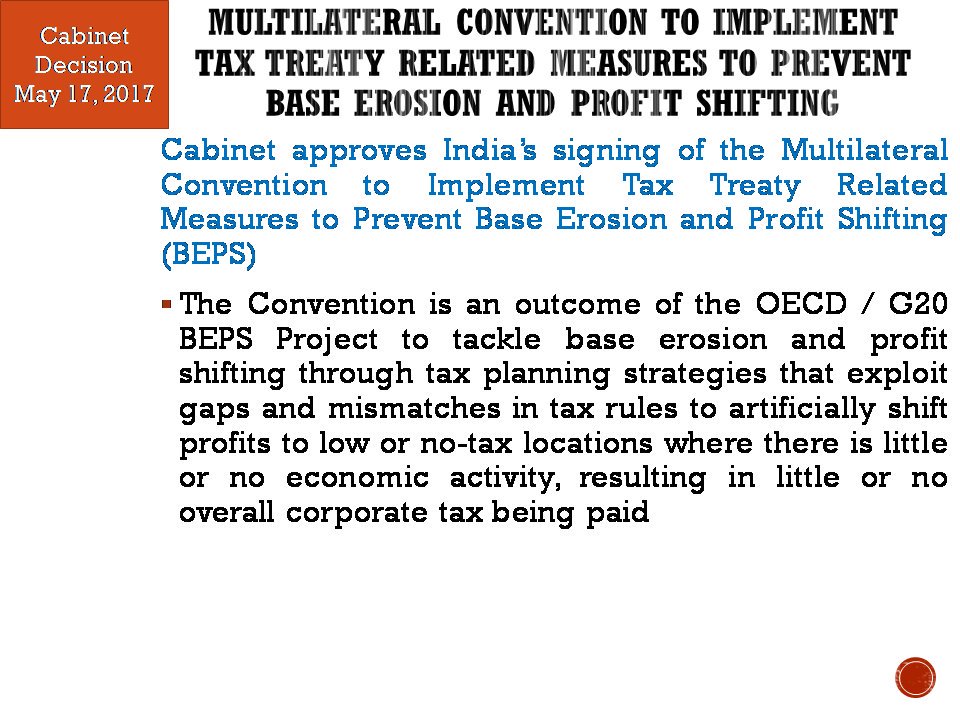 GS III: S&T-SPACE
Rain may have shaped Mars surface
Heavy rain on Mars may have reshaped the Red planet's impact craters and carved out river-like channels on its surface billions of years ago, a new study has found.
Changes in the Martian atmosphere made it rain harder and harder, which had a similar effect on the planet's surface as seen on Earth, scientists said.
The fourth planet from the Sun, Mars has geological features like the Earth and the Moon, such as craters and valleys, many of which were formed through rainfall.
Although there is a growing body of evidence that there was once water on Mars, it does not rain there today.
GS III: S&T-ROBOTICS
3D-printed, four-legged robot can walk on sand
Scientists have developed the first 3D-printed, four legged robot that can climb over obstacles and walk on different rough surfaces such as sand and pebbles.
Researchers led by Michael Tolley, a professor at the University of California San Diego, used a high-end 3D-printer to make soft and rigid materials together within the same components.
This made it possible to design more complex shapes for the robot's legs.
Bringing together soft and rigid materials will help create a new generation of fast, agile robots that are more adaptable and can safely work side by side with humans.
The legs are made up of three parallel, connected sealed inflatable chambers, or actuators, 3D-printed from a rubberlike material.
The chambers are hollow on the inside, so they can be inflated.
On the outside, the chambers are bellowed, which allows engineers to better control the legs' movements.
For example, when one chamber is inflated and the other two aren't, the leg bends. The legs are laid out in the shape of an X and connected to a rigid body.
GS III: S&T IT
Tech could run foldable speakers
Scientists have created a paper-thin, flexible device that can generate energy from human motion and could one day lead to foldable loudspeakers or even talking newspapers.
The audio breakthrough can act as a loudspeaker and a microphone at the same time.
"This is the first transducer that is ultra-thin, flexible, scalable and bidirectional, meaning it can convert mechanical energy to electrical energy and electrical energy to mechanical energy," said Nelson Sepulveda, associate professor at Michigan State University in the U.S.
Last year, reseachers had successfully demonstrated their sheet-like device – known as a ferroelectret nanogenerator (FENG) – by using it to power a keyboard, LED lights and an LCD touch-screen.
GS III: S&T-GENETICS
Babies from skin cells? Advance unsettles experts
Nearly 40 years after the world was jolted by the birth of the first test-tube baby, a new revolution in reproductive technology is on the horizon – and it promises to be far more controversial than In Vitro Fertilisation (IVF) ever was.
Within a decade or two, researchers say, scientists will likely be able to create a baby from human skin cells that have been coaxed to grow into eggs and sperm and then used to create embryos that can be implanted in a womb.
The process, called In Vitro Gametogenesis, (IVG), so far has been used only in mice.
But stem cell biologists say it is only a matter of time before the procedure could be used in human reproduction – opening up mind-boggling possibilities.
With IVG, two men could have a baby that was biologically related to both of them, by using skin cells from one to make an egg that would be fertilized by sperm from the other.
Women with fertility problems could have eggs made from their skin cells, rather than go through the lengthy and expensive process of stimulating their ovaries to retrieve their eggs.
"You can imagine one man providing both the eggs and the sperm, almost like cloning himself. You can imagine that eggs becoming so easily available would lead to designer babies."
Some scientists are even talking about what they call the "Brad Pitt scenario" when someone retrieves a celebrity's skin cells from a hotel bed or bathtub.
Or a baby might have what one law professor called "multiplex" parents.
"IVG may raise the spectre of 'embryo farming' on a scale currently unimagined, whichmight exacerbate concerns about the devaluation of human life."
Still, how soon IVG might become a reality in human reproduction is open to debate.