When:
February 7, 2017 @ 1:00 am
2017-02-07T01:00:00+05:30
2017-02-07T01:15:00+05:30
NEWS
7 FEBRUARY 2017 
| | | |
| --- | --- | --- |
| Sr. No. | Topic | News |
| 1. | GS I : GEOGRAPHY | Late night quake jolts North India |
| 2. | GS I : HISTORY | In Lutyens' Delhi, Dalhousie Road becomes Dara Shikoh Road |
| 3. | GS III : ENVIRONMENT POLLUTION | Not a drop of the Ganga has been cleaned: NGT |
| 4. | GS III : ENVIRONMENT POLLUTION | 8 people die in Delhi every day due to pollution: SC |
| 5. | GS III : DEFENCE | Saab pitches to supply naval fighter |
| 6. | GS II : POLITY JUDICIARY | SC clears plan to verify mobile phone users through Aadhaar |
| 7. | GS III : SECURITY | Missing IS backers active on social media: NIA |
| 8. | GS II : INTERNATIONAL CHINA | China's new ballistic missile has India in range |
| 9. | GS III : ECONOMY | Implement WTO's Nairobi Ministerial decisions: India |
| 10. | GS III : ECONOMY | Ministries, sectoral regulators to screen FDI proposals |
| 11. | GS III: S&T SPACE | Japan's mission to clean up 'space junk' misses the mark |
| 12. | GS III : ENVIRONMENT BIODIVERSITY | 181 Irrawaddy dolphins counted in Odisha census |
| 13. | GS I : HISTORY | In Lutyens' Delhi, Dalhousie Road becomes Dara Shikoh Road |
| 14. | GS III : ENVIRONMENT BIODIVERSITY | State yet to submit view on Kasturirangan Report |
GS I : GEOGRAPHY
Late night quake jolts North India
North India was jolted late on 6 February 2017 night following an earthquake measuring 5.8 on the Richter scale with its epicentre at Baron Basti in Rudraprayag district in Uttarakhand.
Secretary of the Earth Sciences Ministry Madhavan Rajeevan said no casualties had been reported in the immediate aftermath but the magnitude was significant.
The tremor, which was felt in the national capital and several parts of Punjab, Haryana, and UP, including Chandigarh, Ambala and Ludhiana, was strong enough to send residents out onto the streets.
GS I : HISTORY
In Lutyens' Delhi, Dalhousie Road becomes Dara Shikoh Road
The New Delhi Municipal Council passed a proposal to change the name of Dalhousie Road to Dara Shikoh Road, making it the third Lutyens' Delhi road to be renamed in about a year-and-a-half.
Lord Dalhousie, the Governor-General of British India in the mid 19th Century, annexed large parts of the country, including Awadh.
Dara Shikoh was the eldest son of Mughal emperor Shah Jahan.
The Council decided to honour Dara Shikoh for "bringing Hindus and Muslims together".
As per rules of the Centre, only names given to public facilities pre-Independence can be changed, so the colonial- era Dalhousie Road could be renamed.
This is the third time that the NDMC has renamed a road in less than two years.
In August 2015, Aurangzeb Road became Dr. A.P.J. Abdul Kalam Road.
Then, in September 2016, Race Course Road, where the Prime Minister's residence is located, was renamed Lok Kalyan Marg.
GS III : ENVIRONMENT POLLUTION
Not a drop of the Ganga has been cleaned: NGT
"Not a single drop of the Ganga has been cleaned so far," the National Green Tribunal (NGT) said on 6 February 2017 , noting that government agencies were only wasting public money in the name of cleaning the river.
A Bench headed by NGT chairperson Justice Swatanter Kumar asked government agencies to work together for the cause, saying, "The Prime Minister has given you a goal, take it as a national project."
"It is the fault of the CPCB (Central Pollution Control Board) and other government agencies, who are not doing their job properly."
The tribunal also asked the government agencies about how they were executing Prime Minister Narendra Modi's ambitious 'Namami Gange project', adding that it did not want the "drama" regarding complaints between the Centre and Uttar Pradesh to go on.
The Central government has allotted over Rs 2,000 crore under the 'Namami Gange' programme for the purpose of cleaning the Ganga.
Further, the tribunal also warned 14 industrial units operating in the Bijnor and Amroha districts, along the banks of the Ganga, to be ready to be shut down while asking them to justify why they should not face action.
National Green Tribunal
 (
NGT)
The National Green Tribunal has been established in 2010 under the National Green Tribunal Act 2010 for effective and expeditious disposal of cases relating to environmental protection and conservation of forests and other natural resources including enforcement of any legal right relating to environment and giving relief and compensation for damages to persons and property and for matters connected therewith or incidental thereto.
It is a specialized body equipped with the necessary expertise to handle environmental disputes involving multi-disciplinary issues.
The Tribunal shall not be bound by the procedure laid down under the Code of Civil Procedure, 1908, but shall be guided by principles of natural justice.
The Tribunal′s dedicated jurisdiction in environmental matters shall provide speedy environmental justice and help reduce the burden of litigation in the higher courts.
The Tribunal is mandated to make and endeavour for disposal of applications or appeals finally within 6 months of filing of the same.
Initially, the NGT is proposed to be set up at five places of sittings and will follow circuit procedure for making itself more accessible.
New Delhi is the Principal Place of Sitting of the Tribunal and Bhopal, Pune, Kolkata and Chennai are the other four place of sitting of the Tribunal.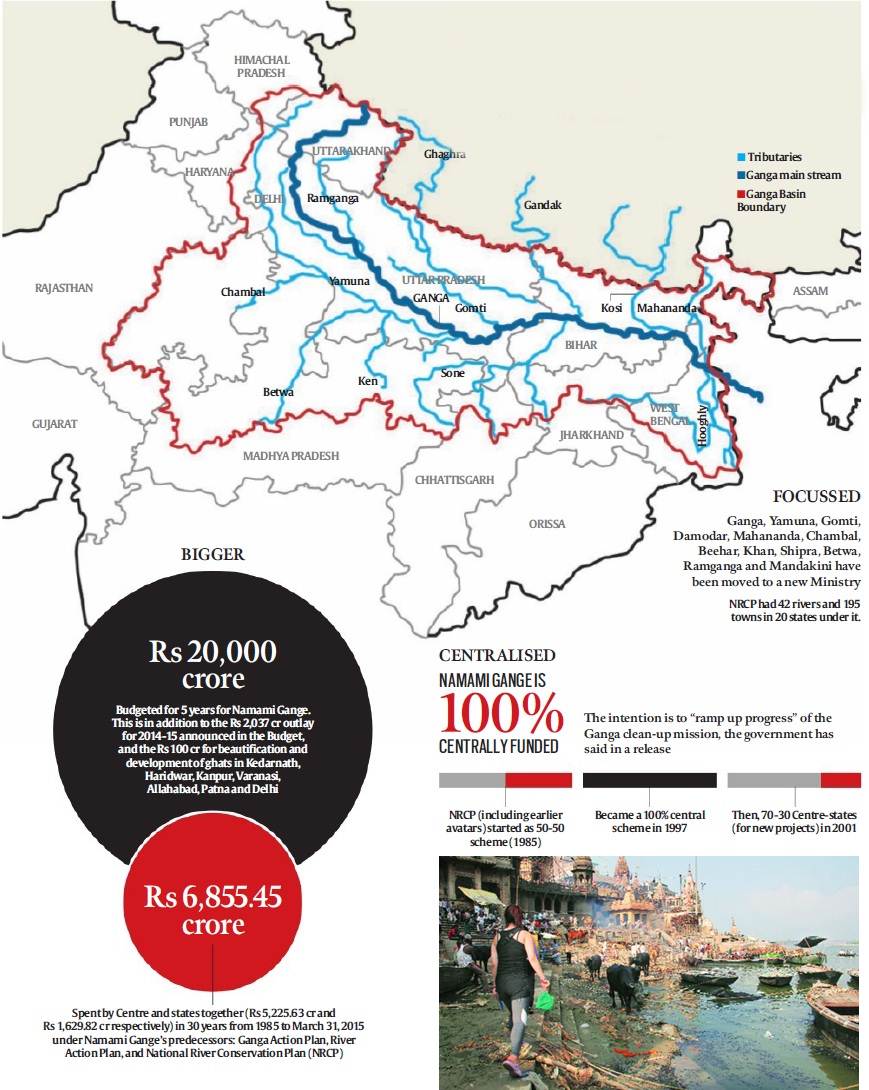 GS III : ENVIRONMENT POLLUTION
8 people die in Delhi every day due to pollution: SC
Air pollution causes 3,000 premature deaths in Delhi every year. That means eight deaths a day.
Also, one in every third child in Delhi has reduced lung function and high propensity for increased pulmonary haemorrhage.
Justice Lokur brought out a study conducted by the Environment Pollution Control Authority (EPCA) in 2008 filed by the Central Pollution Control Board (CPCB) in an open court to prove that poor air quality is indeed a killer on the loose.
The Centre has sought eight weeks′ time to find a more environmentally- safe substitute to pet-coke and furnace oil lighting up industries in the National Capital Region. The court had ordered him to do so in the previous hearing.
Lawyers for the EPCA pointed out that natural gas and even electricity could be used as substitutes for petcoke and furnace oil.They said that the high content of sulphur in these varieties of polluting fuel make it one of the major sources of pollution and death.
The court asked the Centre to implement the ban on furnace oil and pet-coke, used by industries in the NCR, in four weeks.
The court also approved the withdrawal of Rs 2.50 crore by the CPCB from Environment Compensation Charge (ECC) fund collected from polluting vehicles.
The court directed the CPCB to use the money to purchase equipment for real-time air quality monitoring stations being set up in Delhi and the NCR.
It also directed the EPCA to inspect the Pollution Under Check (PUC) centres in the NCR.
GS III : DEFENCE
Saab pitches to supply naval fighter
Swedish defence major Saab will be competing to supply the Gripen M (Maritime) version of the Sea Gripen aircraft to the Indian Navy and has expressed interest in procurement by the Navy, which had put out a Request for Information (RFI) in January 2017.
The Navy is looking for 57 carrier-based multi-role fighter aircraft after the naval variant of the indigenous Light Combat Aircraft did not meet its requirements.
Saab is also competing with Lockheed Martin F-16 to supply the Gripen E variant to the Indian Air Force.
Saab had fielded a Gripen model when India was looking for a Medium Multi-Role Combat Aircraft .
The Indian government finally settled for 36 Dassault Rafale aircraft in a government-to government deal instead of the 126 aircraft decided earlier.
GS II : POLITY JUDICIARY
SC clears plan to verify mobile phone users through Aadhaar
The Supreme Court approved the government's plan to record the identification details of mobile subscribers through an e-KYC(Know Your Customer) mechanism linked to Aadhaar in a bid to enhance national security and prevent fake users.
The mechanism would cover at least 100 crore mobile phone subscribers, 90% of whom use pre-paid cards.
Mr. Rohatgi submitted that all new mobile connections were provided through Aadhaar-based e-KYC.
The court was considering a petition by NGO Lokniti Foundation, which had contended that fake SIM cards were a major threat to national security.
GS III : SECURITY
Missing IS backers active on social media: NIA
A probe by the National Investigation Agency (NIA) has furnished details of the exit of 14 persons from Kerala, who are suspected to have joined the Islamic State in Afghanistan.
The group, reported missing last year, includes infants and children.
At least two men — Mohammed Sajid Kuthirummal (25), and Murshid Mohammed T.K.J. (24), both residents of Kasaragod in Kerala — left India as early as 2015.
All of them then travelled to Iran before going off the radar.
The NIA has said they could have crossed over to Afghanistan illegally, bypassing any border checkpoint.
The accused are continuing their anti-national activities by propagating the ideology of and inviting support for IS, through various means including, but not limited to, Internet based social media platforms," the NIA charge sheet said.
GS II : INTERNATIONAL CHINA
China's new ballistic missile has India in range
China's newly-formed Rocket Force has conducted an exercise with advanced Dongfeng- 16 medium-range ballistic missile that has a range of over 1,000 km and could target a number countries in the neighbourhood, including India.
First displayed at a military parade in Beijing in 2015, the missile is believed to have a range of 1,000 km, putting it within striking distance of Okinawa, home to several U.S. military installations in Japan, Taiwan and the Philippines.
The Rocket Force is a special contingent to handle range of missiles in its military's arsenal.
GS III : ECONOMY
Implement WTO's Nairobi Ministerial decisions: India
Commerce Minister Nirmala Sitharaman said she would soon take up with World Trade Organisation (WTO) Director General Roberto Azevêdo the need to ensure that processes on outstanding issues — including on food security — of the WTO's Doha Round negotiations are completed before the December 2017 Ministerial Conference (MC) in Argentina.
The Ministerial Conference, which is the WTO's highest decision making body, usually happens every two years.
After the December 2015 Ministerial Conference in Nairobi, the government had said: "In view of the reluctance of developed countries to agree to continue the Doha Development Agenda post-Nairobi, India negotiated and secured a re-affirmative Ministerial Decision on public stockholding for food security purposes honouring both the Bali Ministerial and (WTO) General Council Decisions.
The decision commits (WTO) members to engage constructively in finding a permanent solution to this issue [of public stockholding for food security purposes]."
The Minister also said India was very clear on its stand that 'new issues' including e-commerce and investment cannot be brought into the formal agenda of the WTO-level negotiations on liberalisation of global trade without consensus among all the WTO members.
Her statement comes ahead of a two-day India visit of Mr. Azevêdo beginning February 8, during which issues such as the proposed global pacts on e-commerce and investment are likely to be in focus.
Talking to reporters, she said: "We have been very clear that everything agreed to in the Nairobi Ministerial should be implemented. We can't be going to the (Argentina) Ministerial without fulfilling what WTO Members committed to in Nairobi. Therefore, I will be talking to the DG (Azevêdo) and ensuring that the processes are completed before we reach Argentina."
TENTH WTO MINISTERIAL CONFERENCE, NAIROBI, 2015
The "Nairobi Package" was adopted at the WTO′s Tenth Ministerial Conference, held in Nairobi, Kenya, from 15 to 19 December 2015.
It contains a series of six Ministerial Decisions on agriculture, cotton and issues related to least-developed countries (LDCs).
A Ministerial Declaration outlining the Package and the future work of the WTO was adopted at the end of the five-day Conference.
Nairobi Package
Agriculture
Special Safeguard Mechanism (SSM) for Developing Countries : The SSM would allow developing countries to raise tariffs beyond negotiated levels to respond to a surge in agricultural imports or price drops.
Public Stockholding for Food Security Purposes
Export Competition  :All export subsidies are to be immediately eliminated by developed countries. Developing country members have until the end of 2018 to do so or in the case of cotton products by January 1, 2017, with exceptions with respect to support for producers of basic agricultural products until the end of 2023. For least developed countries (LDCs) and the thirty-one net-food importing developing countries these exceptions remain in place until the end of 2030.
Cotton
As of January 1, 2016, developed and developing country Members shall, if permitted by their trade regimes, provide duty-free and quota-free market access for cotton and cotton products produced and exported by LDCs. In 2003, Benin, Burkina Faso, Mali and Chad —the "Cotton Four" – proposed that the WTO address the trade-distorting practices of WTO members in the cotton sector
LDC issues
Preferential Rules of Origin for Least Developed Countries
Implementation of Preferential Treatment in Favour of Services and Service Suppliers of Least Developed Countries and Increasing LDC Participation in Services Trade.
Rules of origin are important in implementing such trade policy instruments as anti-dumping and countervailing duties, origin marking, and safeguard measures.
GS III : ECONOMY
Ministries, sectoral regulators to screen FDI proposals
The applications — on foreign direct investment (FDI) in India in sectors under the approval route — considered by the inter-ministerial Foreign Investment Promotion Board (FIPB) will soon be taken up by the concerned ministries and sectoral regulators, according to Commerce and Industry Minister Nirmala Sitharaman.
The Centre had, in the Budget 2017-18, proposed that the FIPB — which offered a single window clearance mechanism for FDI applications in sectors under the approval route – will be abolished in FY'18.
More than 92% of the FDI inflows were through the automatic route.
GS III: S&T SPACE
Japan's mission to clean up 'space junk' misses the mark
 An experimental Japanese mission to clear 'space junk' or rubbish from the Earth's orbit has ended in failure, officials said, in an embarrassment for Tokyo.
Over 100 million pieces of garbage are thought to be whizzing around the planet, including cast-of equipment from old satellites and bits of rocket, which experts say could pose risks for future space exploration.
Scientists at the Japan Aerospace Exploration Agency (JAXA) were trying to test an electrodynamic 'tether'— created with the help of a fishing net company —to slow down the orbiting rubbish and bring it into a lower orbit.
The hope was that the clutter, built up after more than five decades of human space exploration, would eventually enter the Earth's atmosphere and burn up harmlessly before it had a chance to crash into the planet.
The 700-metre-long tether was made from thin wires of stainless steel and aluminium.
It was due to be extended out from a cargo ship launched in December 2016 carrying supplies for astronauts at the International Space Station.
"We believe the tether did not get released," leading researcher said.
GS III : ENVIRONMENT BIODIVERSITY
181 Irrawaddy dolphins counted in Odisha census
As many as 181 endangered Irrawaddy dolphins have been sighted in Odisha, according to a census carried out by the State Forest and Environment department.
In 2015, survey teams had sighted 206 Irrawaddy dolphins here.
The dolphin census in Odisha in 2016 was suspended because of lack of visibility due to cloudy weather, high wind speed and surging waves but researchers, government officials and wildlife enthusiasts took up the survey again this year.
Humpback dolphins (34), bottlenose dolphins (31) and five pantropical spotted dolphins were also sighted.
This marks a significant drop from 2015, when survey teams recorded 450 dolphins.
The Chilika Lake, the largest brackish water lagoon of the country, has recorded a marginal drop in the population of Irrawaddy dolphins from 144 in 2015 to 134 this year.
About 55 dolphins were sighted this year in Bhitarakanika, compared to 58 spotted in 2015.
In the Bhadrak Wildlife Sanctuary jurisdiction, only five Irrawady dolphins were sighted.
Forest department sources said that sighting of dolphins depended on the weather condition of the day the census was carried out.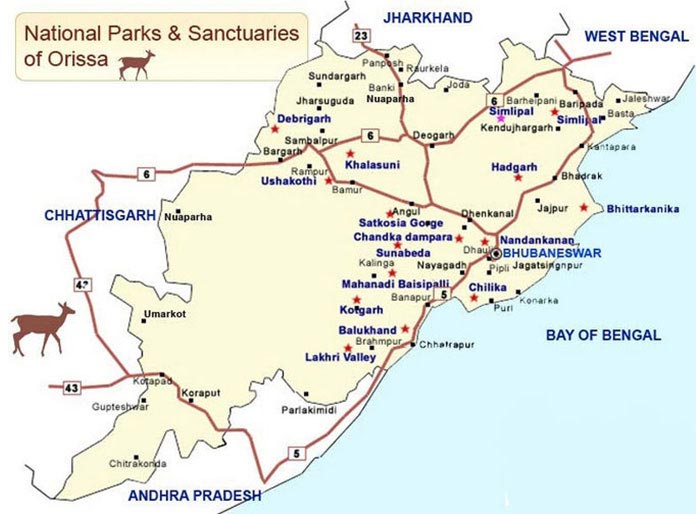 GS III : ENVIRONMENT BIODIVERSITY
State yet to submit view on Kasturirangan Report
The Centre was yet to receive the view of Tamil Nadu on the draft notification declaring certain areas of the Western Ghats as ecologically sensitive based on the recommendations of the Kasturirangan Report, the Rajya Sabha was informed.
Though Kerala, Maharashtra, Karnataka, Goa and Gujarat had responded, Tamil Nadu had not submitted its views on the draft notification, "A time limit of 545 days has been provided for finalisation of the draft notification for notifying the ecologically sensitive areas of the Western Ghats."
The Ministry of Environment, Forest and Climate Change had, in September 2015, issued a draft notification declaring an area of 56,825 sq. km spread over Kerala, Tamil Nadu, Goa, Karnataka, Maharashtra and Gujarat in the Western Ghats as ecologically-sensitive.
The recommendations of the report of the High Level Working Group (HLWG) headed by K. Kasturirangan were regarding identification and demarcation of ecologically sensitive areas in the Western Ghats, and regulation of certain activities, which would have maximum interventionist and damaging impact on the ecosystem.