When:
March 8, 2017 @ 1:00 am
2017-03-08T01:00:00+05:30
2017-03-08T01:15:00+05:30
NEWS
8 MARCH 2017
| | | |
| --- | --- | --- |
| Sr. No. | Topic | News |
| 1. | GS II : REGULATORY BODY  CAG | CAG to undertake audit of demonetisation fallout |
| 2. | GS III : ECONOMY ENERGY | How eco-friendly are windmills? |
| 3. | GS II : SOCIAL- EDUCATION | IISc. Among world's best 10 varsities |
| 4. | GS II: POLITY JUDICIARY | SC opens surrogacy window for singles |
| 5. | GS II : SOCIAL-HEALTH | Global fund to help solve India's HIV drug crisis |
| 6. | GS III : CORRUPTION | 41 named in Panama Papers under ED lens |
| 7. | GS III : SECURITY | Anti-militancy operations called off after protests in Kashmir |
| 8. | GS III : CORRUPTION | India first in bribery rate, says global NGO |
| 9. | GS III: S&T BIOTECHNOLOGY | PAU develops country's first Bt cotton varieties |
| 10. | GS II : MULTILATERAL COMMONWEALTH | Commonwealth unveils initiative to stamp out domestic violence |
| 11. | GS II : MULTILATERAL COMMONWEALTH | Commonwealth card mooted |
| 12. | GS III : ECONOMY E-COMMERCE | Meeting set to review postal imports |
| 13. | GS III : ECONOMY PENSIONS | You can switch from EPF to NPS |
| 14. | GS III : ECONOMY SECTORS | Local steel may become a must for $59-bn. infra spend |
GS II : REGULATORY BODIES  CAG
CAG to undertake audit of demonetisation fallout
The Comptroller and Auditor General of India will soon begin an audit of various aspects of demonetisation announced by Prime Minister Narendra Modi on November 8 last year. By this measure, the Centre had withdrawn Rs. 1,000 and Rs. 500 notes from circulation.
"Demonetisation per se is a banking and money supply issue and as such, outside the CAG's audit jurisdiction. But the CAG is well within its rights to seek audit of fiscal impact of demonetisation, largely its impact on tax revenues. That way the issue gets linked with the public exchequer," CAG Shashi Kant Sharma told.
He pointed out that there are other linkages of demonetisation with the public exchequer that will also be covered by the audit.
This would be "expenditure on printing of notes, RBI dividend to the Consolidated Fund, etc." the CAG said.
The huge amount of data generated by banks and the Income-Tax Department in the wake of demonetisation would also be covered, he added.
"This banking transaction data and the follow-up by the Revenue Department can also be subjected to CAG audit. Audit can look into various risks, such as errors and omissions in identifying the potential tax evaders, failures to pursue the identified suspects, selective and arbitrary pursuance of leads and consequences thereof.
Many of these issues will be covered in our audits which we propose to take up in the coming days," Mr. Sharma said.
The CAG said he had conveyed to the government his stand on the recent move of the GST Council to delete section 65 of the preliminary draft that authorised CAG to audit GST (Goods and Services Tax).
GS III : ECONOMY ENERGY
How eco-friendly are windmills?
Spinning turbines in Karnataka may have come at a price to forests and its denizens.
A little over 6,870 acres of forest land has made way for wind farms and associated infrastructure, shows Forest Clearance data obtained from the Ministry of Environment and Forests.
The demand continues as the last two years has seen proposals – in various stages of approval – for further diversion of 1,612 acres of forest land for windmills.
Much of these are set up in the hill ranges of Kappatagudda, which is embroiled in a controversy regarding its conservation tag, in Gadag district and Jogimatti of Chitradurga district.
And, it is here that the Karnataka Forest Department has commissioned a study, for the first time, to report on the year-long comprehensive study on the impact of wind turbines.
"There are reports of bird deaths and other effects on avian fauna abroad owing to the windmills. We wanted to specifically study the impact here, particularly considering that Chitradurga is saturated with windmills," said Anur Reddy, Additional Principal Chief Conservator of Forests (Forest Clearance).
The 18-month study, conducted by researchers from Salim Ali Centre for Ornithology and Natural History in Coimbatore, is expected to be completed by year-end. H.N. Kumara, senior scientist who is heading the study, said: "Windmills come up in wind funnels (where winds have high speeds), which are also used by migratory birds as a cruising path.
Similarly, the noise and vibrations may affect larger mammals, leading to conflict.
Even if no impact is found, the study will clear up doubts and give clarity."
However, activists believe the effects of windmills are plain to see.
Indrajit Ghorpade, who runs Deccan Conservation Foundation that focusses on conservation in scrub forests, says turbines in the hillocks of Koppal, Chitradurga and Bagalkot have played "havoc" on habitats of many species.
"These mills have seen population of spotted deer, hyenas, chinkaras, blackbucks, and wolves decline owing to habitat loss. Now, we don't see wolves close to windmills," he said.
GS II : SOCIAL- EDUCATION
IISc. Among world's best 10 varsities
Indian Institute of Science (IISc.) has been ranked in the top 10 of Times Higher Education's (THE) Best Small Universities – 2017global rankings that looks only at universities with fewer than 5,000 students.
At rank 8, IISc. is the only Indian university in the list of 20, and is also the second-highest ranked Asian university.
The list is topped by California Institute of Technology (Caltech).
 Around 3,400 students study in IISc., which has a full-fledged postgraduate and Ph.D. programme.
Indian Institute of Science
 (IISc)
 Indian Institute of Science (IISc) is a public university for scientific research and higher education located in Bangalore, India.
 Established in 1909 with active support from Jamsetji Tata and H.H. Sir Krishnaraja Wodeyar IV, the Maharaja of Mysore.
 It acquired the status of a Deemed University in 1958.
 IISc has made significant contributions to life sciences, advanced computing, space, and nuclear technologies.
GS II: POLITY JUDICIARY
SC opens surrogacy window for singles
 Producer-director Karan Johar, who became father to twins through surrogacy recently, may not be one of the last among single men and women in India who can do so.
 The draft Surrogacy (Regulation) Bill 2016, which is being examined by the Parliamentary Standing Committee, expressly allows only infertile and legally-wedded Indian couples to have children through surrogacy.
 On 7 March 2017, in what may turn out to be a positive outcome for single men and women who wish to be parents, a Supreme Court Bench led by Justice Ranjan Gogoi allowed a representation to be made before the parliamentary committee to consider including a "specific provision" in the Bill so as to facilitate single persons also to embrace parenthood through surrogacy.
 The representation will be forwarded to the office of the Solicitor-General of India, who will formally hand it over to the legislative panel for consideration
 The Supreme Court is hearing a bunch of petitions on banning commercial surrogacy and the treatment of babies as a "commodity."
 The window for "altruistic surrogacy" is only open for childless Indian married couple.
 The Bill also does not allow married couple, who have children, adopted or surrogate or biological, to have children via surrogacy.
 The stated objective of the new Bill is to constitute a National Surrogacy Board, State Surrogacy Board and appointment of authorities for regulation of practice and process of surrogacy.
 In short, the law is meant to end commercial surrogacy or, as the Supreme Court had once in 2009, termed "fertility tourism" in the country.
 The Supreme Court had initially intervened some years ago on a petition filed by German couple Jan Balaz and Susane Lohle, who wanted Indian citizenship for their surrogate twins born of a Gujarati woman.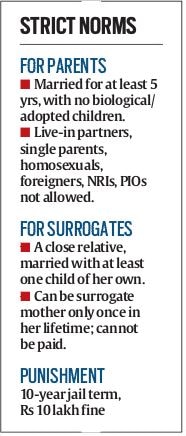 GS II : SOCIAL-HEALTH
Global fund to help solve India's HIV drug crisis
 After running out of the child-friendly HIV syrup, Lopinavir, India is likely to procure the drug from a rapid supply facility routed through the Global Fund for AIDS, Tuberculosis and Malaria (GFATM), a multilateral donor agency.
 Meanwhile, the Health Ministry released the first installment of the Rs. 6 crore payment due to Cipla Pharmaceuticals — the sole manufacturer of the drug.
 India has a cohort of over 600 children who require 36,000 bottles of Lopinavir syrup annually.
 In what is a relief to HIV community, he added that Cipla Pharmaceuticals will be re-submitting the application seeking registration of the Lopinavir pellets — a better paediatric formulation as it can be added to meals and will not require refrigeration.
 The Drug Controller General of India (DCGI) is likely to give the approvals accelerated attention, given the dire shortage.
GS III : CORRUPTION -BLACK MONEY
41 named in Panama Papers under ED lens
 The Enforcement Directorate (ED) has instituted formal investigations against 41 Indian nationals whose names cropped up in the Panama Papers leak for alleged undisclosed business interests in offshore companies.
 Notices have also been served on several entities to join the probe.
 In at least 20 cases, the Reserve Bank of India (RBI) has confirmed prima facie violations of the Foreign Exchange Management Act (FEMA) rules by the suspects, mandating further scrutiny by the Directorate.
 The agency, which is also conducting preliminary inquiries in more than 300 cases, is gathering details to quantify the exact amount involved.
 Indian authorities are also approaching their counterparts abroad to permit use of the data shared with the I-T Department under the Double Taxation Avoidance Treaty for probing money laundering offences.
 Over 250 requests seeking information are pending with the tax authorities.
  Now under investigation are largely three types of violations:
incorporation of companies overseas
acquisition of the majority shares of such companies, in contravention of FEMA rules that were valid till 2013.
If investments for acquiring the shares were not made through the RBI's Liberalised Remittance Scheme, it would amount to yet another violation attracting penalty.
opening the accounts of such companies and using them to stash slush funds diverted from various sources abroad. This is the most serious violation.
 The Black Money (Undisclosed Foreign Income and Assets) and Imposition of Tax Act stipulates that even those who took recourse to the voluntary disclosure of income scheme, launched in 2015, will come under the scanner if they are found to have not fully declared the overseas assets they held during the check period.
 The Directorate has sent 13 requests to the Egmont Group, an international platform comprising Financial Intelligence Units of 152 foreign jurisdictions for secure exchange of expertise and financial intelligence on money laundering and terror funding, seeking information on suspicious transactions.
 After the Panama Papers were made public last year, the I-T Department had initiated investigations against more than 400 individuals and on a follow-up, over 200 admitted that they had interests in offshore companies.
 In about 30 cases, the tax authorities are learnt to have received sound evidence from overseas, on the basis of which the violators may be prosecuted.
 Action against the violators under the new anti-black money law can also lead to their prosecution under the Prevention of Money Laundering Act.
 Investigations in the Panama Papers cases have given strong reasons to the agencies to believe that a major portion of funds held in those companies ultimately made their way to the U.K.
GS III : SECURITY
Anti-militancy operations called off after protests in Kashmir
Growing public interference in anti-militancy operations forced the security force to call off two anti-militancy operations in south Kashmir in the past 24 hours.
 Meanwhile, the Lashkar-e-Taiba (LeT) heaped praise on the people for their "new mode of resistance."
A search-and-cordon team of the Army and the police came under heavy stone pelting in Kulgam's Mohamadpora village, thus delaying the operation.
 Police sources said local residents started pelting stones as the security forces were throwing a cordon after a tip-off about militants' presence
 "Heavy teargas shelling was required to disperse protesters from the site," said a senior police official.
 Several locals, including a woman, were injured in the process.
GS III : CORRUPTION
India first in bribery rate, says global NGO
 India had the highest bribery rate among the 16 Asia-Pacific countries surveyed by Transparency International between July 2015 and January 2017, with nearly seven in 10 people who had accessed public services in the country during the period paying a bribe.
 As much as 69% of the study group in India said they had paid a bribe, given a gift or done a favour to receive services.
 Vietnam follows with 65%, Thailand 41% and Pakistan 40%. China reported a much lower 26%.
 Japan had the lowest incidence of bribery at 0.2 per cent.
 South Korea and Australia recorded 3% each, Hong Kong 2% and Taiwan 6%.
 While 46% to 60% of Indians said they paid bribes for various public services, including in public schools and hospitals and for getting IDs, voter cards and permits and accessing utilities and the police, 31% to 45% said they paid bribes for court services as well.
 "The results from across the region show that it is a key law and order institution — the police — that was thought to suffer most from corruption," the survey said.
 While nearly two in five said the police were mostly or entirely corrupt (39%), many people in the region also perceived political decision-makers at both the national and local level to be highly corrupt, it added.
 Over a third said that their legislative representatives , officials and local councillors were highly corrupt (from 35 to 37 per cent).
 Religious leaders were seen as far cleaner, with fewer than one in five saying they were highly corrupt (18 per cent).
Transparency Internationa
l
 Transparency International is an international non-governmental organization which is based in Berlin, Germany, and was founded in 1993.
 Its non-profit purpose is to take action to combat corruption and prevent criminal activities arising from corruption.
 It publishes for example the Global Corruption Barometer and the Corruption Perceptions Index
GS III: S&T  BIOTECHNOLOGY
PAU develops country's first Bt cotton varieties
 Punjab Agricultural University, Ludhiana said it has successfully developed the country's first Bt cotton varieties.
 The ICAR has identified three varieties, namely PAU Bt 1, F1861 and RS 2013, for cultivation in Punjab, Haryana, Rajasthan.
 It is a cheaper alternative to Bt cotton hybrid seed.
GS II : MULTILATERAL  COMMONWEALTH
Commonwealth unveils initiative to stamp out domestic violence
 The Commonwealth is launching an initiative to help member states tackle domestic violence, which it said remained a "stubborn stain" on communities, disproportionately impacting women.
 The "Peace in the home" programme will include toolkits to help governments across the Commonwealth involve multiple agencies — such as schools, doctors and hospitals, as well as government — and law enforcement agencies to work together effectively, and will help countries highlight and share details of initiatives that had been particularly successful at dealing with domestic violence.
 There will also be a mentoring programme for women, and an initiative to address the issue of violence around elections and politics.
 The secretariat would also be launching an initiative to map the economic cost of domestic violence in Commonwealth countries, as well as a focus on strengthening laws protecting women and girls across the group.
 There would be  legal resource book on domestic violence — setting out what constitutes violence against women and the intersection of national and international human rights laws — piloted by the Secretariat in East Africa last year, and that there were plans to roll it out across the rest of the Commonwealth.
Commonwealth
 The Commonwealth of Nations (formerly the British Commonwealth), also known as simply The Commonwealth, is an intergovernmental organisation of 52 member states that are mostly former territories of the British Empire.
 The Commonwealth dates back to the mid-20th century with the decolonisation of the British Empire through increased self-governance of its territories.
 It was formally constituted by the London Declaration in 1949, which established the member states as "free and equal.
 The symbol of this free association is Queen Elizabeth II who is the Head of the Commonwealth.
 The Queen is also the monarch of 16 members of the Commonwealth, known as Commonwealth realms.
 Member states have no legal obligation to one another. Instead, they are united by language, history, culture and their shared values of democracy, free speech, human rights, and the rule of law. These values are enshrined in the Commonwealth Charter and promoted by the quadrennial Commonwealth Games.
GS II : MULTILATERAL  COMMONWEALTH
Commonwealth card mooted
 Commonwealth nations could consider a scheme similar to the Business Travel Card scheme, used across the Asia-Pacific Economic Cooperation (APEC) forum, as a means of promoting intra-Commonwealth trade and investment, the chairman of the Commonwealth Enterprise and Investment Council said.
 Under the APEC scheme, which includes 19 fully participating countries, including Australia, Hong Kong, Russia and Singapore, business travellers are able to apply for five-year-long, short-term, multiple-entry permits to other member states, freeing them from the need to apply for visas every time they travel.
GS III : ECONOMY ECOMMERCE
Meeting set to review postal imports
 The Finance Ministry will convene an inter-ministerial meeting next week to review a surge in postal imports of consumer goods through ecommerce as well as related security issues following seizures of high-altitude drones, bullion and fake currency in such parcels.
 The meeting comes in the wake of the concern expressed by Prime Minister Narendra Modi over public grievances received by the PMO on issues relating to the import of goods through the postal network and courier services.
 Some measures recommended include a move to tighten security by upgrading x-ray machines for non-intrusive scanning of mail parcels, they said.
 Still, given the irritants that include prolonged delivery time, high customs duties and transactions in foreign currencies, websites offering products that were not available in India, and those promising free delivery and transactions in local currency saw better sales.
 Several measures covering imports and exports via post have already been proposed in the Finance Bill 2017, including amendments in the Customs Act, 1962, to include Foreign Post Office and International Courier Terminal in the definition of a Customs Station, as well as to define Foreign Post Office and International Courier Terminal.
 The proposed amendments to the Customs Act also seek to empower the CBEC to notify Foreign Post Offices and International Courier Terminals as well as to make regulations to provide for the form and manner in which an entry may be made in respect of goods imported or to be exported by post
 Besides, the Finance Bill 2017 proposes amendments in the Customs Tariff Act, 1975, to cover goods imported through courier service as well as personal imports by courier, sea, or land.
  The developments assume significance in the context of promotion of exports and imports via the e-commerce route.
 As part of a mid-term review of the Foreign Trade Policy 2015–20, the Commerce ministry will meet stakeholders to address exporters' concerns about certain "restrictions".
GS III : ECONOMY PENSIONS
You can switch from EPF to NPS
 More than eight crore members of the Employees' Provident Fund, can now opt to move their retirement savings to the National Pension System overseen by the Pension Fund Regulatory and Development Authority (PFRDA) – over two years after Finance Minister Arun Jaitley had promised such an alternative for employees in the Budget for 2015-16.
 The PFRDA notified the procedure for EPF members to transfer their investments to the National Pension System or NPS on 7 March 2017.
 Terming members of EPF and Employees' State Insurance Corporation (which provides medical care to organised sector workers) as "hostages, rather than clients", the finance minister had said such workers' incomes suffer due to high statutory deductions towards EPF and ESIC.
 He had promised to provide employees the option to leave the EPF and opt for the NPS and had also said that employees below a certain level of monthly income could decide if they wanted to stop their own contributions to the EPF.
 In all, 24% of an employee's salary is diverted to the EPF as a mandatory retirement saving scheme.
 According to the rules, the subscriber looking to transfer funds from EPF to NPS must have an active NPS Tier-I account, which can be opened either through the employer where NPS is implemented or online through eNPS on the NPS Trust website.
 While the return on EPF savings this year is expected to be 8.65%, the NPS offers multiple asset allocation options and fund managers for its members to choose from, with varying rates of returns.
 The subscriber, either a government or private sector employee, must approach the concerned PF office where their money resides, through her or his employer and request to transfer their savings to an NPS account
GS III : ECONOMY SECTORS
Local steel may become a must for $59-bn. infra spend
 India may soon mandate the use of local steel in government infrastructure projects worth billions of dollars, sources said, pitching it as a WTO-compliant protectionist measure aimed at further cutting cheap imports, mainly from China.
 The government expects the move to boost sales of local companies such as JSW Steel and Tata Steel, and eventually attract global steelmakers such as ArcelorMittal and POSCO to invest in the country, steel ministry sources told Reuters.
 India, the world's third largest steel consumer, has budgeted a record $59 billion for 2017-18 for steel-intensive infrastructure projects such as ports, roads, railways and power.
"It is preference with no compromise on quality and competitive pricing. To use domestic produce is an acceptable norm."
 Analysts said a similar proposal by U.S. President Donald Trump requiring the use of domestic steel to build two energy pipeline projects could violate international trade laws, but Indian officials say their plan will fall within WTO rules.
 A government document on the proposal, cites an article under the General Agreement on Tariffs and Trade of the World Trade Organisation, allowing an exception to "procurement by governmental agencies of products purchased for governmental purposes and not with a view to commercial resale or with a view to use in the production of goods for commercial sale."