When:
November 13, 2016 @ 1:00 am
2016-11-13T01:00:00+05:30
2016-11-13T01:15:00+05:30
NEWS
13 November 2016
| | | |
| --- | --- | --- |
| Sr. No. | Topic | News |
| 1. | GS II: INTERNATIONAL – PAKISTAN | 43 dead in suicide blast at Sufi shrine in Balochistan |
| 2. | GS III: S&T | Pune researchers fabricate a flexible nanogenerator for wearable electronics |
| 3. | GS III: S&T | New light on dark matter |
| 4. | GS III: S&T | Flu infection depends on the year you were born, says study |
| 5. | GS II: SOCIAL – HEALTH | India still losing fight against child pneumonia, diarrhoea epidemics |
| 6. | GS II: INTER-STATE WATERS | Ken-Betwa project hangs on forest nod |
| 7. | GS II: BILATERAL – INDIA-CANADA | We are not for building walls, says Canada Minister |
| 8. | GS II: BILATERAL – INDIA-UKRAINE | India and Ukraine to close gap in ties  |
GS II: INTERNATIONAL – PAKISTAN
43 dead in suicide blast at Sufi shrine in Balochistan
At least 43 people, including women and children, were killed and more than 100 others injured in a suicide attack carried out by a 14-year-old boy at a popular Sufi shrine in Balochistan, Pakistan.
The devotees were attending a Sufi dance called dhamaal at the Dargah Shah Noorani shrine.
The Islamic State (IS) claimed responsibility for the attack through Amaq, its affiliated news agency.
GS III: S&T
Pune researchers fabricate a flexible nanogenerator for wearable electronics
Producing wearable electronics that uses a portable nanogenerator which generates electric power when pressure or twist is applied got a shot in the arm, thanks to research carried out by Pune researchers.
The nanogenerator, which was fabricated by them, produced 14 volts when thumb pressure was applied.
To demonstrate the potential of the nanogenerator to power small electronic devices, pressure equivalent to thumb pressure was continuously exerted on the nanogenerator for 20 minutes by using a vibration producing motor.
About 28 micro watt per square cm power and 14 volt that was generated was stored in a capacitor and used for charging a mobile phone.
Currently, there is considerable research emphasis to develop flexible or wearable devices. Such devices should be portable, lightweight, shock-resistant, and inexpensive. And the devices should ideally be powered by harvesting easily available mechanical or vibration energy, making battery or related wiring redundant.
Piezoelectric materials, which can generate electrical power locally through stress or flexing, are a great proposition in this regard.
To produce the nanogenerator, researchers from Pune's Indian Institute of Science Education and Research (IISER) and the National Chemical Laboratory electrospun a piezoelectric polymer [P(VDF-TrFE)] directly onto a flexible, conducting carbon cloth. The carbon cloth was produced by the researchers by heating a piece of cotton cloth at 800 degree C for several hours in an inert atmosphere.
To improve the piezovoltage of the polymer fibres, the researchers coated the fibres with a stronger, inorganic ferroelectric material (BaTiO3) paste. The nanoparticles from the coating helps fill the gaps between the polymer nanofibres and increase the piezoelectric property.
Due to the roughness of the cloth surface, when you press or flex the device the applied force is transmitted along different directions of the piezoelectric active layer. And this improves the piezoelectric property of the nanogenerator.
GS III: S&T
New light on dark matter
Dark matter is as mysterious as it sounds – very little is known about it, save that it makes up about 85 per cent of all the matter in the universe.
Now, German and Hungarian scientists have thrown some light on a type of dark matter particle that has been postulated, known as the axion.
They have established that axions can have a mass between 50 and 1500 micro electron volts, making them some ten billion times lighter than the electron.
An interesting fact is that these calculations were done numerically using a (Bluegen/Q) super computer, JuQueen, housed in the Julich Supercomputer Centre in Germany.
Dark matter is so known because it interacts weakly with matter and so is notoriously difficult to detect. Yet, indirect proof of its existence comes from observation of rapidly rotating galaxies, which cannot be held together merely by the gravitational pull of the matter they contain – there has to be a lot of invisible stuff known as "dark matter" to prevent them from flying apart with the force of their own energies. Such inferences imply that nearly 85 per cent of the universe is made of dark matter, the known matter only contributes 15 per cent.
Several candidate particles have been postulated that may constitute dark matter – both highly massive and lightweight – but none of the experiments have detected any such particle so far, directly.
Axions are particles proposed by extending quantum chromodynamics (QCD) the theory that describes "strong interactions," the way quarks and gluons bond to form matter particles such as protons, neutrons etc.
GS III: S&T
Flu infection depends on the year you were born, says study
The first type of flu virus you encounter as a child gives you protection against similar strains, and leaves you vulnerable to others, research suggests.
Scientists have shown that the generation you belong to — and even the year of your birth — predicts how vulnerable you will be to a given strain of seasonal virus.
The flu virus a person first encounters as a child, they found, leaves a permanent "imprint" on the immune system, giving them robust protection against similar strains and much weaker protection against less closely related varieties of the illness.
In future, seasonal vaccines could be targeted at people of particular ages who are most likely to benefit, and in pandemics when medications are scarce, vulnerable age ranges could be prioritised for protective measures.
The age effect is seen because influenza A viruses — the kind considered most likely to cause pandemics — have evolved into two major branches known as type 1 and type 2.
Up until 1968, all viruses in circulation belonged to the type 1 branch; between 1968 and 1979, type 2 dominated.
Since then, strains belonging to both branches have been in circulation simultaneously, but with one type tending to dominate each year.
Using vast databases of historical epidemiological data, the scientists tracked the susceptibility of each birth year from 1918 to the present to the different flus in circulation during their lifetime.
The scientists also studied two bird flu viruses, H5N1 (belonging to the type 1 branch) and H7N9 (type 2), each of which already has caused hundreds of cases of severe illness or death in humans. Scientists are concerned that in the future either of these strains could gain mutations that allow them to not only jump from birds into humans, but also spread rapidly between people, triggering a deadly pandemic.
The findings explain the surprising observation that H5N1 tends to cause far more mortalities in younger people — contrary to what might be expected, while H7N9 tends to be most devastating in the elderly population.
When a person is infected by flu, their original antibodies are woken up as the body's first line of defence, meaning if they are poorly-matched they will be less efficient at attacking the virus.
GS II: SOCIAL – HEALTH
India still losing fight against child pneumonia, diarrhoea epidemics
November 12 is World Pneumonia Day 2016, and India stands pretty much where it stood last year — right on top of the charts with a total of 2,96,279 deaths from pneumonia and diarrhoea, the tally being just short of last year's figure of 2,97,114 deaths, and the nation desperately needs to reduce those numbers.
The Pneumonia and Diarrhoea Progress Report published annually by the International Vaccine Access Center (IVAC) at the Johns Hopkins Bloomberg School of Public Health, puts India at the top of the list of 15 nations, as it did last year, and the years before.
The report, however, does indicate some consolation can be found in the fact that India is among the 12 nations that have improved their Global Action Plan for the Prevention and Control of Pneumonia and Diarrhoea (GAPPD) score this year.
The report says: "The rate of all-cause mortality in this age group has been cut by more than half worldwide since 1990, from 91 deaths per 1,000 live births to 43 in 2015. Although this is an enormous achievement, pneumonia and diarrhoea's contribution to under-5 deaths remains stubbornly high.
In 2015, these two diseases together were responsible for nearly one of every four deaths that occurred in children under five.
Nearly 15 years after the introduction of the Pneumococcal Conjugate Vaccines (PCV) in 2000, five countries among those with the highest pneumonia burden — India, Indonesia, Chad, China and Somalia — are still not using the vaccine in their routine immunisation programmes, the report noted.
Partial introduction
India recently announced a partial introduction of the vaccine in five states (Bihar, Uttar Pradesh, Rajasthan and Madhya Pradesh and Himachal Pradesh) from 2017.
Union Health Minister has recently announced adding life-saving vaccines such as PCV (pneumococcal conjugate) and rotavirus to our immunisation programme.
India introduced rotavirus vaccines in four States in 2015. Rotavirus is the most common cause of diarrhoeal disease among infants and young children.
GS II: INTER-STATE WATERS
Ken-Betwa project hangs on forest nod
The Rs. 9,000-crore Ken-Betwa river-interlinking project, which will partly submerge the Panna tiger reserve, may be delayed after a key Environment Ministry body tasked with giving it forest clearance has deferred it at least until January 2017.
The project will submerge 6,221 hectares of land— 4,141 hectares of it is core forest inside the reserve.
The Forest Advisory Committee's clearance is required for this diversion of forest land.
Depending on whether a project takes over land in wildlife sanctuaries or notified forest land, it requires separate wildlife, forest and environment clearances.
The main feature of the project is a 230-km canal and a series of barrages and dams connecting the Ken and the Betwa to irrigate 3.5 lakh hectares in Madhya Pradesh and 14,000 hectares in the Bundelkhand region of Uttar Pradesh.
The project will facilitate irrigation, domestic and industrial water supply and power generation.
The key components are the Makodia and the Dhaudhan dams, the latter expected to be 77 metres high, which will submerge 5,803 hectares of tiger habitat in the tiger reserve.
The Ken-Betwa project is the template for the Union government's stated plan to transfer water across river basins. Water Resources Minister Uma Bharti has said that she would go on a hunger strike if environmental clearances impeded the project.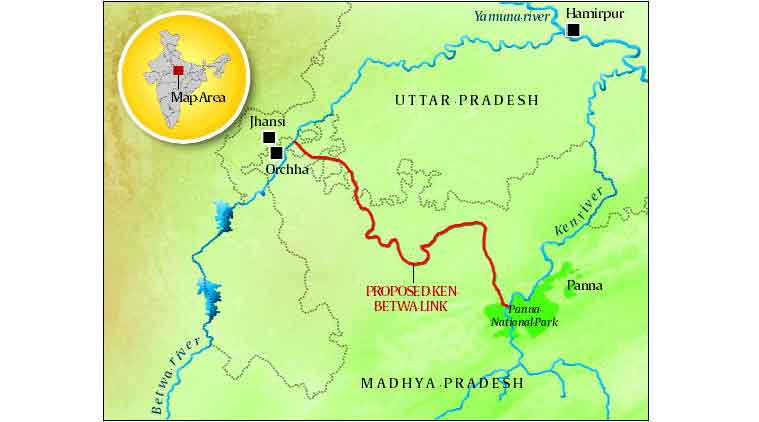 GS II: BILATERAL – INDIA-CANADA
We are not for building walls, says Canada Minister
Canada will invite more Indian students and high tech professionals as part of its immigrant-friendly policy said its Minister of Immigration even as he questioned U.S. President-elect Donald Trump's 'policy of building walls.'
"We do not stand for building of walls. Canada stands for globalisation and we pursue a policy of multiculturalism which is not a bad word for us," said John McCallum, Canadian Minister of Immigration, Refugees and Citizenship.
"We are going to make it much easier to bring in immigrants as we are going for expansion of our immigration programme. Immigration process for global talent from the high-tech sector and for international students will be made easier and seamless. Students will also be provided 'express entries' as part of the new immigration process," said Mr. McCallum.
GS II: BILATERAL – INDIA-UKRAINE
India and Ukraine to close gap in ties
After a gap of four years, India and Ukraine are set to begin a new phase of exchanges which is likely to warm up political, military and diplomatic ties.
Ukrainian Foreign Minister is likely to visit India soon even as the Heavy Industries Minister Anant Geete undertook a visit to the country presently.
"The visit of the Indian Minister breaks a gap in bilateral exchanges that had formed due to the ongoing violence in eastern Ukraine.
India had evacuated citizens from Ukraine in 2014 as the disturbance intensified in the region.
The last major visit from Ukraine was by President Viktor Yanukovych who visited Delhi and met Prime Minister Manmohan Singh in 2012.
However, another problem in bilateral ties was Ukraine's military ties with Pakistan.
Ukraine is a member of the Nuclear Suppliers Group (NSG) and a non-permanent member with two-year term at the U.N. Security Council.
The diplomat indicated that Ukraine is interested in supporting India's military modernisation plans and the visit of Mr. Klimkin is likely to take up several key projects in aviation and space research.