When:
February 21, 2017 @ 1:00 am
2017-02-21T01:00:00+05:30
2017-02-21T01:15:00+05:30
NEWS
21 FEBRUARY 2017 
| | | |
| --- | --- | --- |
| Sr. No. | Topic | News |
| 1. | GS II : POLITY BILLS | Centre not for terming Pakistan a 'terror state' |
| 2. | GS II : INTERNATIONAL USA | Trump still targets same seven nations |
| 3. | GS III : DISASTER MANAGEMENT | Uttarakhand playing with forest fire |
| 4. | GS III : ENVIRONMENT | A.P.'s bid to reduce sanctuary size rejected |
| 5. | GS III : AGRICULTURE | From 'cancer-causing' crop to organic vegetables |
| 6. | GS II : SOCIAL – ELDERLY | Blending humaneness with healthcare solutions |
| 7. | GS II : BILATERAL INDIA-  EU | Europe keen on resuming trade talks |
| 8. | GS III : SECURITY | Arunachal gets a special security package |
| 9. | GS II : INTERNATIONAL PAKISTAN | Pak. Tightens security on Afghan border |
| 10. | GS III: DEFENCE | An Indian challenge to China in space? |
| 11. | GS III :  S&T IT | Tech giants to tackle piracy sites |
| 12. | GS I: GEOGRAPHY RESOURCES | Deep sea mining given a second look |
   GS II : POLITY BILLS
Centre not for terming Pakistan a 'terror state'
 The Centre will oppose a Private Member′s Bill moved in the Rajya Sabha recently seeking to declare countries like Pakistan "terror states."
 Independent Member of Parliament Rajeev Chandrasekhar had moved The Declaration of Countries as Sponsor of Countries as Sponsor of Terrorism Bill, 2016 to impose legal, economic and travel sanctions on citizens of countries which promote terror.
 The Home Ministry has written to the Parliament Secretariat opposing the Bill as it jeopardises international relations under theGeneva Convention.
 India has accused Pakistan of instigating terror attacks but the two countries have maintained diplomatic relations even during the Kargil war and Operation Parakram.
 Parliament adjourned for the recess and will resume on March 9; there is a probability that the Bill might again be taken up for discussion.
GS II : INTERNATIONAL USA
Trump still targets same seven nations
 A draft of President Donald Trump′s revised immigration ban targets the same seven countries listed in his original executive order but exempts travellers who already have a visa to travel to the U.S., even if they haven′t used it yet.
 Mr. Trump revised the order after federal courts held up his original immigration and refugee ba.
 The targeted seven Muslim-majority countries are — Iran, Iraq, Syria, Yemen, Somalia, Sudan and Libya.
 The official said green card holders and dual citizens of the U.S. and any of the seven countries are exempt.
 The new draft also no longer directs authorities to single out and reject Syrian refugees when processing new visa applications.
GS III : DISASTER MANAGEMENT
Uttarakhand playing with forest fire
 With summers approaching, forest fires that will last till the start of the monsoon season have begun in Uttarakhand.
 However, even after the massive forest fires last year, the forest department seems ill-equipped to tackle the issue.
 In April-May 2016, the Uttarakhand fires had grabbed national headlines, with over 4,434 hectares of forests engulfed in flames.
 The Indian Air Force's Mi-17 helicopters were also pulled in to help douse the fires.
 The Uttarakhand High Court had directed the forest department "to use foam and other fire retardants to control the forest fires."
 In December 2016, the Uttarakhand High Court, in an order, had stated that "disciplinary proceedings shall be initiated against them (forest officials) for not preventing, or controlling forest fires" and that if a forest fire lasted for over 72 hours then the PCCF would be "deemed to be put under suspension."
 However, Mr Mahajan said, "We have limited resources here. Also, in the hills the options to douse fires are limited. We cannot use fire retardants like foam because the forest areas also have freshwater springs which are a source of water for the villagers. The fire retardants have chemicals which could poison the water."
 In a recent meeting with Uttarakhand Chief Minister Harish Rawat, the forest department discussed preparations for combating the forest fire.
 "We will be engaging with villagers to douse the fires. Also, we have decided to send fire alerts via SMS to forest guards.
 Earlier it sent only post-fire alerts when a fire was reported. We will now also send pre-fire alerts based on the probability of a forest to catch fire.
 It has collaborated with the Dehradun Meteorological Department for this.
 On February 16, one hectare of forest was engulfed by the forest fire instances in the Nanda Devi Biosphere Reserve.
GS III : ENVIRONMENT BIODIVERSITY
A.P.′s bid to reduce sanctuary size rejected
 The Working Group constituted by the National Board for Wildlife (NBWL), headed by Wildlife Institute of India professor R. Sukumar, has rejected the "drastic reduction" in Kolleru Wildlife Sanctuary (KWLS) from Contour 5+ to 3+ as per the Andhra Pradesh State Assembly Resolution.
 Prof. Sukumar, in his report, said there should be "no compromise with the ecological balance (of the lake) by drastic reduction in sanctuary areas as per Andhra Pradesh State Assembly Resolution."
 The working group submitted its report to the NBWL recently. It also recommended the removal from KWLS of nearly 13,673 acres (5,533.3 hectares) of private (ziroyati) lands located within its north-eastern boundary.
 It said that lands assigned to Scheduled Castes, Backward Class communities and that associated with genuine D-patta Cooperative Societies that are adjoining the private lands also be removed from the sanctuary.
 The working group recommended the identification of important areas of bird congregation to be declared as core zones free of human disturbances.
 The rest of the area could be kept open for traditional fishing.
 The Ecologically Sensitive Zone (ESZ) should be declared up to present boundary of KWLS, or may be extended to a distance recommended on experts on wetland ecology, the report said.
 The working group said in the report that the water from Budameru River which feeds Kolleru had been diverted to Krishna Delta via the Polavaram Left Main Canal and the same should be compensated elsewhere.
 The NBWL will communicate the recommendation of the working group to the Andhra Pradesh government for its comments shortly.
National Board for Wild Life
 It is a "Statutory Organization" constituted under the Wildlife Protection Act, 1972.
 Theoretically, the board is "advisory" in nature and advises the Central Government on framing policies and measures for conservation of wildlife in the country.
 However, it is a very important body because it serves as apex body to review all wildlife-related matters and approve projects in and around  
national parks and sanctuaries.
Wildlife Institute of India
 (WII)
 It is an autonomous institution under the Ministry of Environment Forest and Climate change, Government of India.
 WII carries out wildlife research in areas of study like Biodiversity, Endangered Species, Wildlife Policy, Wildlife Management, Wildlife Forensics, Spatial Modeling, Ecodevelopment, Habitat Ecology and Climate Change.
 WII has a research facility which includes Forensics, Remote Sensing and GIS, Laboratory, Herbarium, and an Electronic Library.
 The institute is based in Dehradun, Uttarakhand. It is located in Chandrabani, which is close to the southern forests of Dehradun.
Eco-Sensitive Zones
 (ESZs)
 Eco-Sensitive Zones (ESZs) or Ecologically Fragile Areas (EFAs) are areas notified by the Ministry of Environment, Forests and Climate Change, Government of India around Protected Areas to prevent ecological damage caused due to developmental activities around National Parks and Wildlife Sanctuaries.
 The purpose of declaring ESZs is to create some kind of "shock absorbers" to the protected areas by regulating and managing the activities around such areas.
 They also act as a transition zone from areas of high protection to areas involving lesser protection.
GS III : AGRICULTURE
From 'cancer-causing' crop to organic vegetables
 A small group of progressive farmers in Santhanuthalapadu in the Prakasam district of Andhra Pradesh has quit the cultivation of tobacco, the principal commercial crop in the district, to grow organic fruits and vegetables.
 After burning their fingers growing the "negative" crop — tobacco— the price of which is governed more by the global demand-supply situation, they decided to go in for organic fruits and vegetables.
 They use only natural fertilizer "ganajeevamrutham" produced with cow-dung and cow urine, and biopesticides made from neem and other leaves.
 The organic farmers in the village have installed micro irrigation systems such as sprinklers and drip irrigation to ensure the much-needed wetting for the crop.
 This is significant at a time when a majority of farmers are struggling to save their crops following a severe drought in the district for the third successive year.
 Organic practices adopted by a select group of progressive farmers in the village include residue mulching, composting and crop rotation to maintain soil health,
 Chemical farming kills useful insects, rats, frogs and snakes upsetting the foodchain in the ecosystem.
 GS II : SOCIAL – ELDERLY
Blending humaneness with healthcare solutions
The country level population studies suggest that 80% of the elderly live in the rural areas, and this makes service delivery a challenge.
 Secondly government projections suggest that "feminisation of the elderly population" is occurring, with 51% of the cohort likely to be women by 2016, and there is likely to be a steady increase in the number of the older-old persons, that is, those above 80 years of age.
 Finally it is a matter of concern that 30% of the elderly are below poverty line.
 Data from the 60th round of National Sample Survey paints a comprehensive picture of the status of older persons in India.
 Analysis of the data in a report by the U.S. National Institutes of Health suggests that the "prevalence and incidence of diseases as well as hospitalisation rates are much higher in older people than the total population."
 While home-based health solutions such as Portea have cropped up to cater to the demand for healthcare services by the elderly within the middle class, much less is available in terms of affordable models of health and social care for the poor, which is inconsistent with the changing needs of this cohort.
 While in India the families of the elderly are the primary care givers it is quite likely that this "model" may crumble over time given that the elderly population is increasing rapidly and there is likely to be a shift in the disease pattern from communicable to non-communicable.
 At the heart of any solution for healthcare services provision must be the realisation that "disease and disability are not part of old age and help must be sought to address the health problems," according to the NIH report.
 "Though spending on medicines for the elderly is a significant burden for some families, money is often only the secondary reason for them to abandon ailing elders," Dr. Balagurusamy said.
  "The primary reason is the inability and hesitance to take care of them, particularly when they suffer ailments like stroke or neck of femur fractures that hamper mobility and make them often dependent on others even to answer nature′s call," he added.
 Even though the Maintenance and Welfare of Parents and Senior Citizens Act, 2007 gives the police a major role, they are usually overburdened and not sufficiently trained to handle such cases in a compassionate manner.
 There should be a helpline for elders like they have the 1098 helpline for children.
 The government should also adopt Public Private Partnership model to set up palliative care centres (care for the terminally ill and their families) in every town, preferably inside hospitals, that can primarily cater to the needs of elderly and terminally ill patients.
GS II : BILATERAL INDIA-EU
Europe keen on resuming trade talks
 Warning that the impasse in the India-European Union free trade negotiations could also hurt investment into India, the Members of the European Parliament "Delegation for Relations with India" urged the government to consider a six-month extension of bilateral investment treaties until the FTA or the comprehensive BTIA (Bilateral Trade and Investment Agreement) negotiations are restarted.
 The delegation, one of three with senior officials from the EU and European Parliament visiting India this week, met Finance Minister Arun Jaitley and Commerce Minister Nirmala Sitharaman to discuss their concerns.
 There has been no movement on the BTIA/ FTA talks that were suspended in 2013 after 16 rounds of negotiation.
 One of the problems is the termination of the bilateral investment treaties by India. The European Union is saying, it would be very helpful if they could consider extending these by at least about six months to enable new mechanisms to be put in place.
 The officials said there was a need for a "greater sense of urgency", given that BITs with most EU countries would lapse within the first half of 2017.
 The Bilateral investment treaty with The Netherlands, a country that is home to the second largest population of people of Indian origin in Europe, after the UK, lapsed on November 30, and the rest are expected to follow shortly.
 Amongst the other arguments put forth by the delegation were that businesses in their countries would like to invest in India only once the government "guarantees" the process in India, which would follow the conclusion of the BTIA.
 However, while the EU is keen for either negotiations to be started as soon as possible, Minister of State for Commerce and Industry Nirmala Seetharaman is understood to have conveyed that both negotiations should be taken up together.
 Insurance costs would also increase significantly in the absence of the agreements.
 Apart from the BTIA, the MEPs said they were also concerned by "growing violence in Jammu and Kashmir" that was "hampering better ties between India and Pakistan".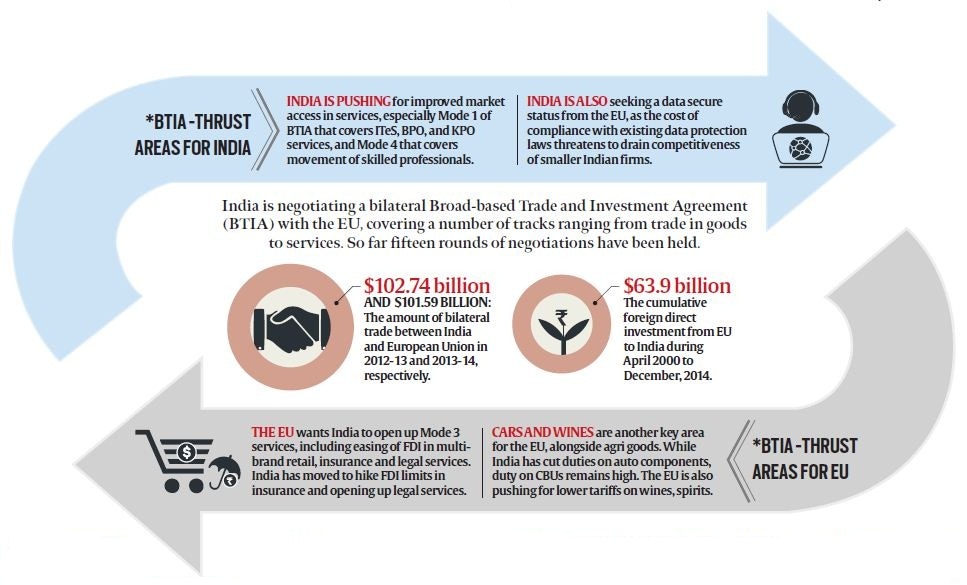 GS III : SECURITY
Arunachal gets a special security package
 Union Home Minister Rajnath Singh said the Centre has sanctioned a special package for strengthening security in three eastern districts of Arunachal Pradesh to tackle the insurgency problem there.
 The special package for Tirap, Changlang and Longding districts will include construction of over 20 police stations in the three districts, purchase of vehicles and equipment for police.
 Mr. Singh said his Ministry was actively considering the proposals submitted by the Arunachal Pradesh government for strengthening the security system in the State.
 The State government had sent a proposal for setting up an ITBP battalion here, Mr. Singh said, adding he had asked his Ministry′s officials to immediately examine it.
 He also promised to sanction a forensic science laboratory in the State.
 Referring to the hydro power potential of the State, Mr. Singh said a robust connectivity infrastructure was a must to tap this and turn it into a money spinner.
 Union Minister Nitin Gadkari had already announced a Rs. 50,000 crore project for roads and bridges in the State.
GS II : INTERNATIONAL PAKISTAN
Pak. Tightens security on Afghan border
 After a string of terror attacks in the country, Pakistan Army has moved heavy artillery towards the Afghan border.
 Army chief Gen. Qamar Javed Bajwa said "enhanced security arrangements" in the border region were aimed at combating terrorism.
 The move came just two days after the military targeted the camps of Tehreke- Taliban Pakistan′s (TTP) Jamaat-ul-Ahrar (JA) faction on the Torkham border opposite Mohmand and Khyber tribal regions.
 Pakistan alleges that the group has found "safe haven" in Afghanistan.
GS III: DEFENCE
An Indian challenge to China in space?
  China is clinically analysing the successful and cost-effective launch of 104 satellites in one-go by the Indian Space Research Organisation, as well as the outcome of the Aero-India show, with some media reports acknowledging that New Delhi may out-compete Beijing in the commercial space-launch business.
 The article diagnosed China′s inability to access components and parts from the U.S. as part of the problem.
 Consequently, China had to step up independent research and indigenous manufacturing in order to bypass the U.S. restrictions.
 Commenting on the Aero-India show that concluded in Bangalore, the website said: "We observed that this year′s Aero India kept a very low profile in arms purchase and Indian Defence Ministry didn′t sign any official agreement with foreign arms dealers."
 On the contrary, Indian arms dealers leveraged the exhibition to tap the overseas defence market. "The Astra air-to-air missile,Pinaka multi-barrel rocket launcher and Rustom UAV independently developed by India were popular among foreign clients," it observed.
 The write-up noted that India has also made progress on aircraft and vessel technology transfer.
 It quoted S. Christopher, head of the Defence Research and Development organisation, as saying that India would export advanced light torpedo worth $21 million, which also involves transfer of technology.
 The article pointed out that India′s Reliance Defence has signed an agreement with the U.S. Navy on vessel repair and retrofitting services.
 The pursuit of joint ventures has improved the quality of Indian military equipment.
 During the show, India′s Kalyani Strategic Systems Ltd has signed an agreement with Israel Aerospace Industries. The two sides will work together on the Barak-8 air-defence missile.
GS III :  S&T IT
Tech giants to tackle piracy sites
 For the first time, global tech giants Google and Microsoft have agreed to tighten up their search engines as part of a crackdown on piracy sites illegally streaming events and films.
 Google and Bing, Microsoft's search engine, have signed up to a voluntary code of practice and will ensure offending websites are demoted in their search results.
 The entertainment industry reached the agreement with the tech giants after talks brokered by the U.K. government. The initiative will run in parallel with existing antipiracy measures.
 The code, the first of its kind in the world, is expected to be in operation by the middle of this year, BBC reported.
 Google has indicated that the effort would provide a way to check that its existing efforts were effective, rather than committing it to adding new measures.
GS I: GEOGRAPHY RESOURCES
Deep-sea mining gets a second look
 The risk of running out of rare earth metals that are essential to modern technology has led to a surge in interest in mining the deep seas.
 Demographic growth and the acceleration of technological innovations in the past 40 years have doubled the quantity of minerals extracted worldwide, leading to shortages of certain key metals, according to a recent United Nations report.
 When it comes to copper, an essential element for electrical equipment and numerous industries, a shortage could begin about 2050.
 This uncertainty highlights the importance of considering deep-sea mining, even though the process involves environmental risks.
 Cobalt, iron, manganese, platinum, nickel, gold, and other rare minerals are usually found at depths ranging from a few hundred to several thousand metres.
 But just how much valuable material lies beneath the ocean floor remains highly uncertain.
 Nodules — or rocky formations containing valuable metals on the ocean floor — "are enormously abundant".
 But details on this potential remain poorly understood because, for the past three decades, exploration has been concentrated on certain areas near hydrothermal vents.
 All the zones granted exploration permits so far represent only 0.5 per cent of the total area that could be mined in the ocean.
 Until now, 27 countries, including India and China, have signed contracts to search for these resources with the International Seabed Authority.
International Seabed Authority
 (ISA)
 It is an intergovernmental body established in 1994 by the UN Convention on the Law of the Sea (UNCLOS).
 It was established to organize, regulate and control all mineral-related activities in the international seabed area beyond the limits of national jurisdiction, an area underlying most of the world's oceans.
 It is headquartered in Kingston, Jamaica.