When:
February 24, 2017 @ 1:00 am
2017-02-24T01:00:00+05:30
2017-02-24T01:15:00+05:30
NEWS 
24 FEBRUARY 2017 
| | | |
| --- | --- | --- |
| Sr. No. | Topic | News |
| 1. | GS III : ENVIRONMENT BIODIVERSITY | Record olive ridley nesting baffles wildlife experts |
| 2. | GS II BILATERAL INDIA-MYANMAR | Myanmar delegation visits Mizoram |
| 3. | GS III : ENVIRONMENT BIODIVERSITY | Nod for road widening in sanctuary opposed |
| 4. | GS III : DISASTER MANAGEMENT | Fire destroys precious flora & fauna in Adilabad |
| 5. | GS III : ENVIRONMENT POLLUTION | Fluorosis haunts Nuapada as govt looks the other way |
| 6. | GS II :  SOCIAL -EDUCATION | 'GPS, CCTV must in school buses' |
| 7. | GS III : SECURITY | 'Naga accord is still in the works' |
| 8. | GS II: BILATERAL INDIA-ISRAEL | India, Israel to develop missile for Army |
| 9. | GS II : SOCIAL- EDUCATION | Universities to compete with IITs, IIMs in rankings |
| 10. | GS II : INTERNATIONAL USA | U.S. scraps protection for transgender students |
| 11. | GS II : INTERNATIONAL | Why 20 million people are on brink of famine |
| 12. | GS II : INTERNATIONAL CHINA | China 'aware' of patrol in  China Sea |
| 13. | GS III : ECONOMY | 'Legally vetted' pact on services tabled at WTO |
 GS III : ENVIRONMENT BIODIVERSITY
Record olive ridley nesting baffles wildlife experts
 A record-breaking mass nesting by 3.8 lakh endangered olive ridley turtles (Lepidochelys olivacea) took place at the Rushikulya rookery coast in Ganjam district of Odisha in February 2017.
 Interestingly, no mass nesting had taken place at the site a year ago.
 It was then suspected that several environmental factors, including chemical factors like salinity of the beach and the sea near the coast, may have prompted these marine reptiles to give the coast a miss in 2016.
 Low salinity also means more small fish and insects, which are food for the turtles near the coast during mating and mass nesting seasons. The corrosive effect of salinity on eggshells cannot be ignored either.
 Olive ridley turtles bury their eggs on the beach. These eggs incubate with the help of sand heat for 45 to 50 days.
 According to experts, most mass nesting sites of olive ridley turtles in the world are located near river mouths, where salinity is low.
 This behavior has prompted experts to study turtle sensing superpowers.
 Explaining what may have prompted the mass nesting, Berhampur Divisional Forest Officer (DFO) Ashis Kumar Behera said a sandbaremerged at the mouth of Rushikulya river near Purunabandha this year. This, he added, prevented fresh water from the river from entering the sea directly.
Olive ridley Turtle
  Scientific Name: Lepidochelys olivacea
 The Olive ridley turtles are the smallest and most abundant of all sea turtles found in the world, inhabiting warm waters of the Pacific, Atlantic and Indian oceans.
 Growing to about 2 feet in length, and 50 kg in weight, the Olive ridley gets its name from itsolive colored carapace, which is heart-shaped and rounded.
 They are carnivores, and feed mainly on jellyfish, shrimp, snails, crabs, molluscs and a variety of fish and their eggs.
 Though found in abundance, their numbers have been declining over the past few years, and the species is recognized as Vulnerable by the IUCN Red list.
 International trade in these turtles and their products is banned under CITES Appendix I.
Mass Nesting:
 These turtles, along with their cousin the Kemps ridley turtle, are best known for their unique mass nesting called Arribada, where thousands of females come together on the same beach to lay eggs.
 During this phenomenal nesting, up to 600,000 and more females emerge from the waters, over a period of five to seven days, to lay eggs.
 They lay their eggs in conical nests about one and a half feet deep which they laboriously dig with their hind flippers.
 After about 45-65 days, the eggs begin to hatch, and these beaches are swamped with crawling Olive-ridley turtle babies, making their first trek towards the vast ocean.
 During this trek they are exposed to predators like jackals, birds, hyenas, fiddler crabs, and feral dogs lurking around, waiting to feed on them.
 The coast of Odisha in India is the largest mass nesting site for the Olive-ridley, followed by the coasts of Mexico and Costa Rica.
Protection in India:
 WWF-India, along with the fishermen community, has been involved in protecting the Olive ridley rookery at the mass nesting site at Rushikulaya, in Odisha, by fencing off the nesting area and patrolling it till hatching and ensuring a safe passage for the hatchlings to the sea.
 It is estimated that approximately 1 hatchling survives to reach adulthood for every 1000 hatchlings that enter the sea waters.
 Olive-ridleys face serious threats across their migratory route, habitat and nesting beaches, due to human activities such as turtle unfriendly fishing practices, development and exploitation of nesting beaches for ports, and tourist centres.
 However, the most severe threat they face is the accidental killing of adult turtles through entanglement in trawl nets and gill nets due to uncontrolled fishing during their mating season around nesting beaches.
Turtle Excluder Devices (TEDs)
 To reduce accidental killing in India, the Odisha government has made it mandatory for trawls to use Turtle Excluder Devices (TEDs), a net specially designed with an exit cover which allows the turtles to escape while retaining the catch.
 However, this has been strongly opposed by the fishing communities as they believe TEDs result in loss of considerable amount of the catch along with the turtle.
 WWF-India, along with its partners, disproved this theory by conducting a study to measure the loss of catch through TEDs, revealing the loss to be a very small percentage of the total catch.
 This result, along with regular meetings with the fishing communities, is slowly helping to change their mindset and encourage use of TEDs, thereby aiding the conservation of Olive ridley turtles.
GS II : BILATERAL INDIA-MYANMAR
Myanmar delegation visits Mizoram
 A Myanmar delegation said that they had visited Mizoram to study the federal system of the country especially how the areas inhabited by minority communities were administered.
 The delegation led by a MP of Arakan National Party, said that they also wanted to know how peace was achieved in Mizoram which was reeling under insurgency.
GS III : ENVIRONMENT BIODIVERSITY
Nod for road widening in sanctuary opposed
  Wildlife conservationists have strongly criticised the National Board for Wildlife (NBWL) for granting permission to the widening of a road that falls in the buffer zone of the Nagarjuna Sagar- Srisailam Tiger Reserve and also the Ecologically Sensitive Zone of the Gundla Brahmeswaram Wildlife Sanctuary in Andhra Pradesh.
  The NBWL gave permission for widening of the Nandyala-Atmakur road in Kurnool district from the single lane to double lane at its most recent meeting held in New Delhi
 Former honorary wildlife warden and conservationist K. Mruthumjaya Rao said the NBWL should have suggested a detour around the small piece of forest instead of widening it. Doubling the lanes would also double the traffic, and the number of heavy vehicles would also increase, he said.
 Roads not only fragment the habitat but also alter them, leading to displacement of some species.
National Board for Wild Life 
(NBWL)
 National Board for Wild Life is a "Statutory Organization" constituted under theWildlife Protection Act, 1972.
 Theoretically, the board is "advisory" in nature and advises the Central Government on framing policies and measures for conservation of wildlife in the country.
 However, it is a very important body because it serves as apex body to review all wildlife-related matters and approve projects in and around national parks and sanctuaries.
Nagarjunsagar-Srisailam Tiger Reserve
 It is the largest tiger reserve in India.
 The reserve spreads over five districts, Nalgonda District and Mahbubnagar district, inTelangana; and Kurnool District, Prakasam District and Guntur District in Andhra Pradesh.
 The total area of the tiger reserve is 3,568 km2. The core area of this reserve is 1,200 km2
 The reservoirs and temples of Srisailam are major attraction for many tourists and pilgrims.
GS III : DISASTER MANAGEMENT
Fire destroys precious flora & fauna in Adilabad
 Adilabad and Nirmal districts in Telangana, had forest fires raging in hundreds of hectares for five days, but gone unnoticed.
 There are different reasons put forth as the cause of the forest fires. Two of the most important among them are :
the setting of dry leaves in the forest on fire by beedi leaf contractors
the effort of farmers living in the vicinity to expand their fields.
GS III : ENVIRONMENT POLLUTION
Fluorosis haunts Nuapada as govt looks the other way
  Nearly two decades after the world came to know about a large population in Odisha's Nuapada district suffering from crippled backbones on account of consumption of high fluoride-laced water, the government is yet to provide a solution to the problem.
 Government records show Nuapada has a total of 2,784 habitations. Fluoride content is found beyond the permissible level of 1.5 part per million (PPM) in 905 habitations.
 In Nuapada, the fluoride content in water varies from 0.14 – 7.2 PPM.
 Over 50,000 villagers in the district have been affected by fluorosis.
 Adults mostly suffer from skeletal fluorosis that deforms bones and causes acute pain. Most cannot straighten their backs and get exhausted very easily.
 Children below 15 years of age suffer from mottling of teeth or dental fluorosis.
 Apart from causing health hazards, fluorosis adversely affects the economic productivity of the area, leading to hunger and malnutrition.
 The steps taken by the government to mitigate the problem have had little impact.
 First, a pipe water supply (PWS) project was set up in few villages. However, people in other villages continued to consume groundwater.
 Between 2010 and 2015, the government announced 21 mega PWS projects at a total cost of Rs. 273.87. The projects are yet to take off.
 PWS projects, meanwhile, have failed to address the crisis due to electricity failure.
GS II :  SOCIAL -EDUCATION
 'GPS, CCTV must in school buses'
 The Central Board of Secondary Education (CBSE) has written to all affiliated schools that:
All school buses should be fitted with speed governors that limit their speed to 40 km/hr,
Global positioning systems (GPS) and CCTV arrangements must be compulsorily installed on all buses.
Apart from the driver, who must have at least five years of experience, and conductor, all buses must have a woman guard as well.
Buses should have first-aid kits and provision for drinking water.
No school bus must use curtains or films
 The letter also said that violation of these guidelines could lead to action, including disaffiliation of the school.
 The letter went on to say that the management and head of the CBSE-affiliated schools would be held responsible in case of any lapse.
  "The recent unfortunate incidents reported about callous approach by certain schools with respect to the safety of children during transit to and fro to the school have agitated deep concern," the letter said.
GS III : SECURITY
'Naga accord is still in the works'
  R.N. Ravi, who was the interlocutor in the Naga peace talks, said that the peace agreement was yet to be finalised and it would not compromise the territorial integrity of any State.
 On August 3, 2015, at a much-publicised ceremony at Prime Minister Narendra Modi's residence, Mr. Ravi signed a "peace accord" with T. Muivah, general secretary the National Socialist Council of Nagalim (Isak-Muivah), to find a lasting solution to the Naga issue.
 However, following the signing of the agreement, the then Chief Ministers of Assam, Manipur, and Arunachal Pradesh, which have a sizeable Naga population, said they had not been consulted by the Centre.
 The government is yet to release the terms of the framework agreement.
 Manipur, which goes to the polls on March 4 and 8, has been under an economic blockade for more than four months following a strike called by the United Naga Council (UNC), a conglomerate of Naga bodies, against the Manipur government's decision to carve out seven new districts.
 The council operates under the patronage of the NSCN (I-M).
GS II: BILATERAL INDIA-ISRAEL
India, Israel to develop missile for Army
 India has approved a deal to develop jointly a medium range surface-to-air missile            (MR-SAM) system for the Army in a Rs. 17,000-crore deal.
 This is the latest in a series of other variants of SAM systems for the Navy and the Air Force being jointly developed with Israeli help under deals estimated at billions of dollars.
 The Cabinet Committee on Security (CCS), headed by Prime Minister Narendra Modi, gave the go-ahead for the deal to be executed by the Defence Research and Development Organisation (DRDO) and Israel Aircraft Industries (IAI).
 The deal is for five regiments of the missile, which consists of 40 units and 200 missiles. It has a range of 50- 70 km.
 The system will be based on the older Barak system of Israel, which is in use in India.
 The systems will be manufactured in India and would have an 80% indigenous content.
 Deliveries would begin in 2023, a source said.
 The two countries are also in an advanced stage of negotiations for the purchase of two more long-range Phalcon Airborne Warning And Control System (AWACS).
 The CCS had approved the deal for additional AWACS last year expected at a cost of Rs. 7,500 crore.
 India currently operates three Phalcon AWACS Israeli radars mounted on Russian IL-76 transport aircraft, under a $1-billiontripartite deal with Russia, signed in 2003.
 Russian officials said at the recent Aero India that India had already ordered two IL-76 aircraft to be converted to AWACS.
GS II : SOCIAL- EDUCATION
Universities to compete with IITs, IIMs in rankings
 Central and State universities will have to compete with institutions such as the Indian Institutes of Technology and Indian Institutes of Management in this year's official rankings of higher education institutions, which will be released early in April.
 The National Institutional Ranking Framework (NIRF) was put in place by the Ministry of Human Resource Development last year, but the first NIRF ranked engineering colleges, business schools and universities in separate categories.
 This year, there will be a common list of all institutions across disciplines and fields.
 The NIRF rankings are done on the basis of five parameters against which institutions are rated:
teaching and learning resources;
research and professional practice;
graduation outcome;
outreach and inclusivity, and
perception.
  Asked whether a common ranking of institutions would not be like comparing what were intrinsically different kinds of institutions — as, for instance, placements from the IIMs were likely to be better than universities offering humanities' courses — the official said the comparisons would be done in such a way as to account for the differences.
 Last year, the Indian Institute of Technology, Madras, had topped the list of engineering colleges and the Indian Institute of Management, Bengaluru, had edged out its Ahmedabad counterpart to come top among the business schools.
 Among universities, Jawaharlal Nehru University and Hyderabad University were ranked three and four, respectively, while University of Delhi was at sixth rank.
GS II : INTERNATIONAL USA
U.S. scraps protection for transgender students
 The White House overturned protections for transgender students that required public schools to allow them to use bathrooms and locker rooms matching the gender with which they identify.
  With the move, President Donald Trump has sided with social conservatives on a key issue at the centre of a broader cultural battle between conservatives and liberals.
 By lifting federal guidelines issued by the Obama administration — interpreting Title IX, the federal law banning sex discrimination in schools, to include gender identity — the Trump administration is leaving it up to States and school districts to decide whether students should have access to bathrooms that do not reflect their biological sex.
GS II : INTERNATIONAL  
Why 20 million people are on brink of famine
  In a world filled with excess food, 20 million people are on the brink of famine, including 1.4 million children at imminent risk of death.
 UN Secretary-General António Guterres raised the alarm about the risk of famine in northern Nigeria, Somalia and Yemen.
 The United Nations recently declared famine in a patch of South Sudan.
 Famine was last declared in Somalia in July 2011, after an estimated 260,000 people had died, mostly in a two month period.
 Each country facing famine is in war, or in the case of Somalia, recovering from decades of conflict.
 Famine is a rare and specific state. It is declared after three criteria are met:
when one in five households in a certain area face extreme food shortages;
more than 30% of the population is acutely malnourished; and
at least two people for every 10,000 die each day.
Mr. Guterres cited two reasons for the crisis.
There is not enough money; the UN needs $5.6 billion to address the needs. Barely 2% of that money is in hand.
All four countries facing the threat of famine are reeling from conflict, and in many instances, the leaders of warring parties are blocking aid workers from delivering relief where it is most needed.
Somalia:
The situation in Somalia today is different from what it was in 2011.
 The government is functioning, although there are vast pockets where al-Shabab thrives.
 But Somalia has already had two consecutive years of drought.
South Sudan:
 In South Sudan, 100,000 people are affected by famine in a part of the country that is most troubled by the civil war.
Nigeria:
 In northern Nigeria, where the military is battling Boko Haram, there was probably a famine in two towns, called Bama and Banki, according to an early warning system funded by the U.S. Agency for International Development.
 But travelling through the area is so dangerous that aid workers have been unable to verify the levels of hunger there, let alone deliver relief.
Yemen:
 The biggest crisis is in Yemen, where a coalition led by Saudi Arabia and backed by the U.S. is battling Houthi rebels.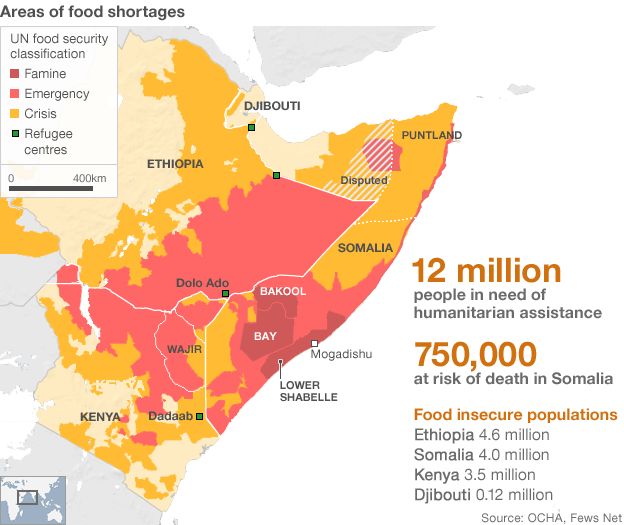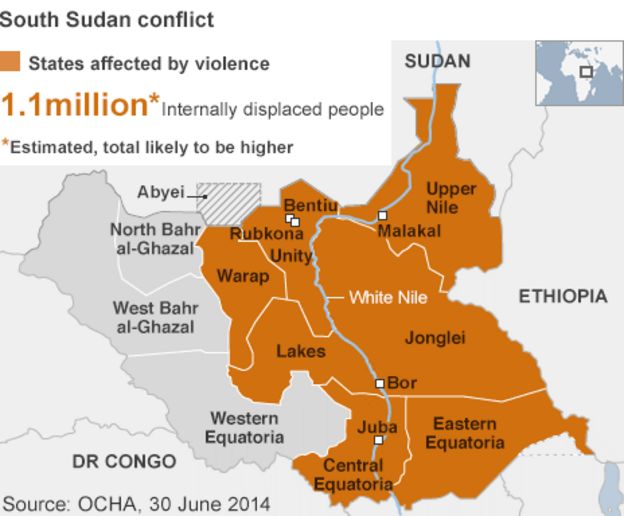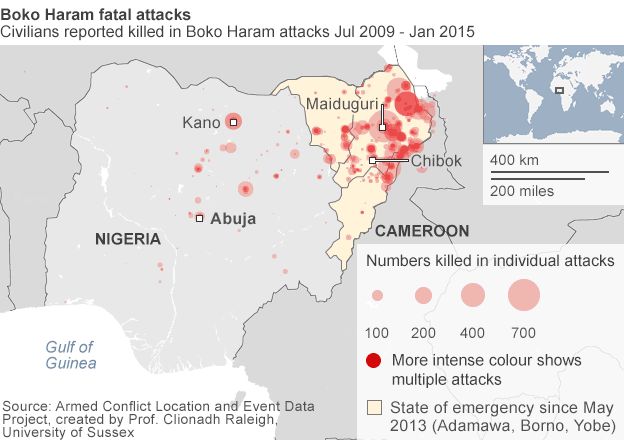 GS II : INTERNATIONAL CHINA
China 'aware' of patrol in S. China Sea
 China's Defence Ministry said it was aware of the presence of a U.S. aircraft carrier strike group in the South China Sea and China respected freedom of navigation for all countries in the waters there.
 The U.S. Navy said the strike group, including the Nimitz-class aircraft carrier the USS Carl Vinson, began "routine operations" in the South China Sea.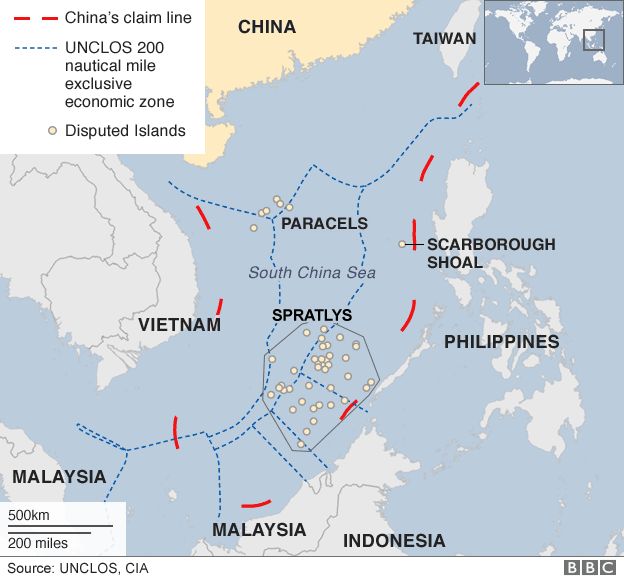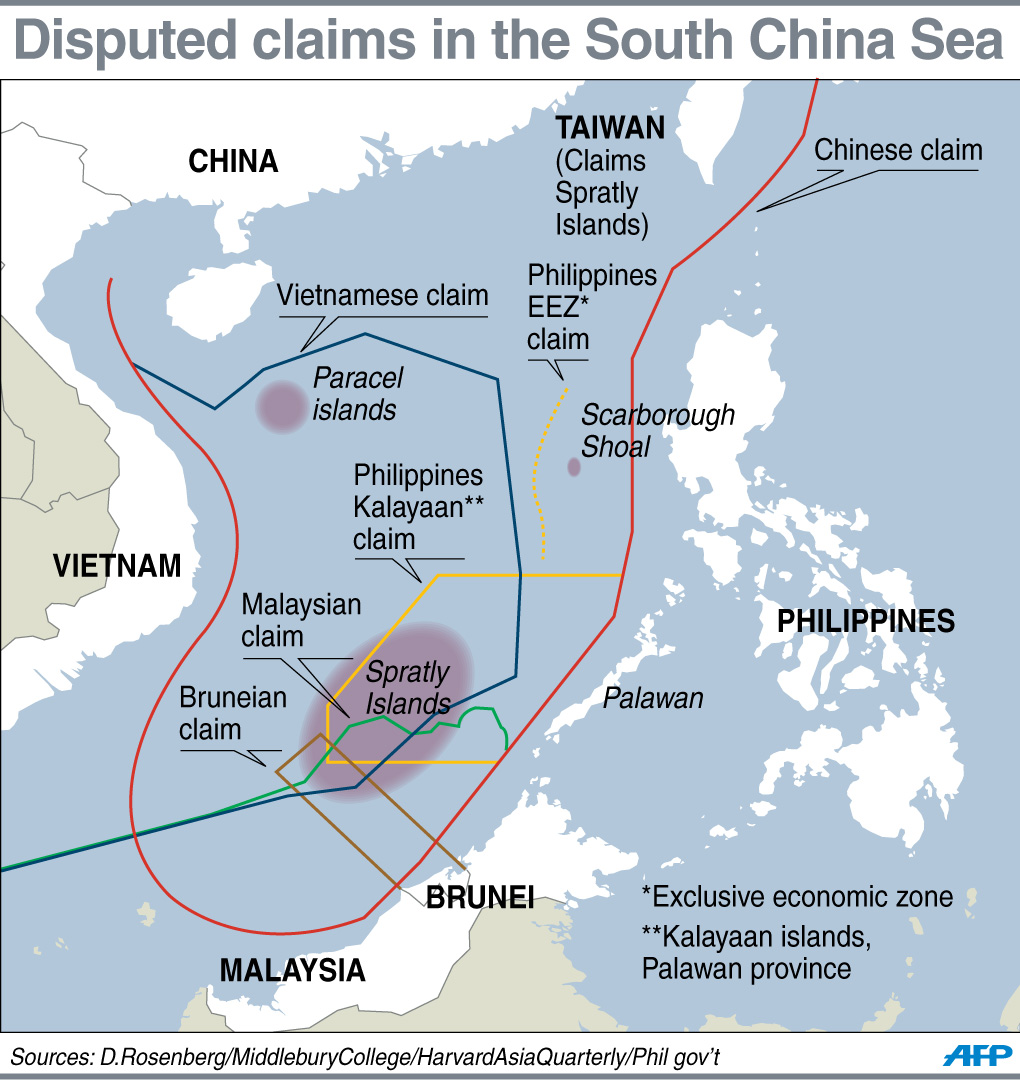 GS III : ECONOMY
'Legally vetted' pact on services tabled at WTO
 India said it has submitted to the World Trade Organisation (WTO) a legally vetted proposal on a global services pact, that among other things, aims to ease norms for movement of skilled workers across borders for short-term work.
 The proposal for a Trade Facilitation in Services (TFS) Agreement will be taken up by an expert committee at the WTO headquarters in Geneva during March 14-17, following which it will be put up for discussion among all the WTO members, commerce minister Nirmala Sitharaman said.
 According to official sources, the proposed pact also aims to ensure portability of social security contributions, a single window mechanism for foreign investment approvals and cross-border insurance coverage to boost medical tourism.
 The TFS proposal is on the lines of the Trade Facilitation Agreement (TFA) in Goods.
 According to India, the proposed TFS pact is also about 'facilitation' – that is "making market access 'effective' and commercially meaningful and not about 'new' (or greater) market access."
TFA in Goods:
 Meanwhile, the TFA in Goods — adopted by the WTO Members in 2014 — entered into force on 22 February 2017.
 According to the WTO Director General Roberto Azevêdo, the TFA in Goods aims to streamline, simplify and standardise customs procedures. By doing so, it will help to cut trade costs around the world.
 India has already ratified the TFA in Goods. Ms. Sitharaman said: "It will lead to effective functioning of ports and reduce transaction costs. Logistics will improve, goods will move faster. Besides, since all the ports will be connected electronically, we will have export and import data on a real time basis."