When:
October 30, 2018 @ 1:00 am
2018-10-30T01:00:00+05:30
2018-10-30T01:15:00+05:30
NEWS
30 OCTOBER 2018
| | | |
| --- | --- | --- |
| Sr. No. | Topic | News |
| 1. | GS II: SOCIAL – UNREST | SC sets January 2019 to fix a date for Ayodhya hearing |
| 2. | GS II: SOCIAL – UNREST | Bhima-Koregaon case: SC stays High Court order |
| 3. | GS II: BILATERAL  -INDIA-ASIA | Modi, Abe back 'free Indo-Pacific' |
| 4. | GS III: DISASTER MANAGEMENT | 189 feared dead in Indonesian jet crash |
| 5. | GS III: ENVIRONMENT – POLLUTION | Children under 15 at serious risk from polluted air: WHO |
| 6. | GS III: ENVIRONMENT – POLLUTION | Delhi tops national charts in bad air quality |
| 7. | GS I: HISTORY | PM to unveil Patel statue |
| 8. | GS III: ECONOMY – BANKING | 'Divided' board signals strained RBI-Centre ties |
GS II: SOCIAL – UNREST
SC sets January 2019 to fix a date for Ayodhya hearing
A three-judge Bench of the Supreme Court, led by Chief Justice of India Ranjan Gogoi, ordered the volatileAyodhya dispute appeals to be listed in January 2019 before an appropriate Bench to fix a date for hearing.
When parties sought an early hearing, the court said the decision when to start hearing the appeals would be in the realm of discretion of the "appropriate Bench" before which the matter would come up in January.
"We have our own priorities… whether hearing would take place in January, March or April would be decided by an appropriate Bench," Chief Justice Gogoi remarked orally.
In 2017, in the initial stages of hearing of the appeals, senior advocate Kapil Sibal, appearing on the side of certain Islamic bodies and private appellants, had suggested in court that the Ayodhya hearings be posted after July 15, 2019, post the general election.
Mr. Sibal, along with senior advocates Dushyant Dave and Rajeev Dhavan, had pegged the Ayodhya dispute as not just any other civil suit. They flagged how the case covered religion and faith, and dated back to the era of King Vikramaditya.
The case, they said, was probably the most important case in the history of India, which would "decide the future of the polity."
GS II: SOCIAL – UNREST
Bhima-Koregaon case: SC stays High Court order
The Supreme Court stayed an order passed by the Bombay High Court, which denied the Maharashtra police a 90-day extension to complete its investigation and file a chargesheet against lawyer Surendra Gadling and others accused of Maoist links in the aftermath of the Bhima-Koregaon violence.
Asked by a Bench of Chief Justice of India Ranjan Gogoi, Justices S.K. Kaul and K.M. Joseph whether the State had filed the chargesheet, senior advocate Mukul Rohatgi, for the State, said it would do so shortly.
The High Court's October 24 order had earlier opened a window for the five accused – Mr. Gadling, Nagpur University professor Shoma Sen and activists Sudhir Dhawale, Mahesh Raut and Rona Wilson – to seek default bail.
The Pune police arrested the five persons on June 6 and registered a case against them under the provisions of the Unlawful Activities (Prevention) Act, 1967, and the Indian Penal Code.
"The police started the investigation but could not complete the same," the Maharashtra government said in its petition, filed through State counsel Nishant Katneshwarkar. "On September 3, 90 days were completed since the date of arrest of the respondents," it added.
The State government contended that under Section 43-D (2) of the UAPA Act, the trial court may, on the report of the public prosecutor, extend the detention of the accused for another 90 days.
GS II: BILATERAL  -INDIA-ASIA
Modi, Abe back 'free Indo-Pacific'
India and Japan outlined a vision for strengthened bilateral relations at the 13th annual summit in Tokyo.
Enhanced strategic and defence cooperation dominated the talks between Prime Minister Narendra Modi and his Japanese counterpart, Shinzo Abe.
Japan's formulation of a "free and open Indo-Pacific" received a central place in the vision statement issued at the end of the talks, with both sides stressing their "unwavering commitment to it." The concept is usually seen as a response to China's growing dominance in the region.
The vision statement specifically mentioned the willingness of both countries to "expand concrete cooperation with the U.S. and other partners".
It also referred to the necessity of ensuring the freedom of navigation and the importance of upholding theUNCLOS (United Nations Convention on the Law of the Sea), a set of conventions that China has been accused of flouting in the South China Sea.
Mr. Modi and Mr. Abe further announced the start of negotiations on an Acquisition and Cross-servicing Agreement, a logistics-sharing pact, that would allow Japanese ships to get fuel and servicing at Indian naval bases.
Once signed, Japan's Maritime Self-Defence Force will be able to secure access to Indian naval facilities in the Andaman and Nicobar islands, which are strategically located close to the western Malacca Straits, a choke point for much of Japan and China's trade and fuel imports.
A new Foreign and Defence Ministerial Dialogue, termed 2+2, was also announced to supplement an already formidable array of bilateral dialogue mechanisms that include the Annual Defence Ministerial Dialogue, Defence Policy Dialogue and the National Security Advisers Dialogue.
On the economic front, the two countries have agreed to a Bilateral Swap Arrangement that would allow their central banks to exchange local currencies for up to $75 billion.
This is substantially more than the $30 billion currency swap arrangement announced between China and Japan.
Mr. Abe told the press that 57 Japanese companies had committed to investing 320 billion yen in India, which is expected to create at least 3,000 new jobs.
Mr. Modi said that he was convinced that the 21st century could be an Asian century only with a strong India-Japan relationship at its core.
GS III: DISASTER MANAGEMENT
189 feared dead in Indonesian jet crash
All 189 passengers and crew aboard an Indonesian Lion Air jet are likely to have died when the airliner crashed shortly after take-off, rescue officials said.
The officials announced that they had found human remains and would continue the search through the night.
The Boeing-737 MAX, which went into service just months ago, vanished from the radar 13 minutes after taking off from Jakarta, plunging into the Java Sea moments after it had asked to return to the Indonesian capital.
GS III: ENVIRONMENT – POLLUTION
Children under 15 at serious risk from polluted air: WHO
Every day about 93% of the world's children under the age of 15 (1.8 billion children) breathe polluted air that puts their health and development at serious risk, the World Health Organisation (WHO) said in a new report that puts into numbers the devastating impact of air pollution on the global population's health.
Tragically, many of these children die, with as many as six lakh estimated to have perished in 2016 alone due to complications from acute lower respiratory infections caused by dirty air, according to the report.
The report on air pollution and child health released on the eve of the WHO's first ever global conference on Air Pollution and Health on 30 October 2018 reveals that when pregnant women are exposed to polluted air, they are more likely to give birth prematurely, and have small, low birth-weight children.
Air pollution also impacts neuro-development and cognitive ability and can trigger asthma, and childhood cancer.
Children exposed to high levels of air pollution may be at greater risk for chronic diseases, such as cardiovascular disease later in life, the WHO said.
One reason why children are particularly vulnerable to the effects of air pollution is that they breathe more rapidly than adults and so absorb more pollutants.
They also live closer to the ground, where some pollutants reach peak concentrations – at a time when their brains and bodies are still developing.
In addition, newborns and small children are often at home. If the family is burning fuels like wood and kerosene for cooking, heating and lighting, they would be exposed to higher levels of pollution.
GS III: ENVIRONMENT – POLLUTION
Delhi tops national charts in bad air quality
Fourteen out of the 20 most polluted cities in the world are in India as per figures compiled and released earlier in 2018 by the World Health Organization (WHO).
Climate Trends, an Indian group working on environmental issues picked up the same 14 cities to analyse the CPCB data in summer and winter months for a comparative analysis – just to put it in context with the WHO children's health report released which notes that 93% of the world's children under 15 years breathe polluted air.
It says Delhi tops the charts of bad air quality nationally.
The report says India faces the highest air pollution-related mortality and disease burden in the world, with more than 2 million deaths occurring prematurely every year, accounting for 25% of the global deaths due to poor air quality.
It adds that apart from Delhi, in most cities the online monitoring was happening with less than 4 monitoring stations and Srinagar had none. Delhi has close to 40 monitoring stations that display data online every day.
"Most cities, unlike Delhi, do not have an emergency response plan to tackle air pollution. While some of the cities like Patna and Varanasi have recently formulated action plans, there are none in place to issue advisories or mitigate the pollution at the source level instantly as in the case of the Graded Response Action Plan," states the report.
Meanwhile the summer-time pollution too this year was rampant as the regions around Delhi and NCR experienced dust storms coupled with problems of pollution at the local level.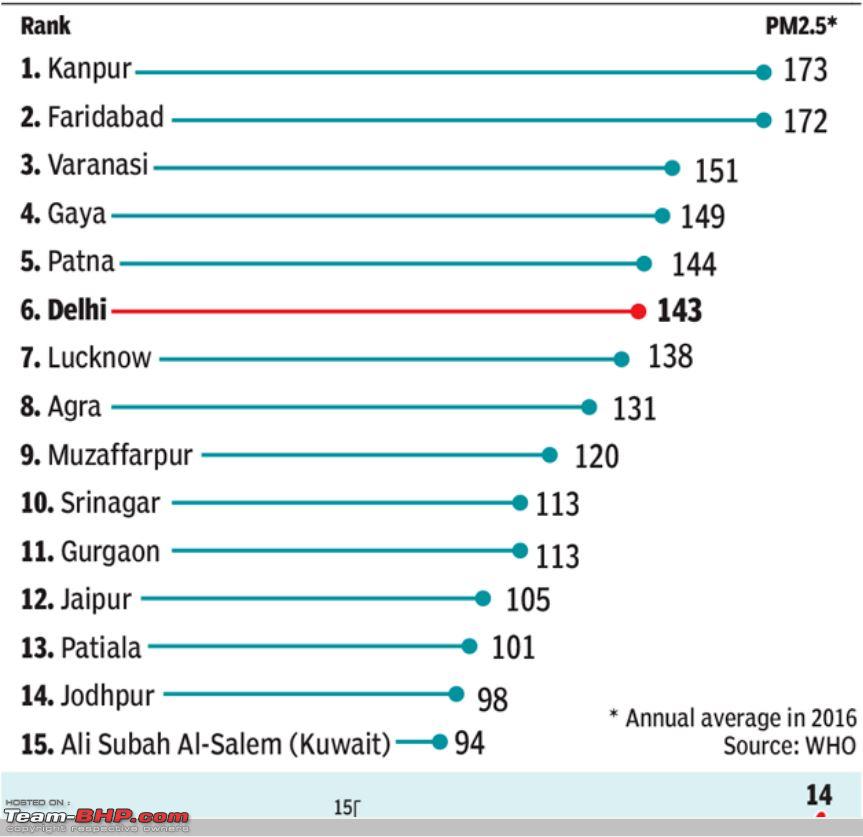 GS I: HISTORY
PM to unveil Patel statue
Prime Minister Narendra Modi is set to unveil Sardar Patel's statue, the world's largest, on his birth anniversary on October 31.
Final touches are being given to the Statue of Unity, as it is called, built by engineering and infrastructure major L&T on the river Narmada in South Gujarat.
The Rs. 3,000 crore project is funded for the most part by the Gujarat government, with minor contributions from the Centre and Central PSUs.
It is a tribute to Sardar Patel, who united the country after Independence.
The statue is made up of 1,700 tonnes of bronze, 1,850 tonnes of bronze cladding, 70,000 metric tonnes of cement and 24,500 metric tonnes of steel.
Two high speed elevators inside can take tourists up to the statue's chest from where around 200 visitors can view the Narmada river and the Sardar Sarovar dam over it.
GS III: ECONOMY – BANKING
'Divided' board signals strained RBI-Centre ties
The Reserve Bank of India's October 23 board meeting was a stormy affair that lasted about eight hours in which 20 items were on the agenda for discussion.
However, only three were discussed, albeit without arriving at a decision.
At present, the RBI board has 18 members including Financial Services Secretary Rajiv Kumar and Economic Affairs Secretary S.C. Garg. The four deputy governors are also on the board.
One of the issues discussed was the prompt corrective action (PCA) framework of RBI – which is essentially certain restrictions that the banking regulator has imposed on banks due to worsening capital, asset quality and profitability. If a bank breaches a particular threshold on any of these parameters, restrictions are imposed.
According to sources, some board members were in favour of diluting the risk threshold relating to capital. They argued that capital norms for Indian banks were a lot stringent than what the Basel norms prescribed, such as 9% capital adequacy ratio as compared with the 8% requirement of Basel norms.
However, RBI officials argue that the non-performing asset provision norms for Indian banks are less stringent than what Basel proposes.
Presently, there are 12 banks, 11 in the public sector and one in the private sector, that are under the PCA framework.
The other issue was pertaining to the norms for stressed asset classification as mandated by the RBI in its February 12, 2018 circular.
In that circular, RBI had scrapped all existing restructuring norms and asked banks to start resolution process if loan repayment was overdue even for a day. Some of the board members opposed the circular.
Also, there was the contentious issue of RBI's surplus transfer. While the government wants more funds transfer from RBI by dipping into contingency reserves, the central bank has not been agreeing to this proposal.
RBI deputy governor Viral Acharya had highlighted the differences between the RBI and the government, arguing that the latter was impinging on the autonomy of the central bank.
"Governments that do not respect central bank independence will sooner or later incur the wrath of financial markets, ignite economic fire, and come to rue the day they undermined an important regulatory institution; their wiser counterparts who invest in central bank independence will enjoy lower costs of borrowing, the love of international investors, and longer life spans," Mr. Acharya had said.