When:
November 3, 2018 @ 11:30 am
2018-11-03T11:30:00+05:30
2018-11-03T11:45:00+05:30
NEWS 
3 NOVEMBER 2018
| | | |
| --- | --- | --- |
| Sr. No. | Topic | News |
| 1. | GS II: BILATERAL  – INDIA-USA | Iran oil: India to get U.S. sanctions waiver |
| 2. | GS II: SOCIAL – SCHEME | Loans for MSMEs in 59 minutes |
| 3. | GS II: SOCIAL – WOMEN & CHILDREN | HC dismisses petition seeking entry of all women to all shrines |
| 4. | GS II: POLITY – JUDICIARY | CJI says Centre's quick nod for 4 new SC judges is historic |
| 5. | GS II: POLITY – CBI | Bofors: SC rejects CBI plea |
| 6. | GS II: INTERNATIONAL – ASIA | Xi calls for 'new era' in ties with Pak. |
| 7. | GS II: INTERNATIONAL – ASIA | Russia to host Taliban dialogue |
| 8. | GS III: ECONOMY – INDICATORS | Josh returns as markets light up on Diwali eve |
| 9. | GS III: ECONOMY – BANKING | RBI defends stiffer bank capital norms |
| 10. | GS III: ECONOMY – BANKING | RBI allows banks to provide partial guarantee to NBFC bonds |
| 11. | GS III: S&T – SPACE | NASA's historic Dawn mission comes to an end |
| 12. | GS III: S&T – HEALTH | 'Coconut oil a more effective bug repellent' |
GS II: BILATERAL  – INDIA-USA
Iran oil: India to get U.S. sanctions waiver
Eight countries will be given exemptions and "weeks longer to wind down" their trade with Iran, once U.S. sanctions against Iran kick in on November 5.
This was clarified by Secretary of State Michael Pompeo who said the list of eight "jurisdictions" would be released on 5 November, two of which have already reached zero levels of Iranian oil imports.
He also clarified that the European Union (EU) — which consists of 28 countries including the U.K. — will not be one of the jurisdictions granted a temporary exemption.
India — for whom Iran is the third largest source of oil after Iraq and Saudi Arabia — is expecting to be on the list.
The EU, which remains party to the Joint Comprehensive Plan of Action (JCPOA or the 'Iran Deal') has been frustrated by the U.S's withdrawal, and has been searching for ways to work around the sanctions, including through the use of a Special Purpose Vehicle (SPV).
The U.S. plans to bring any SPV within its sanctions net as well.
In terms of entities granted exemptions, there would be no exemption for Society for Worldwide Interbank Financial Telecommunication (SWIFT), a global financial messaging service.
SWIFT — which does not hold money itself but transmits information on transactions — has a network that spans 200 countries and some 11,000 financial institutions, as per the data released by the company.
If it is sanctioned, that will have a significant impact on organisations that use it.
SWIFT has been told it will have to cut off from sanctioned entities as soon as technologically feasible or could face sanctions.
GS II: SOCIAL – SCHEME
Loans for MSMEs in 59 minutes
Prime Minister Narendra Modi announced 12 measures to boost the Micro, Small and Medium Enterprises (MSME) sector, including a portal that would enable the units to get a loan in just 59 minutes and interest subvention of 2%.
"There are five key aspects for facilitating the MSME sector," he said. "These include access to credit, access to market, technology upgradation, ease of doing business, and a sense of security for employees. As a Diwali gift for the sector, the 12 announcements will address each of these five categories."
The Prime Minister said firms registered on the Goods and Services Tax portal would be able to avail themselves of this facility on the portal itself. "When you file GST returns, you will be asked if you want a loan," Mr. Modi said. "GST-registered firms will also get a 2% rebate on interest rates. Being a part of the GST and being an honest taxpayer will become your strength."
Modi said public sector companies had now been asked to compulsorily procure 25%, instead of 20%, of their total purchases from the MSMEs. He said that of the 25% procurement mandated from the MSMEs, 3% must now be reserved for women entrepreneurs.
The Prime Minister recalled India's strong traditions of small scale industries, including Ludhiana's hosiery and Varanasi's saris.
According to Mr. Modi, all companies with a turnover of more than Rs. 500 crore must now compulsorily be brought on the Trade Receivables e-Discounting System (TReDS).
More than 1.5 lakh suppliers, he said, had now registered on the government e-marketplace (GeM), out of which 40,000 are MSMEs, and that transactions worth more than Rs. 14,000 crore had been made so far through the GeM.
He further announced that all central public sector undertakings must now compulsorily be a part of GeM.
On technological upgradation, the Prime Minister said 20 tool hubs would be formed across the country, and 100 spokes in the form of tool rooms would be established.
The other measures announced were establishing clusters of pharma MSMEs, the easing of return filing, the allotment of inspectors for routine inspections of factory units, the merging of air and water pollution permits, and the simplification of the process to address minor violations under the Companies Act.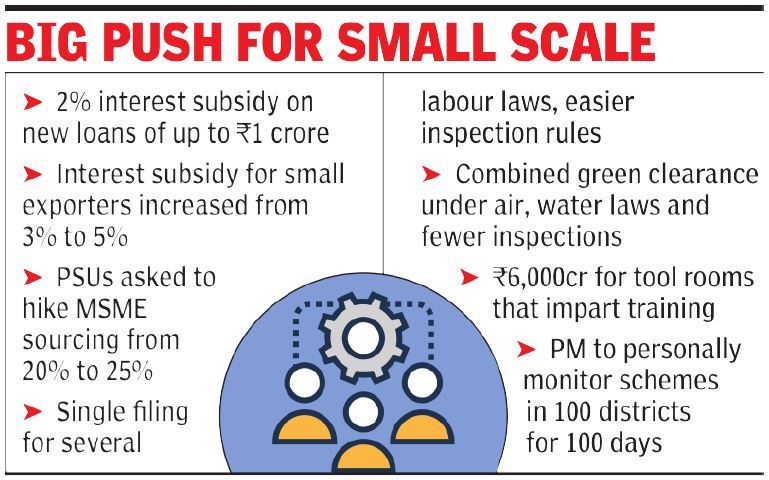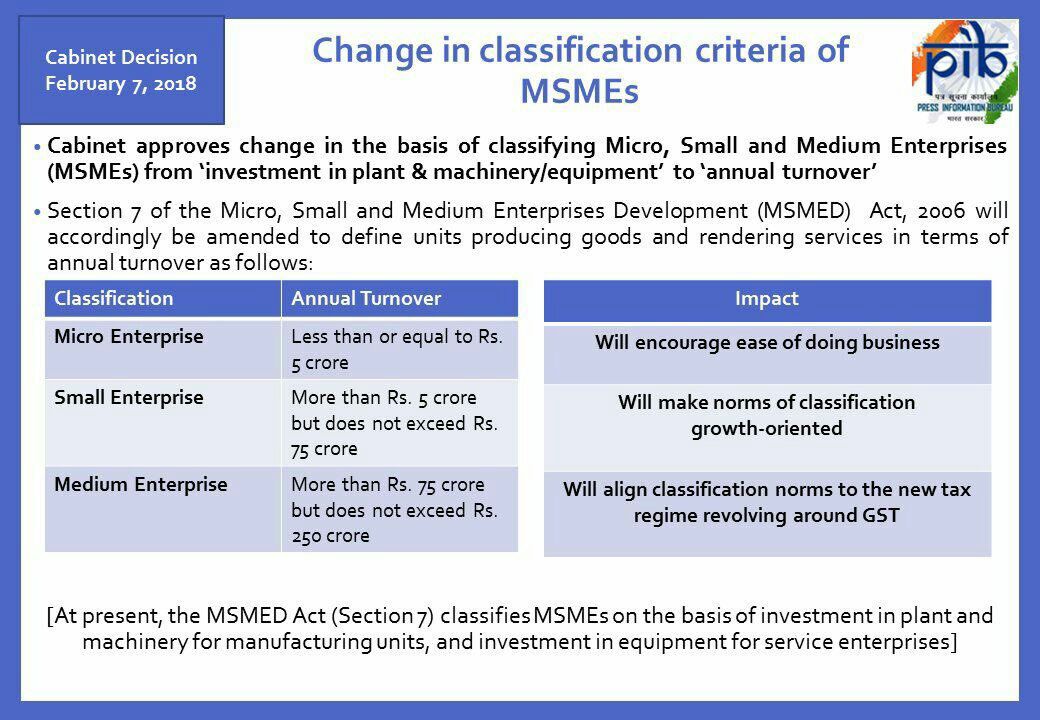 GS II: SOCIAL – WOMEN & CHILDREN
HC dismisses petition seeking entry of all women to all shrines
The Delhi High Court refused to entertain a petition seeking entry of women of all ages and religions to temples, mosques and Zoroastrian fire temples.
It said the petition lacked "territorial jurisdiction".
"None of the temples indicated here are within the territorial jurisdiction of this court."
The plea sought to ensure that menstruating and non-menstruating women of any religion are allowed to enter and pray at "men-only temples" anywhere in India.
Apart from this, it also sought permission for men to pray in temples where certain rituals are "women-only" such as Attukal temple and Chakkulathukavu temple in Kerala, Lord Brahma temple in Rajasthan, Bhagati Maa temple in T.N., Mata temple in Bihar and Kamakhya temple in Assam.
The petition also asked for women to be ordained as 'pujari', imam or priest of their respective temples, mosques or churches and lead prayers.
Kkumaar said the social exclusion of women of their right to pray and their non-ordination to offices such as priest, bishops, deacon, imams, purohit, pujaris and monks, which men are allowed to hold, violates Article 14 (right to equality) of the Constitution.
GS II: POLITY – JUDICIARY
CJI says Centre's quick nod for 4 new SC judges is historic
Chief Justice of India Ranjan Gogoi admitted to his 'awe' at the 'historic' speed with which the government cleared the path for the swearing-in of four new judges to the Supreme Court.
"I, myself, am in awe over the fast pace of appointment. On Wednesday morning, we sent the recommendations. I was told by evening, the medical of the judges was over. On Thursday, the notifications were issued," Chief Justice Gogoi said in a chat with journalists.
Justices Hemant Gupta, R. Subhash Reddy, M.R. Shah and Ajay Rastogi were sworn in within 48 hours of the Supreme Court collegium recommending their names.
With them the number of Supreme Court judges goes up to 28, three short of the sanctioned strength of 31.
The government, however, has not cleared atleast 39 judges' names for the High Courts, reiterated by the collegium.
GS II: POLITY – CBI
Bofors: SC rejects CBI plea
The Supreme Court refused to entertain a CBI appeal to revive charges against the Hinduja brothers in the Rs. 64-crore Bofors guns payoffs case.
A Bench led by Chief Justice Ranjan Gogoi said the court was not "convinced" by CBI's explanations for the "inordinate delay" of 12 years to file an appeal against a Delhi High Court order discharging the three Hindujas in May 2005.
The usual time limit for filing an appeal is 90 days. This appeal was filed in February 2018. "
The Delhi High Court on May 31, 2005 terminated proceedings against Europe-based industrialist brothers S.P. Hinduja, G.P. Hinduja, P.P. Hinduja and M/s. Kartongen Kemi Och Forvaltning AB (formerly M/s AB Bofors) in the Bofors scam.
The case had rocked the Rajiv Gandhi government and involved the purchase of 400 155mm FH 77-B guns, equipment, ammunition and so on from the Swedish company for Rs. 1,473.72 crore in 1986-87.
GS II: INTERNATIONAL – ASIA
Xi calls for 'new era' in ties with Pak.
Pakistan's Prime Minister, Imran Khan arrived in Beijing to rework "all-weather" ties with China, after reinforcing Islamabad's bonds with Saudi Arabia, and keeping the door open for the re-entry of West-backed International Monetary Fund (IMF) into his country.
Khan has arrived at a time when Pakistan's economy is in doldrums, and could benefit from financial support from China — Islamabad's longstanding ally.
President Xi stated that China-Pakistan "all weather" friendship should enter a "new era"
Talks between the two leaders commenced when Pakistan's foreign exchange reserves have reached an alarming low of around $8 billion — barely sufficient to finance about two months of imports. Current account deficit in the financial year that ended in June was around $18 billion.
Prior to Mr. Khan's arrival in Beijing, Saudi Arabia had come to Pakistan's aid with a $6 billion package. That included a $3 billion deposit for one year, to help Pakistan wriggle out of its immediate balance of payment crisis.
Despite Riyadh's emergency support, Pakistan is likely to approach China for financial backing to minimise its requirement for a loan from the IMF.
Pakistan is expected to receive a $6 billion economic package from China during Mr. Khan's visit.
That includes a loan of $1.5 billion and a grant of $1.5 billion, along with an additional package of $3 billion for the China Pakistan Economic Corridor (CPEC).
China has billed the $62 billion project as the flagship undertaking of its Belt and Road Initiative (BRI).
GS II: INTERNATIONAL – ASIA
Russia to host Taliban dialogue
Russia has quietly invited a group of senior Afghan politicians to talks with the Taliban in Moscow, bypassing President Ashraf Ghani's government in a move that has angered officials in Kabul who say it could muddle the U.S.-backed peace process.
The invitations, extended over the past two months by Russian diplomats in Kabul, were confirmed to Reuters by six of the eight leaders, who include former Afghan President Hamid Karzai, or their aides, and by other leading politicians with ties to the Afghan government.
Russia in August 2018 proposed holding multilateral peace talks in Moscow and invited 12 countries and the Taliban to attend a summit the following month.
But the meeting was postponed after Mr. Ghani rejected the invitation on the grounds that talks with the Taliban should be led by the Afghan government.
The U.S. had also declined to attend.
GS III: ECONOMY – INDICATORS
Josh returns as markets light up on Diwali eve
Just ahead of Diwali, Indian benchmark indices clocked their best weekly gains in more than two years as global crude prices fell and the rupee strengthened.
A strong trend in the Asian markets with the easing of concerns over the U.S.-China trade war and strong GST collections in October also acted as a catalyst for lifting investor sentiments.
The week saw Brent crude fall by about 6% to currently trade at seven-month lows.
Further, foreign investors have started November on a positive note, buying shares worth Rs. 540 crore. This assumes significance as October ended worst-ever in terms of foreign outflows at nearly Rs. 29,000 crore.
On 2 November 2018, the rupee clocked its biggest single-day gain in over five years, surging 101 paise to close at 72.44 against the dollar.
Incidentally, global financial major Morgan Stanley expects India's gross domestic product (GDP) growth to average around 7% over the next 10 years with investment, exports and consumption contributing to the growth. "We believe that India's medium-term growth trend will be supported by the inter-play of the structurally-positive factors of demographics (strong growth in the working age population), reforms (including recent changes to tax laws and India's digitization drive that can help improve productivity) and globalisation (accelerating productive job opportunities, income and saving)," stated a report released on October 29.
GS III: ECONOMY – BANKING
RBI defends stiffer bank capital norms
Amid a raging controversy over capital levels of Indian banks with the government wanting lower capital requirement, Reserve Bank of India Deputy Governor N. S. Vishwanathan defended the central bank's decision to stick to stiffer capital norms.
The government wants the capital adequacy ratio of banks to be at 8% as per Basel norms, but RBI has prescribed 9%.
On complaints over 'unnecessary' high capital requirements, Mr. Vishwanathan said prudential capital regulations aim to enable banks to sustain unexpected losses without defaulting on its obligations, especially deposits, by maintaining adequate levels of bank capital.
"Further, higher levels of capital increases the skin in the game for shareholders, thus potentially leading to better credit appraisal and screening," he said.
Though higher capital involves costs, the Deputy Governor argued that "there is no free lunch" but the costs to the economy are offset by the savings made in the form of potential losses avoided in averted banking crises.
"Unfortunately, banks in India remain one of the most under-provisioned ones, though there has been an improvement in this regard in the last few quarters," he said.
As the equity component in a bank goes up, the leverage goes down, and make banks safer, he said.
GS III: ECONOMY – BANKING
RBI allows banks to provide partial guarantee to NBFC bonds
The Reserve Bank permitted banks to provide partial credit enhancement (PCE), or a partial guarantee, to bonds issued by systematically important non-deposit taking non-banking financial companies (NBFC-ND-SIs) registered with the Reserve Bank of India and Housing Finance Companies (HFCs) registered with National Housing Bank.
This will enhance their liquidity position.
It further said the proceeds from the bonds backed by PCE from banks should only be utilised for refinancing the existing debt of the NBFC-ND-SIs/HFCs.
Banks should introduce appropriate mechanisms to ensure that the end-use condition is met. "The exposure of a bank by way of PCEs to bonds issued by each such NBFC-ND-SI/HFC shall be restricted to one percent of capital funds of the bank within the extant single/group borrower exposure limits," the notification said.
GS III: S&T – SPACE
NASA's historic Dawn mission comes to an end
NASA's pioneering Dawn spacecraft — which orbited the two largest objects in the asteroid belt — has run out of fuel, ending a 11-year mission that unravelled many mysteries of our solar system, the U.S space agency said.
The $467 million Dawn mission, launched in 2007 to study the protoplanet Vesta and the dwarf planet Ceres, missed scheduled communications sessions with NASA's Deep Space Network on October 31 and November 1, NASA said in a statement.
The astounding images and data collected from Vesta and Ceres are critical to understanding the history and evolution of our solar system.
The spacecraft lasted two years longer than originally planned.
After the flight team eliminated other possible causes for the missed communications, mission managers concluded that the spacecraft finally ran out of hydrazine, the fuel that enables the spacecraft to control its pointing.
Two days back, NASA had announced that its Kepler Space Telescope had run out of fuel, and the craft would be commanded to cease operations.
GS III: S&T – HEALTH
'Coconut oil a more effective bug repellent'
Compounds derived from coconut oil are better than diethyltoluamide (DEET) at preventing disease transmission and discomfort associated with insect bites, according to a study.
For more than 60 years, DEET has been considered the gold standard in insect repellents — the most effective and long-lasting available commercially, said researchers from the U.S. Department of Agriculture.
The study identified specific coconut oil fatty acids that have strong repellency and long-lasting effectiveness against multiple insects — mosquitoes, ticks, biting flies and bed bugs — that can transmit diseases to humans and animals.
The coconut oil-derived free fatty acid mixture — lauric acid, capric acid and caprylic acid as well as their corresponding methyl esters — provides strong repellency against blood-sucking insects.
Against bed bugs and ticks, DEET lost its effectiveness after about three days, while the coconut oil compound lasted for about two weeks, the study found.
Coconut oil fatty acids also provided more than 90% repellency against mosquitoes — including Aedes aegypti, the mosquito that can transmit the Zika virus, according to Mr. Zhu.