When:
November 6, 2018 @ 11:30 am
2018-11-06T11:30:00+05:30
2018-11-06T11:45:00+05:30
NEWS
6 NOVEMBER 2018
| | | |
| --- | --- | --- |
| Sr. No. | Topic | News |
| 1. | GS II: INTERNATIONAL – ASIA | 'Rajapaksa not PM till he clears floor test' |
| 2. | GS II: BILATERAL – INDIA-USA | Iran oil: India, China get relief |
| 3. | GS III: DEFENCE | India declares nuclear triad operational |
| 4. | GS III: SECURITY | 5 Maoists die in shootout inside Malkangiri forest |
| 5. | GS III: INFRASTRUCTURE | Centre eyes seaplanes in UDAN 3 |
| 6. | GS II: POLITY – STATES – NRC | New rules for foreigners in detention centres |
| 7. | GS II: SOCIAL – RIGHTS | Plea challenges order on 'Dalit' usage |
| 8. | GS III: ENVIRONMENT- BIODIVERSITY | Avni killing: NTCA seeks report |
| 9. | GS III: ECONOMY – BANKING | 'Selling IL&FS an option for Centre' |
| 10. | GS III: ECONOMY – BANKING | BoM takes possession of Pune stadium |
| 11. | GS III: ECONOMY – SECTOR | Tata Steel to unify all brands: Sen |
| 12. | GS III: ENERGY | New enemy of birds of prey: wind farms |
| 13. | GS III: ENVIRONMENT- POLLUTION | Ozone layer is recovering, says UN |
 GS II: INTERNATIONAL – ASIA
'Rajapaksa not PM till he clears floor test'
In his first public confrontation yet with President Maithripala Sirisena since the dramatic events of October 26, Speaker Karu Jayasuriya indicated that he would not accept former President Mahinda Rajapaksa as Prime Minister until his majority is proven in Parliament.
Citing the opinion of a majority of lawmakers that the recent changes were "undemocratic" and "inconsistent with the traditions of Parliament", the Speaker said in a media statement: "I wish to emphasise that I am compelled to accept the status that existed previously until such time that they and the new political alliance prove their majority in Parliament."
Meanwhile, leaders of the Tamil National Alliance and the leftist Janatha Vimukthi Peramuna discussed their strategy to tackle the crisis. The two parties, with 15 and 6 lawmakers respectively, will have a crucial say in the 225-member House, given that the Rajapaksa-Sirisena combine had about 105 MPs on its side, while deposed PM Wickremesinghe's front had 98.
GS II: BILATERAL – INDIA-USA
Iran oil: India, China get relief
India is one of eight countries to receive temporary exemptions from U.S. sanctions on Iran that came into effect on 5 November 2018, Secretary of State Mike Pompeo has said.
Pompeo said, "We have decided to issue temporary allotments to a handful of countries, responsible to the specific circumstances and to ensure a well supplied oil market. The U.S. will be granting these exemptions to China, India, Italy, Greece, Japan, South Korea, Taiwan and Turkey."
Each country on the list had demonstrated "significant reductions " of the purchase of Iranian crude over the past six months, according to Mr. Pompeo.
He added that two have stopped importing oil from Iran and would not do so as long as sanctions were in effect.
"We continue negotiations to get all the nations to zero," he said.
China and India, in that order, are the top two importers of Iranian oil.
All payments for Iranian oil will be held in Foreign Accounts, Mr Pompeo said.
Tehran can use the money to purchase non-sanctioned goods and for humanitarian purposes, including food, medicines and medical devices.
In 2017-18, India, which imports over 80% of its oil, sourced some 10% of its oil imports, or just over 22 million tons from Iran.
The Indian Oil Corporation is the biggest Indian customer for Iranian oil.
More than 20 countries have decreased their imports of Iranian crude, the Secretary of State said, cutting Iran's oil revenues by more than $2.5 billion since May 2018, when Donald Trump pulled the U.S. out of the Joint Comprehensive Plan of Action (JCPOA) or " Iran Deal" .
The European Union, which has stayed in the deal, has been frustrated by America's efforts to stifle European business's activities with Iran.
The Society for Worldwide Interbank Financial Telecommunication (SWIFT), the international financial messaging service headquartered in Belgium, has said it will comply with U.S. sanctions as have many other European companies, faced with the choice of being penalized by the U.S. or trading with Iran.
"We have decided to grant narrow and temp waivers to permit the continuation of three non-proliferation projects, currently underway, allowing these activities to continue for the time being," Pompeo said. He confirmed that the Bushehr Nuclear Power Plant would be one of the three sites. The other two have not been released at the time of going to press.
GS III: DEFENCE
India declares nuclear triad operational
India declared that its nuclear triad, stated in its nuclear doctrine, is operational after indigenous ballistic missile nuclear submarine INS Arihant achieved a milestone by conducting its first deterrence patrol.
Given India's stated position of 'No-First-Use' (NFU) in launching nuclear weapons, the ship submersible ballistic nuclear (SSBN) INS Arihant, is the most dependable platform for a second-strike.
Because they are powered by nuclear reactors, these submarines can stay underwater indefinitely without the adversary detecting it.
The other two platforms — land-based and air-launched are far easier to detect.
"This places India in the league of the few countries that can design, construct and operate SSBN," Defence Minister Nirmala Sitharaman tweeted on the development.
Arihant was quietly commissioned into service in August 2016 but its induction was never officially acknowledged.
It has a displacement of 6000 tonnes and is powered by an 83 MW pressurised light-water reactor with enriched uranium.
The second submarine in the series, Arighat is now undergoing sea trials after which it will be inducted.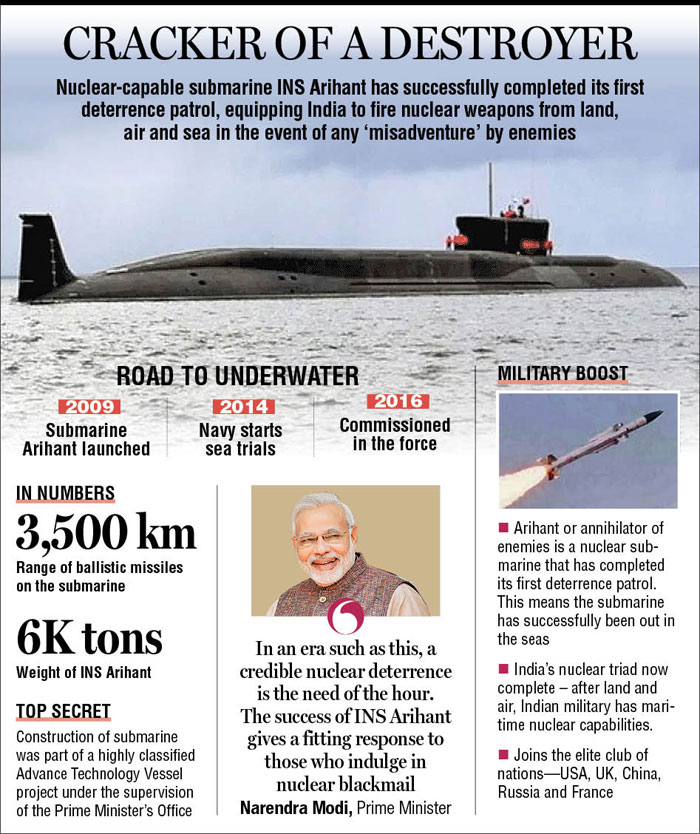 GS III: SECURITY
5 Maoists die in shootout inside Malkangiri forest
At least five Maoists, including two women cadres, were killed in an exchange of fire with security personnel inside the Bejingiwada reserve forest of Odisha's Malkangiri district.
Two self loading rifles (SLR), one INSAS rifle, one .303 rifle, one grenade, ammunition as well as backpacks and other materials were seized from the site of the shootout.
GS III: INFRASTRUCTURE
Centre eyes seaplanes in UDAN 3
Seaplanes may soon be operating commercial passenger flights in India with the Centre inviting bids for connecting selected destinations under the regional connectivity scheme (RCS).
Included among the 10 destinations that the government proposes to connect through seaplanes are the recently unveiled Statue of Unity at Sardar Sarovar Dam, the Sabarmati riverfront in Ahmedabad, the Tehri dam in Uttarakhand and Nagarjuna Sagar in Telangana.
Opening the third round of the RCS, the Ministry of Civil Aviation has invited proposals for air routes that include tourist destinations.
The deadline for submitting applications is November 20.
In the latest phase, the Centre is reoffering 34 airports that weren't successfully connected, primarily because two airlines — Air Odisha and Air Deccan — were unable to operate routes they had bid for due to lack of funds.
Some destinations have been put on the block again as helicopter operations failed to take off.
The previous two rounds saw 428 routes awarded to 17 airlines and helicopter operators.
Air Odisha was granted rights to connect 54 routes and Air Deccan 30, but both have been able to start 10 routes each, which see erratic services.
The Centre has also offered 23 tourist destinations including Bodh Gaya, Agra, Kanha, Varanasi, Hampi, Mysuru and Kullu.
 GS II: POLITY – STATES – NRC
New rules for foreigners in detention centres
The government has informed the Supreme Court that new guidelines are being framed for keeping foreign nationals in detention centres across the country.
A Bench led by Justice Madan B. Lokur was hearing the issue of framing of a manual detailing the guidelines for detaining foreigners.
The condition of detention centres in Assam also came up for discussion.
The Bench had sought responses from the Centre and the Assam government on the plight of families, who languish in the State's six detention centres as "declared foreigners", separated from each other and their children.
The court said it was "inappropriate" to keep the families separated without any valid reason.
Solicitor General Tushar Mehta, for Assam, submitted that tenders had been invited by Assam for setting up of a new detention centre in Goalpara.
GS II: SOCIAL – RIGHTS
Plea challenges order on 'Dalit' usage
The Supreme Court may hear a petition challenging a government circular advising the media to refrain from calling Scheduled Caste members "Dalits".
The petition, filed by advocate Sriram Parakkat, on behalf of activist V.A. Ramesh Nathan, said the term 'Dalit' was a self- chosen name, a positive self-identifier and political identity, to describe the pan-Indian community of those affected by the caste system and the practice of untouchability for several centuries.
The petition said the word "Dalit" meant "divided, split, broken, scattered".
In the 1930s, the word "Dalit" was popularised and reintroduced into the public imagination by Dr. B.R. Ambedkar to refer to the pan-Indian community of historically oppressed people, it said.
It contended that the circular dated August 7, 2018 issued by the Information and Broadcasting Ministry was "vague, arbitrary, inconsistent and has no rational nexus to its ostensible objective".
It was issued on the basis of a Bombay High Court decision.
"The ostensible reason/rationale for the issuance of the circular seems to be to prevent hurt and insult caused to people and communities by the reference to them as "Dalit". However, this is without any basis. The term is embraced by the community to describe itself in rejection of various other terms/nomenclatures imposed upon them by outsiders. It (circular) has obviously been issued without a consultative process," the petition said.
GS III: ENVIRONMENT- BIODIVERSITY
Avni killing: NTCA seeks report
The National Tiger Conservation Authority (NTCA) has commissioned a report from the Maharashtra Forest Department on how tigress Avni (T1) was killed.
"If we are not satisfied [with the description of events] on whether the animal was executed following established procedure, we will conduct our own investigation," Arup Nayak, Director, NTCA, said.
The NTCA is the apex statutory body tasked with providing funding support to the States for tiger conservation.
The tigress, which is said to have killed 13 people, was shot dead in Yavatmal on November 2 by civilian hunter Asgar Ali, who was with a team of Forest Department officials.
An official allegedly attempted — and failed — to fire a tranquilliser dart at the tigress, following which she charged at the team. Mr. Ali then fired in self-defence, according to Maharashtra Forest Minister Sudhir Mungantiwar.
GS III: ECONOMY – BANKING
'Selling IL&FS an option for Centre'
One of the options the government is exploring to resolve crisis-hit IL&FS' financial woes is to sell it, Corporate Affairs Secretary Injeti Srinivas said.
"Whatever is in the best interest of the stakeholders, including public interest, will be the factor which will guide a resolution," Mr. Srinivas said. "As far as IL&FS is concerned, I think the report which has been submitted to the NCLT [National Company Law Tribunal] articulates the approach. So, it could be in the best scenario that IL&FS as a group enterprise is sold as a going concern."
However, the Secretary said that the likelihood of this outcome actually taking place was limited.
"There are alternative approaches of looking at separate verticals, and verticals going as one consolidated entity," he added.
"And the last approach is that you have an asset level sale. All the three approaches in some sort of permutation and combination can ultimately be the outcome."
GS III: ECONOMY – BANKING
BoM takes possession of Pune stadium
A consortium of lenders led by Bank of Maharashtra has taken 'symbolic possession' of the cricket stadium in Pune that had hosted several Indian Premier League matches as well one-day internationals after the Maharashtra Cricket Association (MCA) failed to clear dues.
MCA has failed to repay dues of Rs. 69.53 crore to four banks, including the Pune-based lender. Interest unpaid by MCA was over Rs. 65 crore, the notice added.
The bank, along with Karnataka Bank, Bank of Baroda and Andhra Bank, had served a 60-day notice to MCA on August 18.
The notice also asked the general public to not indulge in transactions with the MCA and that all payments made to MCA will be redirected to the banks for the settlement of loan accounts.
The MCA has been defaulting on payments since it terminated the title sponsorship agreement with the Sahara group in 2012, sources said.
Besides the annual subvention and the infrastructure subsidy that MCA receives from the Board of Control for Cricket in India, the Sahara deal — estimated at Rs. 215 crore over 10 years (Sahara is said to have paid Rs. 84 crore) — was the only major source of revenue for the MCA, sources added.
GS III: ECONOMY – SECTOR
Tata Steel to unify all brands: Sen
Tata Steel Ltd. (TSL), which is eyeing an annual installed capacity of about 30 million tonnes by 2025 through capacity expansion as well as acquisitions, will eventually put all these under a unified brand.
GS III: ENERGY
New enemy of birds of prey: wind farms
There's a new super-predator in Maharashtra's Chalkewadi plateau.
With their constantly-whirring blades, wind turbines have decreased birds of prey here, finds a study published in Nature Ecology and Evolution on November 5.
It also proves, for the first time, that the ramifications of wind farms run much deeper across the food chain: superb fan-throated lizards – small, colourful reptiles that the birds prey on – increased in number and showed altered behaviour, physiology and even less-flamboyant body colours.
Wind farms arrived in Chalkewadi almost 20 years ago.
The study is important for it shows that wind power projects — currently exempt from Environment Impact Assessments — have complex ecological consequences.
Given India's focus on renewable energy, policy-makers should start thinking deeply about the trade-offs between clean energy and environment protection.
GS III: ENVIRONMENT- POLLUTION
Ozone layer is recovering, says UN
The ozone layer that shields life from cancer-causing solar rays is recovering at a rate of 1-3% per decade since 2000, reversing years of dangerous depletion caused by the release of harmful chemicals, a UN study said.
The four-yearly review of the Montreal Protocol, a 1987 ban on man-made gases that damage the fragile high-altitude ozone layer, found long-term decreases in the atmospheric abundance of controlled ozone-depleting substances and the ongoing recovery of stratospheric ozone.
At projected rates, Northern Hemisphere and mid-latitude ozone is scheduled to heal completely by the 2030s followed by the Southern Hemisphere in the 2050s and polar regions by 2060.
Thus, the Antarctic ozone hole was expected to gradually close, returning to 1980 levels in the 2060s, the report said.
The UN had already hailed the success of the Protocol, which banned or phased out ozone depleting chemicals, including chlorofluorocarbons once used in refrigerators and spray cans, but the report said it was the first time that there were emerging indications that the Antarctic ozone hole had diminished in size and depth since 2000.
However, while most of the banned gases have been phased out, the report found at least one violation of the protocol: an unexpected increase in production and emissions of CFC-11 from eastern Asia since 2012.