When:
December 24, 2018 @ 11:30 am
2018-12-24T11:30:00+05:30
2018-12-24T11:45:00+05:30
NEWS
24 DECEMBER 2018
| | | |
| --- | --- | --- |
| Sr. No. | Topic | News |
| 1. | GS III: DISASTER MANAGEMENT | 222 dead in Indonesia as volcano triggers tsunami |
| 2. | GS II: SOCIAL – WOMEN & CHILDREN | Protesters force women's group from T.N. out of Sabarimala |
| 3 | GS II: SOCIAL – WOMEN & CHILDREN | 'No rise in working women despite high literacy levels' |
| 4. | GS I: CULTURE | PM to open Buddhist site museum at Lalitgiri in Odisha |
| 5. | GS III: AGRICULTURE | Centre targeting M.P. ryots: Cong. |
| 6 | GS III: ECONOMY – GST | GST Council loses its aura of consensus |
| 7. | GS III: DISASTER MANAGEMENT | SSB gears up to tackle floods |
| 8. | GS III: ECONOMY – BANKING | RBI mulls cooling-off period for its retired top officials |
| 9. | GS III: INFRASTRUCTURE | India needs to open up dredging market: NITI |
| 10. | GS III: ECONOMY – GST | The GST evaders |
| 11. | GS III: ECONOMY – SECTOR | Coffee growers hit by sharp decline in prices |
GS III: DISASTER MANAGEMENT
222 dead in Indonesia as volcano triggers tsunami
At least 222 people were killed and several hundreds injured when a tsunami struck the Indonesian islands of Java and Sumatra following a underwater landslide, believed to have been caused by the erupting Anak Krakatoa volcano, officials said.
Hundreds of homes and other buildings were "heavily damaged" when the tsunami struck, almost without warning, along the rim of the Sunda Strait late on 22 December 2018.
Thousands of residents were forced to evacuate to higher ground and the toll was raised to 222, with 843 injured and 28 missing.
Anak Krakatoa, an active volcano roughly halfway between Java and Sumatra, has been spewing ash and lava for months.
GS II: SOCIAL – WOMEN & CHILDREN
Protesters force women's group from T.N. out of Sabarimala
The Sabarimala temple in Kerala was on the boil once again as an 11-member group of women below the age of 50, owing allegiance to the Tamil Nadu-based progressive women's forum Manithi, made an attempt to enter the hill shrine under police protection.
After a standoff lasting almost 10 hours, the police dissuaded the women from proceeding to the temple.
Hundreds of devotees blocked the trekking path at Pampa and chased away the Manithi team escorted till there by the police.
The priests at the Balippuras at Pampa-Triveni declined to assist the women in performing Bali-tharpanom.
The priests at the Pampa Ganapati Temple too refused to do the Kettunira, filling of Irumudikkettu (sacred bundle), saying it would be in violation of the custom at Sabarimala.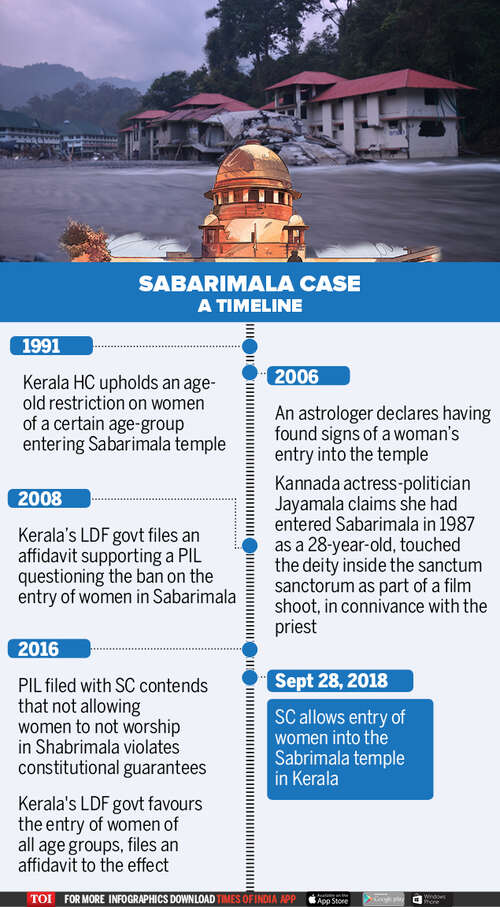 GS II: SOCIAL – WOMEN & CHILDREN
'No rise in working women despite high literacy levels'
A rise in literacy levels among women has failed to translate into an increase in the number of working women due to a combination of socio-economic factors such as the importance of education for improving marital prospects as well as higher prestige attached to households which keep women out of labour force, according to a new research.
A study authored by Surbhi Ghai and published by the Indian Council for Research on International Economic Relations (ICRIER) has cited the Labour Bureau's employment figures to show that there is a rise in the percentage of women out of labour force between 2011-2012 and 2015-2016 across all levels of education and age-cohorts.
For example, the age cohort 30 years and above shows that the percentage of women with graduate degrees and above who are not in the labour force has increased from 62.7% to 65.2%.
At the same time, the percentage of illiterate women out of the labour force too increased from 67.6% to 70.1%.
The author says that this is an indicator that despite one's educational attainment there has been a decline in the incentive for women to participate in the labour force.
This has happened even though there is gender parity in attainment of education. The gross enrolment ratio shows that there are equal numbers of boys and girls at secondary level and women remain in education longer.
The author argues that for many the incentive behind ensuring better education for their daughters is not so much the lure of a better paying job but the promise of a better marriage prospect.
The research study recommends that government policies should focus on behavioural changes that make female employment more acceptable in the society, communication programmes on gender equality in secondary education to help students imbibe equitable gender norms as well as programmes that acknowledge child care as the responsibility of both parents.
GS I: CULTURE
PM to open Buddhist site museum at Lalitgiri in Odisha
One of the earliest Buddhist settlements in Odisha, Lalitgiri, where excavations have yielded ancient seals and inscriptions, has been converted into a museum.
The museum complex is spread over 4,750 sq. m.
Excavations at Lalitgiri have yielded the remains of four monasteries, showing cultural continuity from the post-Mauryan period till the 13th century CE.
The centre of attraction is a relic casket containing corporal remains found inside the 'Mahastupa'.
Huge sculptures of Buddha, architectural fragments of Viharas and Chaityas are arranged period-wise.
The site yielded more than 40 seals and inscriptions, most of them bearing Buddhist "Dharnimantras" in the eastern variety of Nagri script and in Sanskrit dating between 7th and 11th centuries CE.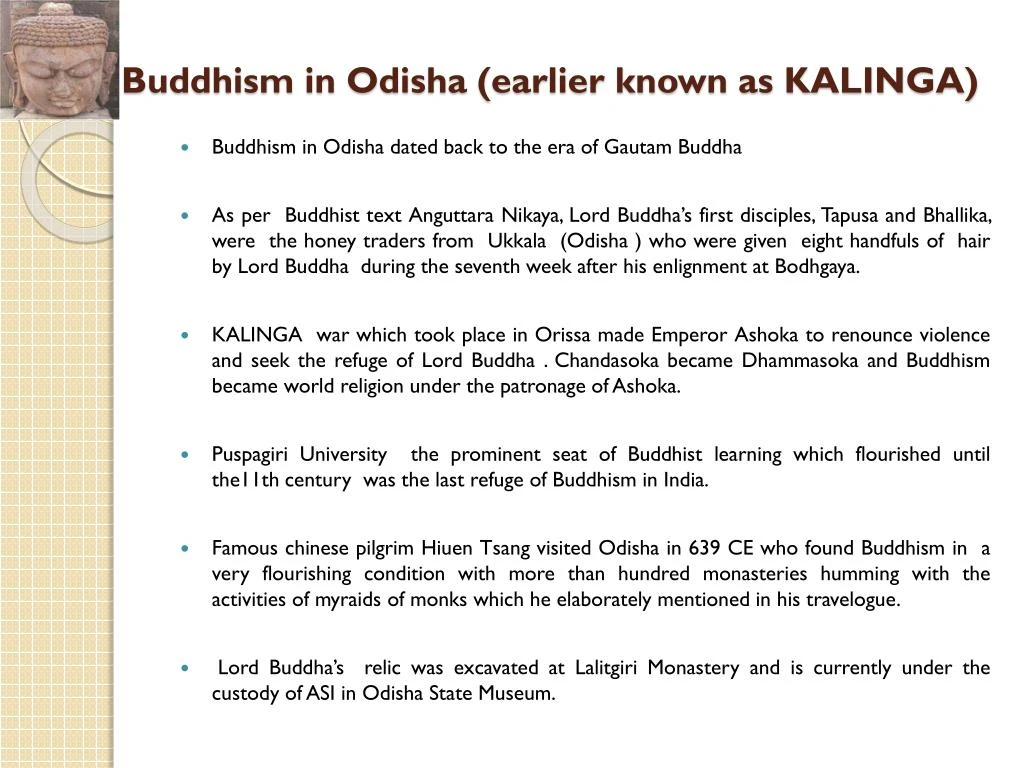 GS III: AGRICULTURE
Centre targeting M.P. ryots: Cong.
Congress Party leader from Madhya Pradesh Jyotiraditya Scindia accused the Centre of creating a shortage of the fertilizer urea in the State "by bringing a change in policy because of a change in government".
Congress treasurer Ahmed Patel also alleged that the Centre was creating an artificial scarcity.
Scindia said though the government had earlier agreed to allocate 4.1 lakh tonnes of urea to Madhya Pradesh for December 2018, the Centre scaled it down to 3.7 lakh tonnes.
As against the promised allocation of 3.7 lakh metric tonnes for December 2018, only 1.8 lakh metric tonnes of fertilizers have reached the farmers. This means that in the first three weeks of December, the distribution has been less than half of what was allocated.
Scindia said owing to a shortage of urea, farmers were being "forced to buy the fertilizer in black [market] by paying exorbitant rates".
Of the four Congress-ruled States now, Punjab, Madhya Pradesh and Chhattisgarh have largely agrarian economies.
The Congress's success in the recent Assembly elections in Madhya Pradesh and Chhattisgarh have been attributed to the popularity of its promise of farm loan waivers.
GS III: ECONOMY – GST
GST Council loses its aura of consensus
The effect of the BJP's loss in three States in the Hindi heartland was visible at the GST Council meeting held on 22 December 2018 in New Delhi, with the famous accord of the Council across party lines disrupted by a heated exchange among members.
As the meeting got under way, the Ministers representing various States ruled by the Congress and other Opposition parties led by Puducherry Chief Minister V. Narayanswamy said the failure of an upward trend in revenue collection under the GST should be taken into account before suggesting rate cuts.
There was a nearly two-hour debate on the issue with other State governments led by Opposition parties supporting this view.
Union Finance Minister Arun Jaitley has time and again remarked that the strength of the decisions taken by the GST Council over its numerous meetings was that none of the items came to a vote and that all were agreed to unanimously.
West Bengal Finance Minister Amit Mitra also pointed out that Prime Minister Narendra Modi's recent declaration at an event that most goods and services would be removed from the 28% bracket to 18%, and that 99% of the items would be placed at 18% or lower, was unseemly and that Mr. Modi had no locus standi to make such an announcement without the Council's concurrence.
Finally, the GST Council decided to cut rates on 17 items and six services. This left only one common use item, cement, in the 28% category.
GS III: DISASTER MANAGEMENT
SSB gears up to tackle floods
The Sashastra Seema Bal (SSB), posted along the Nepal border, is training its men in riverine patrolling as rampant flash floods affect several areas in Bihar.
An official said that since 2017, the force has been training its personnel for rescue and relief work in flood-like situations as several border outposts get submerged in water.
The objective is to train the personnel so that the operational calibre of those posted in the flood-prone BOPs is enhanced and their expertise could also be used in carrying out rescue and relief work.
For the past few years, the areas along the Nepal border have witnessed unpredictable flash floods originating from the rivers in the Himalayan ranges.
Several districts of north Bihar are affected by these flash floods.
Post-Doklam, the SSB also opened three new BOPs in Sikkim and 15 others in Arunachal Pradesh, that shares its border with Bhutan in the west.
The SSB was also mulling to use "laser fence" technology to plug loopholes along the two borders of Nepal and Bhutan that it guards.
GS III: ECONOMY – BANKING
RBI mulls cooling-off period for its retired top officials
The Reserve Bank of India (RBI) has mandated a three-year cooling-off period for retired officials who want to take up the job of a chairman or chief executive of any other entity, post retirement.
However, to join as a director of any company's board, the one-year cooling period mandate continues.
RBI had been liberal in waiving off the one-year cooling period in the past.
There have been several instances of top RBI officials like Deputy Governor and Executive Directors taking up the position of chairman of other entities.
Padmanabhan, who retired as RBI's Executive Director May 31, 2015 joined as the non-executive chairman of Bank of India on August 14, 2015. The appointment was made by the government.
In June 2018, Bandhan Bank's board cleared the appointment of former RBI Deputy Governor H.R. Khan as its non-executive chairman. Mr. Khan had retired as Deputy Governor in July 2016.
RBI has not approved Bandhan Bank's application following which the lender withdrew the application.
GS III: INFRASTRUCTURE
India needs to open up dredging market: NITI
India needs to open up its dredging market to boost trade by its major ports, which currently cannot handle very large vessels in the absence of proper draft depth, government think tank NITI Aayog has said.
More competition, mainly from global players, in dredging activities would help increase and maintain draft depth at ports and attract large vessels, enabling them to become hub ports, the Aayog pointed out.
At present, the Dredging Corporation of India and a limited set of private vendors serve the Indian dredging market, limiting competition.
Foreign players will be attracted to the market if the government takes measures such as consolidating dredging contracts across cohorts of ports and withdrawing, at least temporarily, the right to first refusal given to Indian vendors, the Aayog said.
Most major ports have already achieved a draft depth of 14 metres or more except Kolkata Port, where deeper draft has not been feasible.
GS III: ECONOMY – GST
The GST evaders
GS III: ECONOMY – SECTOR
Coffee growers hit by sharp decline in prices
A steep fall in the price of Robusta coffee during the harvest season and low production owing to climate change are worrying coffee growers in south India, a major coffee cultivating region in the country .
Recent reports on bumper coffee production in Brazil, a major coffee-producing country, in the coming season, and increase in production in Vietnam in 2018 owing to favourable climate in coffee growing areas is the major reason for the price fall.
Apart from the low price, a sharp decline in coffee production owing to rain and flood-related calamities in Kerala and Karnataka have also put growers in distress.
In Karnataka, which accounts for over 70% of coffee produced in the country, rain has damaged plantations in Kodagu and Chikmagalur.
Heavy rains also triggered a spread of diseases such as black rot disease, heavy berry dropping due to fungal infections and melee bugs, adversely affecting production.
The Coffee Board's final crop estimate based on crop harvest data for FY18 is 3.16 lakh tonnes, comprising 95,000 tonnes of Arabica and 2.21 lakh tonnes of