When:
December 27, 2018 @ 11:30 am
2018-12-27T11:30:00+05:30
2018-12-27T11:45:00+05:30
NEWS
27 DECEMBER 2018
---
Daily Current Affairs based on 'The Hindu' newspaper compiled by Ms. Bilquees Khatri with topics & papers as per syllabus of UPSC Civil Services (Mains) Examination
---
| | | |
| --- | --- | --- |
| Sr. No. | Topic | News |
| 1. | GS III: SECURITY | NIA busts IS-style module, foils terror strikes in Delhi |
| 2. | GS III: ENVIRONMENT – BIODIVERSITY | Golfer Jyoti Randhawa held on poaching charge |
| 3 | GS III: AGRICULTURE | Govt. body chief calls loan waiver a failure |
| 4. | GS III: ENVIRONMENT – BIODIVERSITY | Another olive ridley nesting site soon |
| 5. | GS II: POLITY – BILL/ACT | Sex workers, lawyers seek to amend language of anti-trafficking Bill |
| 6 | GS II: SOCIAL – RIGHTS | Kin of Gauri, Pansare to oppose CBI probe |
| 7. | GS II: GOVERNANCE – POLICY | Television services will not be affected, says TRAI |
| 8. | GS III: DISASTER MANAGEMENT | Miners struggle while PM struts on Bogibeel bridge, says Rahul |
| 9. | GS II: BILATERAL – INDIA-ASIA | Nepal caps expenditure of its citizens in India |
| 10. | GS II: INTERNATIONAL – USA | Migrant boy dies in custody |
| 11. | GS II: INTERNATIONAL – ASIA | Russia successfully tests hypersonic missile |
| 12. | GS II: GOVERNANCE – POLICY | Centre tightens rules for selling online |
| 13. | GS III: ECONOMY – BANKING | Bimal Jalan to head six-member panel on RBI's economic capital framework |
| 14. | GS III: ECONOMY – BANKING | Tough times for private banks |
| 15. | GS III: ECONOMY – INDICATORS | Manufacturing posts strong sales growth in Q2: RBI |
| 16. | GS III: ECONOMY – SECTORS | A mixed bag for realty |
GS III: SECURITY
NIA busts IS-style module, foils terror strikes in Delhi
The National Investigation Agency (NIA) arrested 10 alleged members of an Islamic State (IS)-inspired module and detained six suspects in a joint operation with the Delhi police's Special Cell and the Anti-Terrorist Squad of Uttar Pradesh.
The accused, from whom a huge stash of bomb-making material, weapons and a country-made rocket launcher have been seized, were planning to target political leaders and security and government installations.
NIA Inspector-General Alok Mittal said that given the preparation of the module, named Harkat-ul-Harb-e-Islam, which was active for the past four months and which received instructions from an overseas handler on WhatsApp and Telegram mobile chat platforms, terror strikes in the National Capital Region were imminent.
GS III: ENVIRONMENT – BIODIVERSITY
Golfer Jyoti Randhawa held on poaching charge
International golfer Jyoti Randhawa was arrested for allegedly poaching in a forest range in Bahraich district of Uttar Pradesh, known for its variety of endangered species, officials said.
National shooter Mahesh Virajdar, who accompanied him, was also arrested.
A dead fowl and hides of Sambhar deer and boar were seized from Mr. Randhawa. A .22 rifle, binoculars and range finders were also recovered from his vehicle.
The police slapped serious charges on the two under the Wildlife Protection Act, 1972, and the Indian Forest Act, 1927.
GS III: AGRICULTURE
Govt. body chief calls loan waiver a failure
Even as the Bharatiya Janata Party (BJP) government in Maharashtra counts its farm loan waiver scheme as one of its successes, one of the government's own organisations does not think so.
Kishore Tiwari, chairman, Vasantrao Naik Sheti Swavalamban Mission (VNSSM), said the scheme has flopped, and blamed banks and the bureaucracy for its failure.
Tiwari, who holds the Minister of State rank and is also one of the leading activists in Vidarbha on agrarian issues, has submitted 10 demands to the State to 'save farmers'.
The loan waiver scheme named as Chhatrapati Shivaji Maharaj Shetkari Sanman Yojana (CSMSSY) was launched in June 2017 with a target to waive Rs. 34,000 crore loan of 80 lakh farmers. But, the government has disbursed only half the amount by December 2018.
Among other demands raised by Mr. Tiwari are free education from KG to PG for farmers' children, Rs. 1 lakh for the wedding of farmers' daughter, and banning private companies from the Prime Minister crop insurance scheme.
GS III: ENVIRONMENT – BIODIVERSITY
Another olive ridley nesting site soon
The Odisha forest department is all set to add another olive ridley mass nesting site to its wildlife map.
It has started preparing the beach at the Bahuda river mouth in Ganjam district to lure the endangered turtles to come over for mass nesting in 2019.
Around 3-km stretch of the beach from Sunapur to Anantpur at Bahuda rookery is being developed as a possible olive ridley mass nesting site.
The Bahuda rookery is located around 20 km to the south of Rushikulya rookery coast, a major mass nesting site of olive ridleys on the Indian coastline.
This year, a few hundred olive ridleys had nested at Bahuda river mouth in February 2018.
Marine fishermen in the area have been requested to refrain from using gill nets during fishing as that can kill the turtles.
Local fishermen say around two decades ago thousands of olive ridleys used to nest at Bahuda coast, which for some reason diminished with time.
GS II: POLITY – BILL/ACT
Sex workers, lawyers seek to amend language of anti-trafficking Bill
The Trafficking of Persons (Prevention, Protection and Rehabilitation), 2018, Bill, set to be introduced in the Rajya Sabha, has triggered disquiet among sex workers and lawyers about the proposed law's potential to criminalise all adult sex work in the absence of a clear distinction between the victims of sexual exploitation or human trafficking and persons who voluntarily opt to provide sex to make a living.
Voluntary adult sex work is not illegal in India under certain circumstances, such as when a woman provides the service in her own home without any solicitation.
The primary law on trafficking for the purpose of sexual exploitation — the Immoral Traffic (Prevention) Act (ITPA), 1986 — punishes offences including procuring a person for the purpose of prostitution, living on the earnings of prostitution of another person and keeping or using a brothel.
But enforcement agencies often conflate trafficking with voluntary sex work and abuse the provisions of the law to evict sex workers from their houses.
It is this experience that has stoked fears among sex workers about the new Bill, which is aimed at curbing "physical and other forms of trafficking"; they are urging lawmakers to revisit the language used in the Bill and to ensure that the legislation provides built-in safeguards.
Their key demand is that the Bill should explicitly exclude adult persons voluntarily engaged in sex work.
Intervening during the debate on the Bill in the Lok Sabha's monsoon session — when the Lower House passed it — Women and Child Development Minister Maneka Gandhi had sought to reassure Parliament that the government was opposed to trafficking and not its victims and that any lacunae found in the Bill would be addressed at the time of framing the rules for implementation of the Act.
GS II: SOCIAL – RIGHTS
Kin of Gauri, Pansare to oppose CBI probe
The families of Gauri Lankesh and Govind Pansare, activists killed in Karnataka and Maharashtra, allegedly by right wing groups, are set to oppose any move to hand over probe into their deaths to the Central Bureau of Investigation.
This comes in the backdrop of the Supreme Court recently suggesting that a single agency, CBI, should probe all the four murders — of Narendra Dabholkar, Govind Pansare, M.M. Kalburgi and Gauri Lankesh — while hearing a petition filed by Kalburgi's family members seeking a speedy probe.
Kavitha Lankesh, sister of slain journalist-activist Gauri Lankesh, said, "It is the SIT, Karnataka, which has unravelled the conspiracy behind all the four murders. We want the SIT to continue with the probe and not the CBI."
Megha Pansare, daughter-in-law of slain communist leader Govind Pansare, whose murder is presently being probed by the SIT, Maharashtra, said the family was happy with the progress in the probe and was opposed to it being handed over to the CBI.
Karnataka SIT's probe into the murder of Gauri Lankesh unravelled the larger conspiracy and the criminal syndicate behind all the four murders, leading to a slew of arrests in connection with the previous three murders as well.
It is now alleged that a single criminal syndicate, influenced by the teachings of Sanatan Sanstha, carried out all the four murders, prompting the apex court to suggest a common probe.
The CBI's probe into the murder of Narendra Dabholkar, the only case of the four the agency is handling, has come under criticism, for several flip-flops it has made in the case.
The Bombay High Court Bench that is monitoring the probe into the murders of Dabholkar and Govind Pansare has also criticised the CBI several times.
GS II: GOVERNANCE – POLICY
Television services will not be affected, says TRAI
The Telecom Regulatory Authority of India (TRAI) clarified that customers will not face any disruption of their TV services due to implementation of its new regulatory framework for broadcasting and cable services.
The new framework, which comes into force from December 29, allows consumers to select and pay only for the channels they wish to view, and requires the TV broadcasters to disclose maximum retail price of channels individually as well as of bouquets.
GS III: DISASTER MANAGEMENT
Miners struggle while PM struts on Bogibeel bridge, says Rahul
The uncertain fate of 15 coal miners trapped for nearly two weeks in a flooded coal mine in Meghalaya led to a spat between Congress president Rahul Gandhi and the junior Minister for Home Affairs, Kiren Rijiju.
"15 miners have been struggling for air in a flooded coal mine for two weeks. Meanwhile, PM struts about on Bogibeel Bridge posing for cameras. His government refuses to organise high pressure pumps for the rescue. PM please save the miners," Mr. Gandhi tweeted.
Rijiju hit back by suggesting that the previous Congress government in Meghalaya was negligent in cracking down on illegal and unsafe mines.
Meghalaya Chief Minister Conrad K. Sangma, said there was no inaction and that the administration and the NDRF had really worked hard to trace the miners, but, unfortunately, the operation did not yield any result.
GS II: BILATERAL – INDIA-ASIA
Nepal caps expenditure of its citizens in India
Nepal imposed a monthly limit on the amount of Indian currency its citizen can spend in India.
A spokesperson of the Nepal Rastra Bank (NRB) said a Nepali citizen would be unable to spend more than Rs. 1 lakh per month while paying for goods and services in India and that the decision was taken to address the country's current account deficit.
The policy applicable to prepaid, credit and debit cards of Nepali banks came into effect on 26 December 2018.
However, leading economists of Kathmandu are saying that the unprecedented step was prompted by Nepal's recent experience with the Indian currency that included the demonetisation process launched by Prime Minister Narendra Modi.
GS II: INTERNATIONAL – USA
Migrant boy dies in custody
An eight-year-old Guatemalan migrant boy died early on Christmas Day after being detained by border agents, the U.S. Customs and Border Protection (CBP) said, the second migrant child to die in U.S. detention in December 2018.
The boy and his father were in CBP custody when a Border Patrol agent noticed the child showing signs of illness, CBP said in a statement.
The boy's death followed the death in early December of seven-year-old Jakelin Caal, also from Guatemala. She died after being detained along with her father by U.S. border agents in a remote part of New Mexico.
GS II: INTERNATIONAL – ASIA
Russia successfully tests hypersonic missile
Russian President Vladimir Putin hailed final tests of a hypersonic missile, which he had earlier said would render existing missile systems obsolete.
"Russia has a new type of strategic weapon," he said, adding that the intercontinental "Avangard" system would be ready for use from 2019.
Putin had unveiled features of the Avangard during his annual address in March 2018, which he said would be part of a new generation of "invincible" weaponry.
The hypersonic missile could fly at 20 times the speed of sound and manoeuvre up and down, meaning that it could breach defence systems, he had said at the time.
The final test comes after S. President Donald Trump announced plans to pull out of a key Cold War-era nuclear weapons pact, the three-decade-old Intermediate-Range Nuclear Forces Treaty (INF).
Putin has laid out plans to develop missiles banned under the deal if the U.S. abandons it.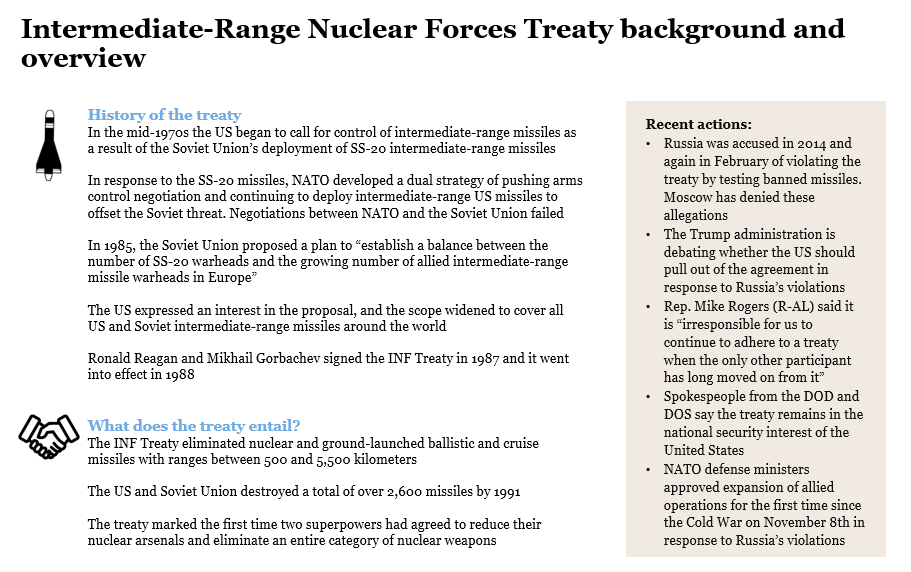 GS II: GOVERNANCE – POLICY
Centre tightens rules for selling online
The government said beginning February 1, 2019, e-commerce companies would be barred from selling products sourced from firms in which they have stake in or control over.
This is a clarification issued by the Ministry of Commerce regarding the Consolidated FDI Policy Circular 2017.
"100% FDI under automatic route is permitted in marketplace model of e-commerce," the Commerce Ministry said. "FDI is not permitted in inventory-based model of e-commerce."
The inventory-based model of e-commerce is when the inventory of goods and services is owned by the e-commerce entity and sold to consumers directly.
The marketplace model is when an e-commerce company simply provides an information technology platform in order to act as a facilitator between the buyer and the seller.
"Inventory of a vendor will be deemed to be controlled by e-commerce marketplace entity if more than 25% of purchases of such vendor are from the marketplace entity or its group companies."
The clarification also said an e-commerce marketplace will not force any seller to sell any product exclusively on its platform.
"E-commerce marketplace entity will be required to furnish a certificate along with a report of statutory auditor to the RBI, confirming compliance of the guidelines, by September 30 every year for the preceding financial year," he said.
GS III: ECONOMY – BANKING
Bimal Jalan to head six-member panel on RBI's economic capital framework
The Reserve Bank of India (RBI), in consultation with the government, has set up a six-member committee to review the economic capital framework of the central bank.
Former RBI Governor Bimal Jalan will be the committee's chairman and former Deputy Governor Rakesh Mohan deputy chairman.
The other members are Economic Affairs Secretary Subash Chandra Garg, RBI Deputy Governor N.S. Vishwanathan and two board members of the RBI — Bharat Doshi and Sudhir Mankad.
Jalan was the Governor of the RBI between November 1997 and September 2003.
The committee would submit its report within 90 days from the date of its first meeting, the RBI said in a statement.
The terms of reference of the committee would be to review status, need and justification of various provisions, reserves and buffers presently provided for by the RBI, keeping in mind 'public policy mandate of the RBI, including financial stability considerations.'
The committee will also review best practices followed by the central banks globally in making assessment and provisions for risks, to which central bank balance sheets are subjected.
The panel would also suggest an adequate level of risk provisioning that the RBI needs to maintain, and to determine whether it is holding provisions, reserves and buffers in surplus or deficit of the required level.
The committee would also propose a suitable profit distribution policy taking into account all the likely situations of the RBI, including holding more provisions than required and the RBI holding less provisions than required, the statement said.
After the government started pushing the central bank to review its economic capital framework, the RBI board, at its meeting on November 19, decided to set up a committee to review the issue.
The economic capital issue was a bone of contention, among other issues, between the central bank and the Finance Ministry.
GS III: ECONOMY – BANKING
Tough times for private banks
For high street private sector bankers, 2018 was a year they will want to forget quickly. For the first time perhaps, they are under the public glare for the wrong reasons.
It started with the bad loan problem of the public sector banks having a spillover effect in terms of public perception on private sector banks.
Allegations of conflict of interest were levelled against the ICICI bank's MD and CEO Chanda Kochhar for allegedly favouring a corporate entity to which her husband had financial links.
Kochhar finally decided to resign in October 2018 but much damage had been done by then.
Kochhar's former colleague at ICICI Bank, Shikha Sharma, who had led Axis Bank since 2009 (the same year Ms. Kochhar took charge as CEO of ICICI Bank), also decided to step down (effective December 31) as the Reserve Bank of India was not keen on granting her another extension.
The bank had reported significant divergence in bad loan reporting, which apparently had not gone down well with the banking regulator.
The chief executive of another private sector bank faced a similar situation when RBI declined to extend Yes Bank co-founder Rana Kapoor's term as the chief executive beyond January 31, 2019. The bank had also reported significant divergence in bad loans.
While private sector banks are performing better than their peers in the public sector in terms of business, there are issues related to governance and disclosure that have came to the fore in 2018.
RBI has become strict with NPA disclosures and such divergence does not go down well with the regulator.
Kotak Mahindra Bank also had a tough time. The bank's promoter Uday Kotak was required to bring down his stake in the bank to 20% from 30% by December 31. The lender issued preference shares to bring down the stake.
However, RBI was of the view that the route taken by the bank to reduce promoter holding did not meet promoter holding dilution requirement. The bank then decided to move the Bombay High Court against the dilution directive.
One of the youngest private sector banks — Bandhan Bank — also faced RBI's wrath over dilution of promoters' stake.
After the Kolkata-based lender failed to dilute promoter stake in accordance with the licensing norms, RBI barred branch expansion and froze the remuneration of its MD and CEO officer Chandra Shekhar Ghosh.
Also, governance issues and the board's role came to prominence in some large private banks.
GS III: ECONOMY – INDICATORS
Manufacturing posts strong sales growth in Q2: RBI
The manufacturing sector, particularly the textile, iron and steel segments, maintained the pace of sales growth in the second quarter of 2018-19 compared with the year-earlier period, as per the RBI analysis of 2,700 listed private sector non-financial companies.
On the expenditure front, manufacturing companies continued to face rising input cost (cost of raw materials, staff cost) pressures.
GS III: ECONOMY – SECTORS
A mixed bag for realty
The year 2018 has been a mixed bag for the real estate sector with homebuyers gaining in the form of better bargaining power and developers facing several challenges, including one of liquidity.
There was also greater transparency in the sector on account of stringent policies put in place for the protection of homebuyers.
The credit linked subsidy scheme (CLSS), under the Pradhan Mantri Awas Yojana, meant to provide housing at affordable prices to the middle and low income groups, also provided a boost to the sector.
A draft prospectus for the launch of first REIT (real estate investment trust) was filed with SEBI, providing a new investment route. This would improve the cash flow in the sector.
After short-term disruptions caused by introduction of key policy reforms in 2017, the sector witnessed a revival in sales in 2018.
However, developers remained under stress due to liquidity woes caused by NBFC crisis and increased compliance with RERA (Real Estate (Regulation and Development) Act 2016.
The preceding quarter also saw an IL&FS default resulting in a liquidity crisis for the financial markets, most particularly impacting housing finance companies and NBFCs alike.
2018 was a moderate year for the real estate sector with various external shocks like demonetisation, RERA and GST affecting buyer confidence across markets, even though the longer-term impact of these regulatory measures was seen to be largely positive.
The cities that saw maximum retail growth in 2018 included MMR, NCR, Bengaluru and Kolkata.