When:
January 4, 2019 @ 11:30 am
2019-01-04T11:30:00+05:30
2019-01-04T11:45:00+05:30
NEWS
4 JANUARY 2019
---
Daily Current Affairs based on 'The Hindu newspaper complied by Ms. Bilquees Khatri with topics & papers as per syllabus of UPSC Civil Services (Mains) Examination
---
| | | |
| --- | --- | --- |
| Sr. No. | Topic | News |
| 1. | GS II: SOCIAL – WOMEN & CHILDREN | Street protests mark Kerala hartal |
| 2. | GS II: BILATERAL – INDIA-ASIA | Trump's remarks rejected by India |
| 3. | GS III: S&T – SPACE | China's probe lands on far side of moon, sends images |
| 4. | GS II: SOCIAL – SCHEMES | Many Swachh Bharat toilets defunct, unusable: MPs' panel |
| 5. | GS III: DEFENCE | Improved Light Combat Aircraft gets green light for production |
| 6. | GS II: SOCIAL – RIGHTS | SC shocked at chaining of inmates in U.P. mental asylum |
| 7. | GS II: SOCIAL – WOMEN & CHILDREN | Child care homes don't paint a rosy picture |
| 8. | GS II: POLITY – BILL/ACT | 'RERAs will be toothless without judicial powers' |
| 9. | GS III: DEFENCE | PM fled to skip 'Rafale exam': Rahul |
| 10. | GS II: POLITY – LEGISLATURE | LS Speaker suspends 21 members for four days |
| 11. | GS II: POLITY – JUDICIARY | Judges' retirement age won't go up |
| 12. | GS II: POLITY – JUDICIARY | 'Quota for women judges not under consideration' |
| 13. | GS II: BILATERAL – INDIA-ASIA | 5 Rohingya deported to Myanmar |
| 14. | GS III: ECONOMY – BANKING | 'Rs. 70,000 cr. recovery likely by March from 12 big IBC cases' |
| 15. | GS III: ECONOMY – BANKING | Ease capital requirements for banks: House panel |
| 16. | GS III: ECONOMY – GST | E-way bill system changes confusing, say transporters |
| 17. | GS III: ECONOMY – SECTORS | Graft, securing funding main challenges for start-ups: study |
|  18. | GS III: S&T – SPACE | Meet the 'snowman' floating in space |
GS II: SOCIAL – WOMEN & CHILDREN
Street protests mark Kerala hartal
Hurling crude bombs and stones, pro-Hindutva groups fought pitched battles with the police and political rivals in Kerala, leaving scores injured, including three BJP workers in a knife attack, officials said.
The dawn-to-dusk hartal called by the Sabarimala Karma Samithi (SKS), an umbrella organisation of various groups, to protest against the entry of two women of reproductive age into the Sabarimala temple on 2 January 2019, crippled the State.
GS II: BILATERAL – INDIA-ASIA
Trump's remarks rejected by India
The U.S. President Donald Trump, at an interaction, spoke mockingly about India's development projects in Afghanistan, while suggesting that Delhi send troops to the country.
Trump had referred to his conversation with Prime Minister Narendra Modi.
"I could give you an example where I get along very well with India and Prime Minister Modi. But he is constantly telling me, he built a library in Afghanistan. Library! That's like five hours of what we spend [in Afghanistan]," Mr. Trump told his colleagues and the media in Washington DC.
He urged Russia, India and Pakistan to send troops to fight the Taliban.
India reiterated that it does not send soldiers abroad but for UN-supported peacekeeping operations.
"India firmly believes in the critical role that developmental assistance can play in transforming human lives. India does not send its armed forces abroad except under the specific mandate of UN Peacekeeping Operations," said a source speaking on condition of anonymity.
Indian assistance to Afghanistan is part of a bilateral arrangement with the Government of President Ashraf Ghani.
India is the largest regional donor to Afghanistan.
Indian cooperation is centred on five key pillars like capacity building, infrastructure projects, humanitarian assistance, economic development and connectivity.
Under all these segments, India has executed major landmark projects over the past 17 years.
Among the key ongoing projects are the Zaranj-Delaram road that will connect the major cities of Afghanistan with the Iranian market.
GS III: S&T – SPACE
China's probe lands on far side of moon, sends images
Chinese space probe, Chang'e-4, made a "soft landing" on the far side of the moon on 3 January, 2019, China's space agency said, hailing the event as a historic first and a major achievement for the country's space programme.
The lunar probe, launched in December 2018, transmitted the first-ever "close range" image of the far side of the moon, the China National Space Administration said.
The moon is tidally locked to Earth, rotating at the same rate as it orbits our planet, so most of the far side — or "dark side" — is never visible to us.
Previous spacecraft have seen the far side, but none has landed on it.
The probe, which has a lander and a rover, touched down at a targeted area near the moon's south pole in the Von Karman Crater, after entering its orbit in mid-December.
The tasks of the Chang'e-4 include astronomical observation, surveying the moon's terrain, land form and mineral make-up, and measuring the neutron radiation and neutral atoms to study the environment of its far side.
GS II: SOCIAL – SCHEMES
Many Swachh Bharat toilets defunct, unusable: MPs' panel
Many toilets constructed under the Swachh Bharat Mission have already become defunct and unusable, according to the Parliamentary Standing Committee on Rural Development.
It slammed the Ministry of Drinking Water and Sanitation for not bothering to find out the scope of the problem, despite an earlier recommendation to conduct a survey.
"Till the time the problem of toilets becoming dysfunctional is not tackled seriously by the Ministry, the objective of full household sanitation coverage in the entire rural areas of the country by October 2, 2019, would remain a distant dream," said the committee in its report on the action taken by the government on earlier recommendations, which was presented to Parliament.
It had warned that the Swachh Bharat Mission's data on open defecation was suspect as defunct toilets are being counted as functional.
In its reply, the Ministry claimed that only toilets built under previous schemes were defunct.
GS III: DEFENCE
Improved Light Combat Aircraft gets green light for production
On December 31, 2018, Light Combat Aircraft 'Tejas' quietly progressed towards manufacture in an enhanced, battle standard format.
A new 'limited' clearance from military airworthiness certifier CEMILAC for the Indian fighter green-lights its production in a superior lethal version.
Hindustan Aeronautics Limted (HAL), which is mandated to produce the LCAs for the Indian Air Force (IAF), aims to get the first aircraft out in late 2019 in the just-cleared standard.
The LCA is being designed and developed by the Aeronautical Development Agency (ADA) in Bengaluru.
The IAF has asked HAL to make 40 LCA aircraft. Of this, 20 will be in the advanced 'FOC' (final operational clearance) format. Another 20 are in the earlier IOC (initial operational clearance) version.
The FOC tag signals that the novice LCA is fully equipped and fit for battle. It adds many features over the IOC version, which Tejas achieved in December 2013.
The IOC enabled the IAF to start flying it and in getting acquainted with its competences.
Until then, only test pilots and ADA handled Tejas.
Tejas was expected to be FOC-compliant much earlier, the last two deadlines being June-end and December-end of 2018.
More than one source said what was given on December 31 is an interim or limited FOC; Tejas is still some distance away from being FOC standard.
And that this was done to speed up production and keep HAL's idling facilities engaged. Further improvements would follow in the 'FOC-2' phase.
To get the final of FOC certification, the plane must have battle-time requirements — such as mid-air refuelling, AESA radar, electronic warfare suites, a variety of bombs and weapons, among others.
It has passed mid-air refuelling and armament testing, while the full picture was not immediately available.
GS II: SOCIAL – RIGHTS
SC shocked at chaining of inmates in U.P. mental asylum
The Supreme Court summoned Solicitor-General Tushar Mehta after getting to know that patients in a mental asylum in Badayun district of Uttar Pradesh are kept in chains.
A Bench of Justices A.K. Sikri and S. Abdul Nazeer asked Mr. Mehta to take immediate action, saying, "A mentally-ill person is also a human being and has dignity."
The plight of the inmates in the "faith-based mental asylum" was bought to the court's attention by lawyer Gaurav Kumar Bansal, who said shackling them in iron chains went against the provisions of the Mental Health Act, 2017, and violated their fundamental right to a dignified life under Article 21 of the Constitution. He also submitted photographs of the inmates.
The court said that even if the patients were prone to violence, the answer "is not to keep them chained or even isolated."
"The issue is of serious concern and requires urgent consideration," Justice Sikri said, issuing notice to the Centre and all the States on Mr. Bansal's petition for initiating a programme to provide mental health care and treatment and establishing a State mental health authority and funds as per the Mental Health Act.
Bansal said that no action was taken by the States and the Union Territories to constitute mental health authorities within nine months of the law coming into force.
The petitioner argued that according to a WHO report, India has the highest prevalence of mental illness globally.
According to the National Mental Health Survey, 2016, around 14% of the population required active mental health intervention and around 2% suffered from acute and life-debilitating mental disorders.
GS II: SOCIAL – WOMEN & CHILDREN
Child care homes don't paint a rosy picture
A pan-India survey of childcare institutions (CCI) conducted by the Centre has highlighted poor safety and security measures, inadequate monitoring of these facilities, and a lack of effort to trace parents of missing children sent to these homes.
The full report of the survey titled 'Mapping and Review Exercise of Child Care Institutions', conducted between December 2015 and March 2017, was recently made public by the Ministry of Women and Child Development (MoWCD).
Some of the findings of this exercise were shared in 2018 before the Supreme Court, which took suo motu cognisance of rampant child abuse at a shelter in Muzaffarpur in Bihar.
The detailed report shows that only 46.7% of the total homes had adequate number of caregivers per child and only 28.7% centres were able to tend to inmates showing signs of hunger or illness and 65.9% of homes were able to actively supervise children under trauma,.
The report also says that the lack of infrastructure facilities is "glaring" and finds that more than 1,000 homes did not have a dormitory for children, raising questions about sleeping arrangements made for them.
The report finds that even though there are several mechanisms for monitoring, regular inspections of these shelters were not being carried out.
GS II: POLITY – BILL/ACT
'RERAs will be toothless without judicial powers'
Several Real Estate Regulatory Authorities (RERAs) are pushing for more enforcement power, similar to what is enjoyed by consumer forums, including the authority to issue arrest warrants.
At the first meeting of a new RERA implementation committee, there was broad consensus that the RERA Act needed to be amended to further empower them.
State RERA representatives say they are becoming toothless, if they are unable to execute their own orders.
The Consumer Protection Act, 1986, allows consumer forums to assume the powers of a first class judicial magistrate for the trial of offences under the Act (Section 27.2).
RERAs are asking that the RERA Act be amended to give them similar powers.
The next meeting of the committee will be on January 22, 2019.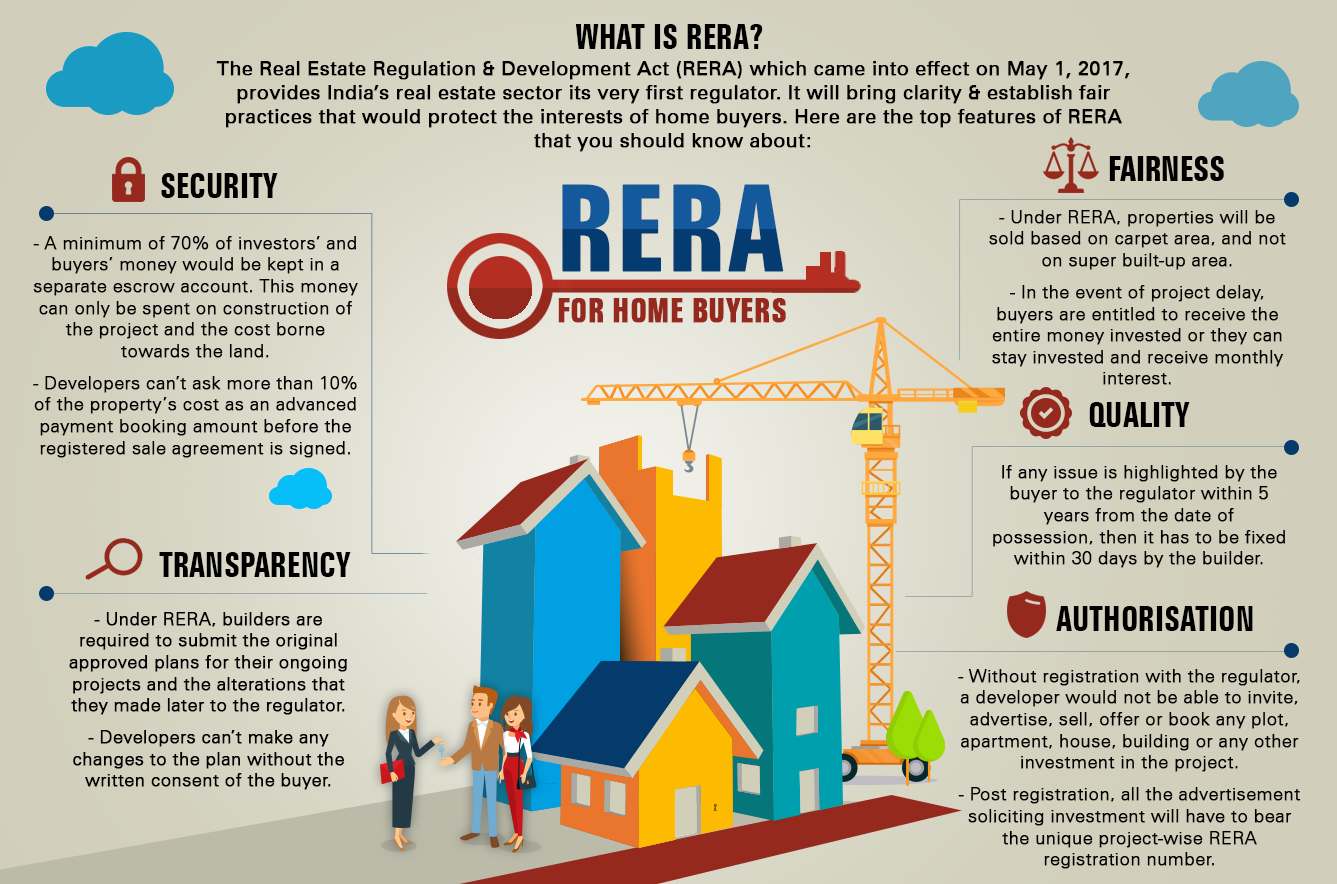 GS III: DEFENCE
PM fled to skip 'Rafale exam': Rahul
Continuing his attack on Prime Minister Narendra Modi, Congress president Rahul Gandhi alleged that he had "fled his open book Rafale exam" in Parliament and gone to lecture students in Punjab.
Prime Minister Modi was in Jalandhar for a pre-scheduled programme to inaugurate the Indian Science Congress and also address the students of a private university.
The Congress chief had repeated his four questions on the Rafale deal.
"Here are the exam questions in advance: Q1. Why 36 aircraft, instead of the 126 the IAF needed? Q2. Why 1,600 Cr instead of 560 Cr per aircraft. Q4. Why AA instead of HAL? Will he show up? Or send a proxy?"
In the third question, which the Congress chief referred to as Missing Q3, he asked the Prime Minister to disclose why former Defence Minister Manohar Parrikar "keeps a Rafale file in his bedroom and what's in it?".
Picking up from where the party president left off, the Congress party also attacked Mr. Modi for not speaking in the Rafale debate in Parliament.
GS II: POLITY – LEGISLATURE
LS Speaker suspends 21 members for four days
Lok Sabha Speaker Sumitra Mahajan suspended 21 members of the Lower House for four days for creating a ruckus in the House.
They included MPs from the TDP, AIADMK and an unattached YSR Congress leader.
The action was taken under Rule 374 A of the Lok Sabha, meaning they cannot attend the remaining days of the session, which concludes on January 8.
These suspensions came on the back of suspensions of 24 AIADMK members, taking the number of members suspended on two consecutive days to 45.
While the AIADMK has 37 members in the Lok Sabha, the TDP has 15.
Proceedings in the Lok Sabha during the winter session that commenced on December 11 have been repeatedly stalled due to protests by AIADMK and TDP members over a proposed dam on the Cauvery and special status to Andhra Pradesh, respectively.
GS II: POLITY – JUDICIARY
Judges' retirement age won't go up
The Law Ministry said there was no proposal as of now to increase the retirement age of Supreme Court judges from 65 to 67 and of High Court judges from 62 to 65.
The Ministry was responding to the recommendation of a Parliamentary Standing Committee that raising the retirement age of judges would help retain the existing judges, which in turn would help in reducing both vacancy and pendency of cases in short run.
In August 2010, then Union Law Minister M. Veerappa Moily introduced the Constitution (114th Amendment) Bill, 2010 in the Lok Sabha, which sought to increase the retirement age of High Court judges to 65, could not be taken up for consideration in Parliament and lapsed with the dissolution of the 15th Lok Sabha.
The committee, in its report tabled in Parliament, raised concern over the large number of vacancies of judges in High Courts.
The Ministry countered that the appointment of judges in the Supreme Court and High Courts is a continuous and collaborative process of the Judiciary and Executive.
As of now, out of a total approved strength of 1,079 judges in 24 High Courts across the country, only 695 posts are filled.
As per the existing memorandum of procedure (MoP), the judge appointment proposal has to be initiated by the Chief Justice of the High Court six months before the occurrence of vacancy.
Within six weeks, the Chief Minister/Governor has to recommend on the proposal received from the Chief Justice.
And within four weeks, the Chief Justice of India/SC Collegium has to recommend the proposal to the Law Ministry.
GS II: POLITY – JUDICIARY
'Quota for women judges not under consideration'
The Law Ministry said there was no proposal to introduce reservation for women in the appointment of judges in the higher judiciary.
The Ministry's response came on an observation of a Parliamentary Standing Committee that only six women judges have been appointed in the Supreme Court till date.
The Committee reiterated its recommendation in its 'Eighty-fourth Report on Demand for Grants' that the strength of women judges should be around 50% of the total strength of judges.
The Ministry said judges were appointed in the Supreme Court and High Courts as per Articles 125 and 217 of the Constitution, which did not provide for reservation for any caste, class or gender.
"The government has, however, been requesting the Chief Justices of the High Courts that while sending proposals for the appointment of judges, due consideration be given to suitable candidates belonging to the Scheduled Castes, Scheduled Tribes, Other Backward Classes, minorities and women," the Ministry said.
GS II: BILATERAL – INDIA-ASIA
5 Rohingya deported to Myanmar
Five Rohingya, who entered Assam illegally in 2014, were deported to Myanmar from Moreh, a border town in Manipur.
Officials said all the five were from the Buthitang area of Myanmar and had probably sneaked into India to escape ethnic violence in the neighbouring country.
They had been lodged in a detention centre for foreigners at Tezpur in northcentral Assam's Sonitpur district
This is the second such deportation after seven Rohingya, lodged in southern Assam's Silchar jail, were sent back in October 2018.
An Assam Home Department official said 20 Rohingya are still lodged in the Goalpara, Tezpur and Silchar detention centres.
GS III: ECONOMY – BANKING
'Rs. 70,000 cr. recovery likely by March from 12 big IBC cases'
The government expects a recovery of about Rs. 70,000 crore from the 12 big companies that were identified for bankruptcy proceedings under the Insolvency and Bankruptcy Code, by March 31, 2019, Finance Minister Arun Jaitley wrote in a blog.
According to the RBI, these 12 companies are estimated to account for a quarter of the gross non-performing assets in the system, and so were identified for immediate bankruptcy proceedings.
"Some of the big 12 cases such as Bhushan Power and Steel Ltd. and Essar Steel India Ltd. are in advanced stages of resolution and are likely to be resolved in this financial year, in which realisation is expected to be around Rs. 70,000 crore," Mr. Jaitley wrote to commemorate two years of the IBC.
He added that so far, 1,322 cases had been admitted by the National Company Law Tribunal.
He said that the NCLT disposed of 4,452 cases at the pre-admission stage and that 66 cases had been resolved after adjudication, from which creditors had recovered about Rs. 80,000 crore.
Another 260 cases had been ordered for liquidation. "
"The early harvest through the IBC process has been extremely satisfactory," the Finance Minister added. "It has changed the debtor-creditor relationship. The creditor no longer chases the debtor. In fact, it is otherwise. The NCLT has become a trusted forum of high credibility. Those who drive the companies to insolvency, exit from management."
The selection of new management has been transparent, he said, adding that there had been no political or governmental interference in the cases.
Jaitley explained that the effectiveness of the IBC process was arising out of three factors. The first was that debtors were beginning to pay their dues in anticipation of a potential default in order to avoid the prospect of them being removed from management.
The second is that once a creditor's petition has been filed with the NCLT, the debtors have been paying at the pre-admission stage to prevent the declaration of insolvency.
Thirdly, many major cases of insolvency have already been resolved or are being moved to liquidation.
GS III: ECONOMY – BANKING
Ease capital requirements for banks: House panel
Parliamentary Committee on Finance asked the central bank to ease its rules on capital requirements for banks so that they can increase lending.
"Such stringent norms stipulated by the RBI (Reserve Bank of India) for our banks … is unrealistic and unwarranted," said its report tabled in parliament.
The report comes after the government and some of the board members of the RBI have put pressure on the central bank to relax capital requirements for banks as they seek to boost credit and economic growth.
Former RBI governor Urjit Patel, who quit in December 2018, opposed the government's demand for lowering capital requirements and warned about the need for a cushion to offset unexpected risks.
Indian banks are required to maintain a minimum capital to risk weighted asset ratio (CRAR) at 9%, against the global Basel-III requirement of 8%.
On top of that, they have to keep a capital conservation buffer that is supposed to climb to 2.5% by March 2019.
The rollback of additional capital requirements could release about Rs. 5.34 trillion ($76 billion) into the economy by releasing capital for lending.
Recently, the RBI, in a report, opposed the call to relax current risk weighting rules used to calculate capital requirements, saying they fortified banks against the risk of failure. However, it did announce its intention to review capital regulations.
The ratings agencies have warned against dilution of capital norms for banks.
Saswata Guha, country director, financial institutions, at Fitch Ratings, said capital ratios for many banks were well below global standards and any relaxation could prove detrimental to banks and their ability to absorb unexpected losses.
GS III: ECONOMY – GST
E-way bill system changes confusing, say transporters
The government's decision to make some changes to the e-way bill system effective November 16, 2018, has not gone down well with transporters, who claim that it has not been communicated properly and has led to 'complete confusion'.
When A sells a material to B, he raises an invoice and subsequently prepares an e-way bill. While on transit, if the vehicle breaks down or is delayed for some reason, then the original e-way bill expires. In the new system, there is no option for the transporter to move the material. System has been blocked raise another e-way bill with the same invoice details. This has led to complete confusion among transporters.
Changes have been made by the National Informatics Centre which is handling the e-way bill project.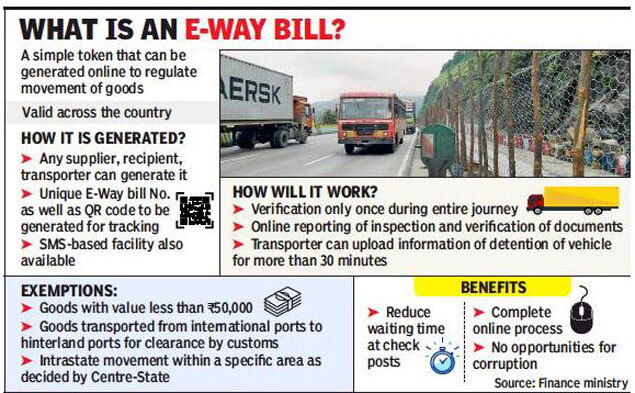 GS III: ECONOMY – SECTORS
Graft, securing funding main challenges for start-ups: study
A large number of start-ups, small and medium enterprises view corruption and bureaucratic inefficiencies, securing loans as well as funding as major challenges in 2019, according to a report by citizens' engagement forum LocalCircles.
The report, based on responses from over 15,000 start-ups, SMEs and entrepreneurs, found 45% respondents saying that corruption or bureaucratic inefficiencies as the top challenge, followed by securing loans and funding (37%), and business growth (18%).
"Angel tax is one area that falls under corruption and bureaucratic inefficiencies as it takes the focus of entrepreneurs away from building a product or service to responding to tax notices and filing appeals, something that start-ups can clearly do without," it added.
Several start-ups and angel investors have raised concerns over notices received from the authorities related to taxation of angel funds.
The Centre has set up a panel to look into the taxation issues faced by start-ups and angel investors.
The study noted that 38% of the respondents said they had received at least one notice.
"Angel tax continued to be a key pain point for start-ups, where the assessing officers in many cases reject the valuation method used by the start-up and instead treat the capital raised as income from other sources, thereby, raising a tax demand and penalty on the start-up."
GS III: S&T – SPACE
Meet the 'snowman' floating in space
Ultima Thule, an icy celestial body, is aptly shaped like a giant snowman, NASA scientists have announced.
The first detailed images beamed back from the U.S. agency's New Horizons mission allowed scientists to confidently determine the body was formed when two spheres, or "lobes," slowly gravitated towards each other until they stuck together — a major scientific discovery.
The New Horizons spacecraft flew past Ultima Thule, which was discovered via telescope in 2014 and is the farthest and potentially oldest cosmic body ever observed by a spacecraft.
NASA dubbed the larger lobe Ultima, and the other, which is about three times smaller, Thule.