When:
October 22, 2018 @ 1:00 am
2018-10-22T01:00:00+05:30
2018-10-22T01:15:00+05:30
NEWS
22 OCTOBER 2018 
| | | |
| --- | --- | --- |
| Sr. No. | Topic | News |
| 1. | GS III: SECURITY | 6 civilians die in blast after J&K police raid on hideout |
| 2. | GS III: CORRUPTION | CBI names its No.2 Rakesh Asthana in bribery case |
| 3. | GS III: SECURITY | NIA won't file chargesheet in Kanpur derailment case |
| 4. | GS II: GOVERNANCE – POLICY | Shimla may be renamed Shyamala |
| 5. | GS I: HISTORY | Saffron marigold is the colour of sacrifice |
| 6. | GS III: ENVIRONMENT – BIODIVERSITY | Odisha villages tense after big cat kills man |
| 7. | GS III: SECURITY | PM inaugurates revamped National Police Memorial |
| 8. | GS II: INTERNATIONAL – USA | U.S. to pull out of Russia missile pact |
| 9. | GS III: ECONOMY – GST | Govt. extends GSTR-3B return filing deadline to October 25 |
| 10. | GS III: ECONOMY – PSUs | Ex-chairman defends ONGC stake buy in GSPC gas field |
| 11. | GS III: ENVIRONMENT – POLLUTION | Years to go to stub out crop burning |
| 12. | GS II: SOCIAL – RIGHTS | From forest to premium brands, a tribal story unfolds |
| 13. | GS II: SOCIAL – EMPLOYMENT | Jobs in the formal sector in India |
| 14. | GS III: S&T – HEALTH | Immunotherapy promising in combating breast cancer |
| 15. | GS III: ENVIRONMENT – CLIMATE CHANGE | China's melting glacier draws tourists amid climate worries |
| 16. | GS III: ENVIRONMENT – CLIMATE CHANGE | Climate fund allots $1bn for poor nations |
GS III: SECURITY
6 civilians die in blast after J&K police raid on hideout
Six civilians, including a teenager, were killed in a blast caused by ammunition in a house, where three Jaish-e-Muhammad (JeM) militants were earlier killed in a pre-dawn operation at Kulgam in Jammu and Kashmir on 21 October 2018.
"People as usual didn't follow appeals to refrain from going to the encounter site. They went inside the house and touched a grenade, which exploded," said Additional DGP Muneer Ahmad Khan.
The explosion at Laroo village, 60 km south of Srinagar, took place immediately after security forces ended a five-hour gunfight and withdrew from the encounter site around noon.
Security forces had detonated the house, where three local militants were holed up, with explosives, leaving behind a skeleton of a three-storey building. Two soldiers were also injured.
GS III: CORRUPTION
CBI names its No.2 Rakesh Asthana in bribery case
The Central Bureau of Investigation has named its second-in-command Rakesh Asthana as an accused in a bribery case along with another agency official and two private persons.
Those named as accused in the FIR (13A/2018) are Mr. Asthana, CBI Deputy Superintendent of Police Devender Kumar, Dubai-based investment banker Manoj Prasad and his brother Somesh Prasad.
More than Rs. 3 crore in bribes was paid by the complainant for getting relief in a case against meat exporter Moin Qureshi and others, the agency said.
Mr. Asthana is 1984 batch IPS officer of Gujarat cadre.
CBI Director Alok Verma is understood to have briefed Prime Minister Narendra Modi on the issue.
GS III: SECURITY
NIA won't file chargesheet in Kanpur derailment case
The National Investigation Agency (NIA) will not file any chargesheet in the 2016 Kanpur train derailment that claimed 152 lives.
The Indore-Rajendranagar Express derailed near Kanpur on November 20, 2016.
Suresh Prabhu, then Railway Minister, had pressed for a probe by the NIA, suspecting sabotage.
A senior government official said that forensic reports ruled out the use of any explosive.
Earlier, experts of the Indian Institute of Technology (IIT) had concluded that no explosive was found on the track.
"We will take a final decision soon. Since there are no suspects, we are not going to file any chargesheet," NIA official said.
At a rally in Gonda on February 23, 2017, ahead of the Uttar Pradesh Assembly election, Prime Minister Narendra Modi had said the accident was the result of a "conspiracy" carried out by those across the border.
The official said the investigation of the cause of the accident was in the domain of the Commissioner of Railway Safety.
The Commission of Railway Safety (CRS), an independent body under the Union Ministry of Civil Aviation, investigates serious train accidents.
As per norms, the CRS must submit its preliminary report to the Chief Commissioner of Railway Safety and the Secretary of the Railway Board within a month of inquiry. It must also make the report public.
Also, over 40 people were killed when the Jagdalpur-Bhubaneswar Express derailed near Kuneru in Andhra Pradesh on January 22, 2017.
GS II: GOVERNANCE – POLICY
Shimla may be renamed Shyamala
In the long list of renamed Indian cities, Shimla could be the latest entrant as the ruling BJP government is considering a proposal to change its name to Shyamala.
A campaign has been launched by some right-wing Hindu groups demanding that the capital of Himachal Pradesh to be renamed.
GS I: HISTORY
Saffron marigold is the colour of sacrifice
The ubiquitous marigold will be the symbol of India's sacrifices when the world marks the centenary of the end of the First World War on November 11.
The 'India Remembers' project, initiated by the United Service Institution of India (USI), proposed that the marigold flower join the poppy as a uniquely Indian symbol of remembrance.
The India Remembers project is a joint endeavour of the USI and the Commonwealth War Graves Commission (CWGC) and a part of the 'India and the Great War' Centenary Commemoration project initiated by the USI in 2014 with the support of the Ministry of External Affairs and in close association with the British High Commission.
The Indian War Memorial, to be inaugurated at Villers-Guislain in France, has a bronze marigold wreath as an integral part of its design.
The First World War ended with the signing of the armistice on November 11, 1918. Since then, poppy was adopted as the symbol of remembrance as it grew widely in the Flanders fields in Europe where some of the major battles were fought.
GS III: ENVIRONMENT – BIODIVERSITY
Odisha villages tense after big cat kills man
Tension gripped villages located in Odisha's Satkosia Tiger Reserve (STR) after a man was allegedly killed by Sundari, a tigress brought from Bandhavgarh Tiger Reserve, Madhya Pradesh as part of a tiger re-introduction programme.
Trinath Sahoo of Tainsi village had gone for fishing when the tigress killed him.
The incident took place while a team of forest personnel was on its way to caution villagers not to venture out as the big cat was around.
The wildlife wing of the State Forest and Environment Department has been monitoring the movements of the tigress and a tiger brought from Madhya Pradesh by attaching radio collars around their necks.
As soon as the news spread, villagers staged a protest.
Ever since the introduction of the two tigers, villagers under the banner of Satkosia Khyatigrastha Praja Suraksha Samiti (SKPSS) have been raising apprehension about their safety.
On September 13, when a man was killed by a wild animal in Hatibari village, the locals alleged that tigress Sundari had attacked him.
They have been demanding that the tigers be sent back to Madhya Pradesh.
Different reasons are being attributed to Sundari's repeated straying into human habitations. According to State Forest Department sources in Bandhavgarh, the tigress used to roam around in the eco-tourism area where human movement was significant. The tigress is yet to adapt to conditions in deep forest areas.
The three-year-old tigress is in search of a male partner for mating. It is facing violent resistance from STR's two resident tigers which had mated with the tiger translocated from Kanha.
GS III: SECURITY
PM inaugurates revamped National Police Memorial
Prime Minister Narendra Modi opened a revamped National Police Memorial and a museum at Chankayapuri, New Delhi.
Conceptualised in 1984, the earlier memorial, a 150-foot structure of steel, was brought down on the order of the Delhi High Court in 2008 because it violated environmental norms.
The National Police Commemoration Day is observed on October 21 every year to pay homage to the 10 men of the Central Reserve Police Force killed in an ambush by Chinese troops in 1959 in Ladakh's Hot Spring area.
Mr. Modi also announced a decoration in the name of Netaji Subhash Chandra Bose for police and paramilitary men engaged in disaster relief.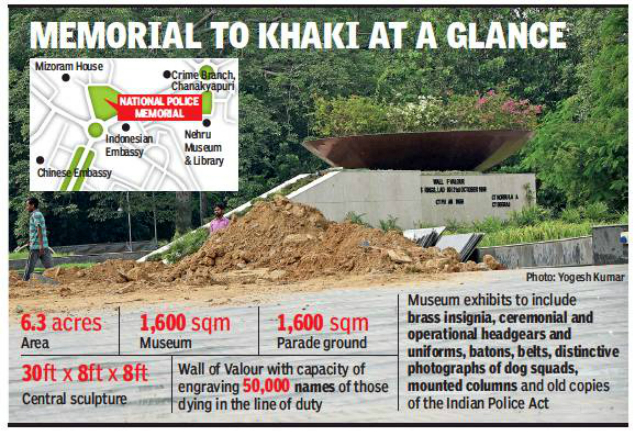 GS II: INTERNATIONAL – USA
U.S. to pull out of Russia missile pact
U.S. President Donald Trump confirmed that the U.S. would pull out of the Intermediate-range Nuclear Forces (INF) Treaty with Russia, a crucial Cold War-era treaty banning the development, testing and possession of short and medium range ground-launched nuclear missiles with a range of 500-5,000 km.
The treaty, signed in 1987, was central to ending the arms race between the two superpowers, and protected America's NATO allies in Europe from Soviet missile attacks.
At issue is Russia's alleged development and deployment of the Novator 9M729 missile, also known as the SSC-8, that could strike Europe at short notice, an allegation that Russia has repeatedly denied.
The U.S. administration, under former President Barack Obama, raised the issue of Russia testing a ground-launched cruise missile with Russian President Vladimir Putin in 2014. The Russians denied the allegations and raised counter-allegations of the U.S. installing missile defence systems in Europe.
While the two countries failed to find a resolution using the dispute resolution mechanism in the treaty, the U.S. continued to remain party to the treaty under pressure from its European allies.
There are concerns that the treaty's end could mark the beginning of a new arms race between the U.S. and Russia.
The Russian government warned the U.S. against such a withdrawal. "If the Americans continue to act as crudely and bluntly… and unilaterally withdraw from all sorts of agreement and mechanisms from the Iran deal to the International Postal treaty, then we'll be reduced to taking action in response, including of a military nature. But we don't want to go that far," said Russia's Deputy Foreign Minister Sergei Ryabkov.
GS III: ECONOMY – GST
Govt. extends GSTR-3B return filing deadline to October 25
The government extended the deadline for the filing of GST form 3B returns for September from October 20 to October 25.
"It has been brought to notice that there have been apprehensions by trade and industry relating to the last date for availment of ITC [input tax credit] for the period July 2017 to March 2018," the government said in a statement.
"In order to remove doubts, it was clarified that as per the law, the last date for availing ITC in relation to the period from July 2017 to March 2018 is the last date for the filing of return in the form GSTR-3B for the month of September 2018."
However, tax experts say that the deadline extension has come too late as it was announced a day after the original deadline elapsed.
GS III: ECONOMY – PSUs
Ex-chairman defends ONGC stake buy in GSPC gas field
State-owned Oil and Natural Gas Corp. (ONGC) bought Gujarat State Petroleum Corp.'s (GSPC) stake in a KG basin gas block for $1.2 billion (about Rs. 8,000 crore) when the replacement value of brand new assets built by the company is at least $1.5 billion and the asking price was Rs. 20,000 crore, said ONGC former chairman D. K. Sarraf.
With the Opposition attacking the government over what it said was "pressure" exerted on ONGC to first bail out the debt-laden GSPC and then using the company to meet the disinvestment target by selling majority stake in Hindustan Petroleum Corp. Ltd. (HPCL), Mr. Sarraf, who headed the company when the two deals were struck, defended the acquisitions as "strategic and of immense value proposition."
ONGC has been in the business of acquisition of oil and gas assets for decades, with its overseas investment arm ONGC Videsh Ltd. (OVL) amassing 41 projects in 20 countries, he added.
"And so, when quality assets are available next door, it is better than going abroad," he said referring to GSPC putting on sale its 80% stake in the Deen Dayal West (DDW) gas field in Block KG-OSN-2001/3 in the Bay of Bengal and the government offering 51.11% stake in HPCL.
While in the Deen Dayal field, ONGC got assets it can use to monetise its own discoveries in the neighbouring block, HPCL made it an integrated company, helping hedge price risks that a pure exploration and production firm faces, he said.
GS III: ENVIRONMENT – POLLUTION
Years to go to stub out crop burning
In May 2018, the government announced a National Policy on Biofuels, which laid out the path towards increasing the country's ethanol and biodiesel production.
One of the stated benefits of biofuels was the impact this would have on the practice of burning crop waste in preparation for the next planting season.
"By reducing crop burning and conversion of agricultural residues/wastes to biofuels, there will be further reduction in greenhouse gas emissions," the government said at the time the policy was announced.
However, this has not come to pass.
Crop burning still remains a major problem across the country, and in particular, in the agrarian States of Haryana and Punjab.
It will still take years before the process of using crop residue for biofuel and thus, eliminating the need for stubble burning, becomes economically viable for the farmers and biofuel companies alike, according to industry players.
There are varying estimates, but crop residue in India range from 200 million tonnes to 240 million tonnes a year. And this is crop residue that is not usable for other purposes such as animal feed, etc.
 Punjab and Haryana together account for about 20 million tonnes, or about 10%, of the crop residue burnt in the country every year.
The logistical cost is very high if private players go to collect this husk. And the yield of converting this husk to ethanol is very low.
It is not viable until there is an incentive from the government.
There are various ways in which crop residue can be used as fuel for energy.
One option is to set up more ethanol and bio-CNG plants that can use the crop residue as fuel. However, the problem is in creating a chain from the field to the power plant.
Another option is to make pellets from the residue and use them to complement the coal burned in thermal power plants.
The Ministry of Power has a regulation where it is mandatory for all coal-fired thermal plants to use a minimum percentage of crop-residue pellets.
"But for States to now make guidelines and enforce this policy, and for companies to actually start buying the pellets, and for suppliers to come in and make the required investments, this takes a certain amount of time. In the next year or two years, we should see a positive traction in the industry."
The key problem, an expert explained, is that the harvest window is very short, about 20-30 days.
In this time, farmers have to harvest their crop, and then clear the fields in preparation for the next crop. Burning has been the quickest solution.
The government has already started giving subsidies for farm equipment.
GS II: SOCIAL – RIGHTS
From forest to premium brands, a tribal story unfolds
Whenever you buy an expensive beauty product from premium brands such as The Body Shop or L'oreal or a chocolate hamper from Ferrero Rocher, you might be unknowingly supporting millions of tribals spread across States like Jharkhand, Odisha, Chhattisgarh and Madhya Pradesh.
A little-known Indian company from Chhattisgarh – Manorama Industries – that recently got listed on the SME segment of the stock exchanges, supplies cocoa butter equivalent or CBE to many such multinational chocolate and beauty products companies.
CBE is a kind of fat and has characteristics similar to that of the much more expensive cocoa butter with which it can be mixed in any proportion without the cocoa butter losing its properties or formulation.
A prime reason for the use of CBE is that it costs almost half when compared with the edible vegetable fat extracted from cocoa beans.
Interestingly, the CBE supplied by Manorama Industries is made from the extracts of tree-borne butter seeds such as sal, mango, kokum, mahua, dhupa and shea that is collected from the jungles by the company's network of millions of tribals spread across various States.
The company has set up about 18,000 collection centres spread across villages and even worked extensively with the government for a minimum support price (MSP) for sal that accounts for about 14% of the total forest area of India.
GS II: SOCIAL – EMPLOYMENT
Jobs in the formal sector in India
GS III: S&T – HEALTH
Immunotherapy promising in combating breast cancer
Women with an aggressive type of breast cancer lived longer if they received immunotherapy plus chemotherapy, rather than chemo alone, a major study has found.
The results are expected to change the standard of care for women like those in the clinical trial, who had advanced cases of "triple-negative" breast cancer.
The term triple-negative refers to the tumours' lack of sensitivity to the hormones estrogen and progesterone, and their lack of a protein called HER2, which is a target of treatment.
That form of the disease often resists standard therapies, and survival rates are poor.
It is twice as common in African-American women as in white women, and more likely to occur in younger women.
Researchers said the new study was a long-awaited breakthrough for immunotherapy in breast cancer.
These findings may lead to the first approval by the U.S. Food and Drug Administration for an immunotherapy drug to treat breast cancer. But the approval would likely be limited to a certain type of aggressive cancer.
GS III: ENVIRONMENT – CLIMATE CHANGE
China's melting glacier draws tourists amid climate worries
Baishui No. 1 Glacier in China is one of the world's fastest melting glaciers
Millions of people each year are drawn to Baishui's frosty beauty on the southeastern edge of the Third Pole – a region in Central Asia with the world's third largest store of ice after Antarctica and Greenland that's roughly the size of Texas and New Mexico combined.
Third Pole glaciers are vital to billions of people from Vietnam to Afghanistan.
Asia's 10 largest rivers – including the Yangtze, Yellow, Mekong, and Ganges – are fed by seasonal melting.
Depending on how it melts, a lot of the freshwater will be leaving the region for the ocean, which will have severe impacts on water and food security.
The glacier has lost 60% of its mass and shrunk 250 m since 1982, according to a 2018 report.
Scientists found in 2015 that 82% of glaciers surveyed in China had retreated.
China has always had a freshwater supply problem with 20% of the world's population but only 7% of its freshwater.
GS III: ENVIRONMENT – CLIMATE CHANGE
Climate fund allots $1bn for poor nations
Officials overseeing Green Climate Fund, a U.N.-backed fund to help poor countries tackle climate change, have approved more than $1 billion in new investments after a four-day meeting in Bahrain.
The meeting approved 19 new projects, including a programme to protect freshwater resources in Bahrain.
Environmentalists had argued the Gulf nation should pay for the project itself using money it made from its vast reserves of oil and gas.
Officials also agreed to start seeking new money for the fund in 2019.
President Donald Trump's decision to withhold $2 billion of the $3 billion pledged by predecessor Barack Obama has contributed to a fund shortfall.
The South Korea-based fund is considered a key vehicle for climate-related development programmes.