When:
January 14, 2019 @ 11:30 am
2019-01-14T11:30:00+05:30
2019-01-14T11:45:00+05:30
NEWS
14 JANUARY 2019
---
Daily Current Affairs based on 'The Hindu' newspaper as per the syllabus of UPSC Civil Services Examination
(Prelims and Mains) Complied by Mrs. Bilquees Khatri.
---
| | | |
| --- | --- | --- |
| Sr. No. | Topic | News |
| 1. | GS II: POLITY – CBI | Justice Sikri turns down Centre's offer |
| 2. | GS II: SOCIAL – WOMEN & CHILDREN | Is 'compromise' the route that one stop centres should choose? |
| 3. | GS II: POLITY – INTER-STATE WATERS | It is not a nod for Mekedatu: Centre |
| 4. | GS III: ENVIRONMENT – BIODIVERSITY | Train hits killed 49 elephants in 3 years |
| 5. | GS II: POLITY – BILL/ACT | Govt. re-promulgates triple talaq ordinance |
| 6. | GS II: BILATERAL – INDIA-ASIA | India for Afghan-led peace talks |
| 7. | GS II: BILATERAL – INDIA-USA | At mini 2+2, India, U.S. review progress on pacts |
| 8. | GS II: BILATERAL – INDIA-ASIA | India to grow crops for UAE, Saudi Arabia |
| 9. | GS II: POLITY – STATE – ASSAM | Muted Bhogali Bihu fete in Assam |
| 10. | GS II: BILATERAL – INDIA-AFRICA | Court to rule on jurisdiction in Vedanta case |
| 11. | GS III: ECONOMY -GST | Panel pulls up govt. for diverting coal cess |
| 12. | GS III: ECONOMY -BANKING | RBI warns of NPA spike in MUDRA loans |
| 13. | GS III: ECONOMY – POLICY | Govt. plans technology centres for MSMEs |
| 14. | GS III: ECONOMY – TELECOM | The business case for 5G |
| 15. | GS III: AGRICULTURE | Paddy farmer 'seeds' a success story |
| 16. | GS III: S&T – BIOTECHNOLOGY | Nobel-winning scientist loses honorary titles |
GS II: POLITY – CBI
Justice Sikri turns down Centre's offer
Justice A.K. Sikri, the Supreme Court judge whose vote in the Prime Minister-led high-power committee became decisive for the removal of Alok Verma as CBI Director, turned down an offer from the government to nominate him to the London-based Commonwealth Secretariat Arbitral Tribunal (CSAT).
The government had made an "oral" offer to Justice Sikri in the first week of December 2018 to nominate him as president/member of the CSAT.
The judge, scheduled to retire from the Supreme Court on March 6, 2019, heard nothing further from the government after that.
On January 8, Justice Sikri was nominated by Chief Justice of India Ranjan Gogoi to take part in the meeting of the committee, chaired by Prime Minister Narendra Modi, to consider Mr. Verma's fate.
In a majority decision, despite objections raised by Opposition Leader Mallikarjun Kharge, the committee voted against Mr. Verma continuing as the CBI Director.
The decision came merely a day after Mr. Verma returned as CBI Director on the basis of a Supreme Court judgment, which had found his "overnight" divestment from office by the Central Vigilance Commission and the government wrong.
The removal of Mr. Verma led to a storm of public criticism.
Following this, on 13 January, media reports appeared about Justice Sikri's nomination to the CSAT.
The source said the position did not involve any monthly remuneration nor was it in the nature of a regular assignment. It involved two or three sittings a year.
The statute of the CSAT, which was adopted first by Commonwealth governments in 1995, requires the eight-member CSAT to comprise Commonwealth nationals of "high moral character" who had held "high judicial office in a Commonwealth country" or jurists of recognised competence with not less than 10 years' experience. Their tenure is four years with room for one additional term.
The tribunal determines applications regarding non-observance of contractual obligations involving staff members of the Commonwealth Secretariat or international/intergovernmental Commonwealth body/organisation.
GS II: SOCIAL – WOMEN & CHILDREN
Is 'compromise' the route that one stop centres should choose?
One Stop Centre (OSC), or Sakhi centre, is a scheme sponsored fully by the Central government under the Nirbhaya fund set up for safety of women after the gang rape of a paramedical student in December 2012 in New Delhi.
The scheme envisages an OSC for medical, legal, psychological and police help for victims of gender-based abuse such as sexual assault or domestic violence.
So far, 234 OSCs have been set up and 485 more are in the pipeline to cover all 719 districts in the country.
According to government data shared before Parliament, more than 1,90,000 women across the country have accessed these centres.
The Hindu visited a centre each in some of the most unsafe districts of Rajasthan, Uttar Pradesh and Haryana for a status-check.
According to National Crime Record Bureau (NCRB) data for 2015, Ajmer ranked third among all districts in Rajasthan in terms of crimes against women and recorded 1,303 such cases. Of these 792 or 60% of crimes pertained to cruelty by husband or his family.
"When a victim of domestic violence comes here, she is asked what relief she wants. If she wants a compromise, the husband is called and both of them are counselled. After this, she is asked to sign on an agreement letter and is sent back to her home and a follow-up is conducted. If a rape victim comes to the centre , it is first ascertained whether she is speaking the truth. First the centre in-charge speaks to her and then a counsellor cross-examines her. It is easy to spot a lie when a woman is asked to give a statement twice," says Durga Mahij, the in-charge of Ajmer's Sakhi centre and a lawyer with 10 years of experience.
Between October 2017 and December 2018, the centre has seen a total of 472 cases. Nearly 84% of these are cases of domestic violence and "compromise" is considered the most important way of resolving matters between spouses.
A register on follow-up of cases records one-line remarks and the most common among them is, "everything is fine."
Our next stop is Gurugram, the district in Haryana with the highest cases of crimes against women at 959, according to NCRB 2015. This facility has seen 226 cases between January and November 2018. When we visited the OSC it was locked and the two helpers, the only staff appointed apart from guards and a computer operator so far, were out on personal errands.
Uttar Pradesh has clubbed its own Asha Jyoti programme with the Central government's Sakhi centre and called it "Aapki Sakhi-Asha Jyoti Kendra."
A huge number of cases registered at the centre is due to the State being able to take services to the doorstep of women in distress, primarily by linking its 23 OSCs with the Women Helpline 181 as well as by providing each facility with a rescue van.
"I ensure that our van goes out daily for a round – whether it is to help a woman in distress or for a follow-up of a case or to bring a reluctant husband to the centre, which has its own impact and it instils fear among husbands and their families as well as their neighbours," says the administrator of the centre who doesn't wants to be named.
A separate file is maintained for every victim and a case is closed only after follow-ups are carried out over a period of six months.
Awareness campaigns, as many as 16 conducted by the centre in-charge in December alone, mean neighbours are able to sound an alert if there is a child marriage being conducted in their village or if a woman is being married without her consent.
GS II: POLITY – INTER-STATE WATERS
It is not a nod for Mekedatu: Centre
The Centre has informed the Supreme Court that the conditional clearance given to Karnataka for preparing a detailed project report (DPR) on Mekedatu balancing reservoir-cum-drinking water project is subject to the amicable resolution of connected inter-State matters.
It said the nod of the Cauvery Water Management Authority would be a "pre-requisite" for consideration of the DPR for techno-economic approval by the advisory committee of the ministry.
It argued that even the conditional clearance was based on the premise that the reservoir would help Karnataka fulfill its obligation to release Cauvery water to Tamil Nadu.
Tamil Nadu had submitted that the Mekedatu project in its present form violated the decisions of the tribunal and apex court for equitable apportionment of Cauvery water.
"The proposed construction of any new dam by the State of Karnataka through its instrumentalities would alter the adjudication to the distribution of 10 daily/monthly releases to Tamil Nadu. This amounts to interference with the adjudication, which is in contempt of the Supreme Court judgment of February 16, 2018," the petition said.
GS III: ENVIRONMENT – BIODIVERSITY
Train hits killed 49 elephants in 3 years
In 2016, the Ministry of Environment, Forest and Climate Change (MOEFCC) released 'Eco-friendly measures to mitigate impacts of linear infrastructure', an advisory document for mitigating human-animal conflicts.
Despite this advisory, and many others issued by conservationists and organisations, deaths of wild animals in road and railway accidents have continued unabated.
49 elephants were killed in Railway accidents between 2016-18 (nine in 2015-16, 21 casualties in 2016-17 and 19 in 2017-18).
In the same 3-year period, three tigers were killed in road accidents while eight tigers were mowed down by trains.
Three lions died in a train accident in the Amerli district of Gujarat in December 2018.
Prior to this, 10 lions died in railway and road accidents between 2016-2018.
West Bengal and Assam together accounted for 37 out of the 49 deaths of elephants on train tracks across the country.
Jose Louise, a conservationist with the Wildlife Trust of India (WTI), has developed a mobile app for monitoring road kills, which can help minimize such accidents by regulating traffic.
GS II: POLITY – BILL/ACT
Govt. re-promulgates triple talaq ordinance
The government has re-promulgated the ordinance banning the practice of instant triple talaq ('talaq-e-biddat').
Under the Muslim Women (Protection of Rights on Marriage) Ordinance, 2019, issued on 12 January 2019, divorcing through instant triple talaq will be illegal, void and would attract a jail term of three years for the husband.
A Bill to convert the earlier ordinance, issued in September, 2018, was cleared by the Lok Sabha in December and was pending in the Rajya Sabha.
Since the Bill could not get the Parliamentary approval, the fresh ordinance was issued.
Seeking to allay fears that the proposed law could be misused, the government has included certain safeguards, such as adding a provision of bail for the accused before trial.
GS II: BILATERAL – INDIA-ASIA
India for Afghan-led peace talks
"India supports the people and the Government of Afghanistan in their efforts to build a united, sovereign, democratic, peaceful, stable, prosperous and inclusive nation. India supports all efforts for peace and reconciliation in Afghanistan which are inclusive and Afghan-led, Afghan-owned and Afghan-controlled," Ms. Swaraj said at the India-Central Asia Dialogue at Samarkand, Uzbekistan.
The statement indicated India's support for a peace process that will help end the war that has haunted the country for decades.
Earlier, the Chief of the Army Staff, General Bipin Rawat, had urged India to begin talks with the Taliban in Afghanistan, which did not receive support from the government with the External Affairs Ministry saying that India wanted the peace process in Afghanistan to be "Afghan-led, Afghan-owned, and Afghan-controlled".
A joint statement issued after the Samarkand meeting highlighted the opportunities that the collaborative platform would provide for the people of Afghanistan and asked for Kabul's participation.
The regional Ministers described Afghanistan as a "land link" in the region that will help in connectivity among the nations.
GS II: BILATERAL – INDIA-USA
At mini 2+2, India, U.S. review progress on pacts
India and the U.S. reviewed the progress on finalising two key agreements during the 2+2 intercession meeting, apart from taking stock of the overall defence cooperation.
The agreements are the Industrial Security Annex (ISA) and the Basic Exchange and Cooperation Agreement for Geo-spatial Cooperation (BECA), a foundational agreement.
Also, the bilateral defence cooperation was reviewed, especially the greater Maritime Domain Awareness (MDA) and the first tri-service exercise which will take place later in 2019.
The inaugural 2+2 dialogue was held in September 2018 and was chaired by the Defence and External Affairs Ministers and their U.S. counterparts.
The third foundational agreement, Communications Compatibility and Security Agreement (COMCASA), was signed on the sidelines.
As the next step in furthering defence cooperation, negotiations are on to conclude the ISA and BECA.
The ISA is particularly essential as the Indian industry looks for a greater role in defence manufacturing.
It allows sharing of classified information from the U.S. government and American companies with the Indian private sector, which is so far limited to the Indian government and the defence public sector undertakings.
The ISA draft is currently going through the official process in Washington.
The next 2+2 dialogue will take place this summer, by which time India will have a new government.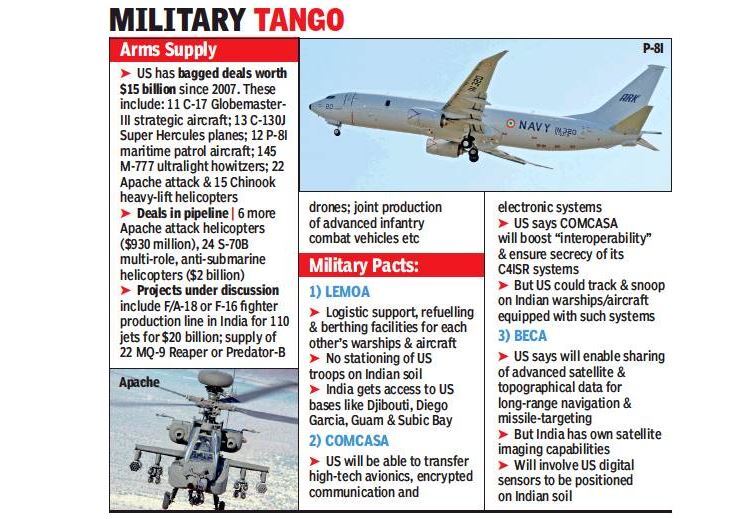 GS II: BILATERAL – INDIA-ASIA
India to grow crops for UAE, Saudi Arabia
Union Commerce Minister Suresh Prabhu announced that the UAE and Saudi Arabia had decided to use India as a base to address their food security concerns.
Prabhu was speaking to presspersons after meeting delegates from the two countries, along with representatives from 44 others, at a summit of the Confederation of Indian Industry.
"India's export policy identifies the potential of agriculture along with horticulture, dairy, plantation and fisheries," Mr. Prabhu said.
The farm-to-port project will be similar to a special economic zone but in the style of a corporatised farm, where crops would be grown keeping a specific UAE market in mind. The concept has been accepted by both governments.
GS II: POLITY – STATE – ASSAM
Muted Bhogali Bihu fete in Assam
A contentious Bill to legitimise the stay of non-Muslim migrants from India's neighbourhood has made many in Assam decide to break an age-old tradition — by fasting during an agrarian festival of feasting in mid-January Magh Bihu or Bhogali Bihu.
Large swathes of Assam have been witnessing protests since the Citizenship (Amendment) Bill, 2016 was passed by the Lok Sabha on January 8.
Bhogali Bihu is to Assam what Pongal is to Tamil Nadu and Lohri to Punjab.
Uruka is the precursor to Magh Bihu celebrated a day before.
Uruka is marked by lighting bonfires and feasting at a Meji or Bhelaghar, a temporary structure made with bamboo, hay and dried plantain leaves.
Traditionally conical, the Meji turned designer and thematic a few years ago, spurring contests for the best structures across Assam.
"Let the celebration be subdued this time as a mark of protest. We also urge people to burn copies of the anti-race Bill at the Meji," Hiren Gohain, president of the Forum Against Citizenship (Amendment) Bill, said in a statement.
The police had filed a sedition case against Dr. Gohain, 80, and two others for allegedly stoking separatism while mobilising support against the Bill.
The Gauhati High Court granted them bail a day later.
GS II: BILATERAL – INDIA-AFRICA
Court to rule on jurisdiction in Vedanta case
Britain's Supreme Court will decide if over 1,800 Zambian villagers can take Vedanta and its Zambian subsidiary Konkola Copper Mines (KCM) to court in the U.K. over allegations relating to the pollution of River Kafue there.
Lower courts had upheld the jurisdiction of U.K. courts in the case, which Vedanta has appealed all the way up to the Supreme Court.
The issue will be heard, with a decision potentially expected by April 2019.
The villagers, represented by U.K. law firm Leigh Day, say that their water sources and farming land have been contaminated due to the release of by-products from KCM's copper mining operations over the past 15 years, resulting in health problems to the people and harm to their crops.
Their lawyers are set to argue that the case can be heard in the U.K. where Vedanta remains domiciled, because the company should bear equal responsibility for the damage.
The lawyers for the villagers do not believe that their case is impacted by the decision of Vedanta Resources to de-list in London in 2018.
The claims date back to 2004, when Vedanta Resources Holdings Limited, a subsidiary of Vedanta, acquired a 51% stake in KCM, and gradually increased its stake.
The villagers allege that both Vedanta and KCM were aware of the discharge of harmful effluents into the waterways that they used as their primary source of clean water.
They point to studies, including a 2014 Zambian government report that noted high levels of toxicity.
GS III: ECONOMY -GST
Panel pulls up govt. for diverting coal cess
The 42nd standing committee on energy in its report on stressed gas-based power plants tabled in Parliament earlier in January 2019 has pulled up the government for diverting coal cess to compensate States for revenue loss post-GST.
It recommended financial support to the stressed gas-based power projects in the country from National Clean Energy Fund (NCEF).
The NCEF was created out of cess on coal at Rs. 400 per tonne to provide financial support to clean energy initiatives
An Inter Ministerial Group chaired by the Finance Secretary was constituted to approve the project/schemes eligible for financing under NCEF.
The coal cess collected from 2010-11 to 2017-18 amounts to Rs. 86,440.21 crore, out of which only Rs. 29,645.29 crore has actually been transferred to the NCEF.
The amount financed from NCEF for projects is only Rs. 15,911.49 crore, or only about 18% of the total amount collected as coal cess.
Out of India's total installed capacity of about 345 GW of power, gas-based capacity is about 25 GW or 7.2% of the total.
However, its share in terms of generation is only 3.8% as 14,305.30 MW of gas-based capacity is stranded due to non availability of domestic gas and unaffordability of imported gas.
The consequence is that a large amount of assets in this sector have turned 'non-performing' or 'unproductive'.
The revival will help gas-based plants service outstanding debt to the tune of Rs. 50,000 crore with banks.
GS III: ECONOMY -BANKING
RBI warns of NPA spike in MUDRA loans
The Reserve Bank of India (RBI) has raised a red flag over spike in non—peforming assets (NPAs) under the government's flagship scheme to support micro enterprises in the country — the Pradhan Mantri Mudra Yojana.
Finance Ministry sources said, the RBI has cautioned that the scheme might turn out to be the next big source of NPAs that have plagued the banking system.
RBI said that bad loans under PMMY had risen to Rs. 11,000 crore.
The caution comes at a time when the country's financial system is reeling under severe stress due to IL&FS crisis.
GS III: ECONOMY – POLICY
Govt. plans technology centres for MSMEs
The Ministry of Micro, Small and Medium Enterprises (MSME) will develop 20 technology centres, along with extension centres across the country in another 3-5 years at an investment of Rs. 200 crore each.
There are plans to have about 100 extension centres, each at an investment of Rs. 20 crore.
With the development of technologies such as virtual reality and augmented reality, the manufacturing units in the MSME sector need to have access to these.
The Ministry is creating trained manpower in virtual reality and augmented reality through the National Small Industries Corporation (NSIC).
It has also developed training modules that use virtual reality and these will be launched across the country through the NSIC in a couple of months.
GS III: ECONOMY – TELECOM
The business case for 5G
Mobile telephony has been making rapid strides in technology. Every decade or so, a new generation of network technology promises more speed, capacity, quality and uses.
The latest debate is about 5G technology and, how wise it is to implement it, despite the tremendous speed and potential it has displayed, even in India. '
Over the last 18-24 months, 4G has led to a steep increase in the amount of data we consume.
According to Nokia's annual "Mobile Broadband Index," released late last year, 82% of the growth in mobile traffic in India in 2017 came from 4G. The traffic grew 135% year over year, driven by video, which contributed 65-75% of total mobile data traffic. Average consumption of data by an Indian subscriber has grown to more than 11 gigabytes (GB) of data per user per month, on a par with other developed markets. Clearly, the rapid growth of 4G in India has strained networks.
A recent report from speed-testing platform Ookla ranks India's 4G Internet connectivity abysmally low — at 109th position in a list of 124 countries
Meanwhile, the 5G ecosystem in India is gaining momentum.
The Centre expects to auction 5G spectrum in 2019. In fact, the latest-generation network equipment is largely 5G-ready.
On a 5G network, wireless data can travel at real-world peak speeds that are more than 10 times faster than most 4G networks.
The key argument in favour of 5G is congestion relief. Network operators can use 5G to alleviate the mobile and video congestion that often occurs when large numbers of users are concentrated in one place, such as transit hubs, sporting events or shopping areas. For users, this means being able to seamlessly stream videos wherever they are, regardless of how many other people are doing the same thing.
In India, the benefits of the next-generation 5G technology are exciting not only for data users, but for industries as well.
Once IoT gains momentum, the largest opportunity will be in manufacturing, energy and utilities, followed by public safety and health sectors. "This will be over and above the revenue generated from traditional services which is expected to grow up to $63 billion by 2026," a BGR report states.
Yet, when it comes to next-generation 5G, some scepticism remains. A survey of recent public statements by executives of the 19 largest mobile network operators (MNOs) worldwide conducted by Bain & Company shows that while they share a belief in the long-term potential of 5G, more than half see no immediate business potential.
We see three common fallacies: there is no compelling, near-term business case for 5G; implementing 5G will require enormous and unjustifiable capital investments; the main reason to invest in 5G is to reduce costs or, at least, improve unit economics, but not to increase revenues.
The business cases for 3G and 4G were centred on data speeds and hence, a superior customer experience. The near-term business case for 5G in India will be driven by congestion relief, which is a very real constraint for every operator today. Further, the capex required may not be as high as expected. 5G-capable devices can seamlessly connect to the existing 4G cells, thus precluding huge investments.
Operators that make full use of existing assets will develop multi-year roll-out plans that will evolve as 5G technology improves. And all this will be done with prudent capital investments. These operators will be able to create a virtuous cycle of 5G reinvestment; first, by building or upgrading to an all-digital 5G network, and then, by using the cash flow generated by those efficiencies to invest in high RoIuse cases.
(Dinkar Ayilavarapu and Herbert Blum are partners with Bain & Company and lead the telecom practice in India and the Americas, respectively. Vikram Chandrashekhar is a principal at Bain's New Delhi office.)
GS III: AGRICULTURE
Paddy farmer 'seeds' a success story
At a time when many a farmer in Wayanad district is keeping his paddy field fallow owing to huge losses, T. Praseed Kumar from Sulthan Bathery is scripting a different story — one of hard work, perseverance and fine imagination.
The 45-year-old farmer, T. Praseed Kumar, from Wayanad district, Karnataka, got a handful of paddy seeds, 'Krishna Kamod', from a friend in Gujarat.
'Krishna Kamod', the Basmati rice variety is known for its taste, colour and aroma and has a violet chaff.
Gradually, in a period of seven years, he expanded the cultivation to one hectare and in 2018, Mr. Kumar harvested about 2,500 kg of the rice.
And instead of selling the rice in the open market, he sold the seeds to farmers at Rs. 200 a kg.
He had spent Rs. 85,000 for the cultivation last year and got returns to the tune of Rs. 5 lakh.
Buoyed by the success, Mr. Kumar tried his luck this season with Black Jasmine rice, a medicinal rice variety from Assam that is violet in colour.
'"As there is a huge demand for the seeds of rare rice varieties among the farming community in the country and pesticide-free rice from the elite class of society, I am trying to tap the huge potential," Mr. Kumar said.
The Black Jasmine variety has huge demand from supermarkets in the country as well as abroad, he said.
Kumar has also launched a website to market the seeds.
GS III: S&T – BIOTECHNOLOGY
Nobel-winning scientist loses honorary titles
Nobel laureate James Watson, co-discoverer of the DNA helix and father of the Human Genome Project, has been stripped of honorary titles at the laboratory where he worked for four decades, following "reprehensible" remarks on race and ethnicity.
The Cold Spring Harbor Laboratory, the New York facility which also has a school named after him, said it was acting in response to his remarks made in a television documentary aired this month.
The 90-year-old geneticist resigned under fire from his laboratory in 2007 after telling a British newspaper that people of African descent tend to have lower intelligence.
However, in the new documentary titled American Masters: Decoding Watson, when asked about his views on race in the decade since his departure from the lab, Watson said he stood by his former remarks, citing the difference in IQ tests results to suggest black inferiority